The Wanted Man Behind Ukraine's Protests-on-Wheels
Dmytro Bulatov vanished at the height of the Euromaidan uprising. He's now resurfaced—bruised, battered, and telling a harrowing tale.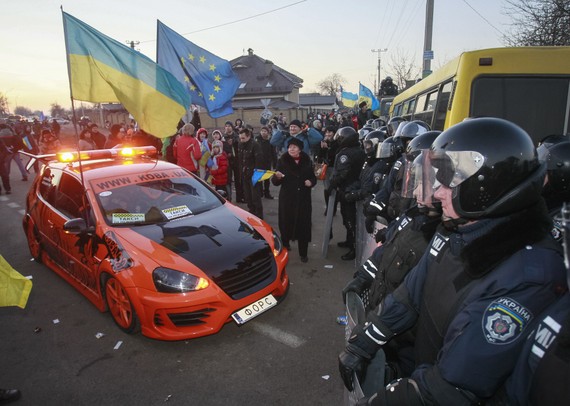 It's a gruesome story.
After vanishing for eight days, just as an emboldened protest movement extracted key concessions from a reeling Ukrainian government, Dmytro Bulatov is now lying prone on a hospital bed. The 35-year-old activist—one of the leaders of Automaidan, a group of pro-European Union motorists working alongside the 'Euromaidan' street protesters—says unidentified men with Russian accents abducted him, cut off part of his ear, cut up his face, hung him up by his wrists, and left him to die outside Kiev in the bitter cold. Instead, Bulatov pounded on a villager's door and was rushed to the hospital.
"They crucified me, they nailed down my hands," he said on Ukraine's Channel 5.
The government has reacted ominously. Officials have opened a criminal investigation into the incident, but they have also sent police and prosecutors to the hospital, placed Bulatov on a wanted list, and speculated that his kidnapping was "staged with the aim of committing a provocation."
Whatever the case, the news speaks to the violent turn Ukraine's protests have taken since they erupted in late November in response to President Viktor Yanukovych's rejection of an EU trade deal in favor of closer relations with Russia. Demonstrators and police officers have died. One activist was recently found frozen to death not far from where Bulatov turned up—his body showing signs of torture.
But Bulatov's story is also worth following because of the quirky, creative form of civil disobedience he has helped promote. It's anti-government protest—by car rather than by foot.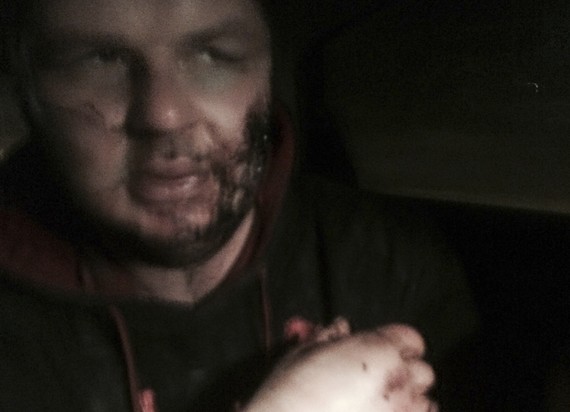 We've seen many varieties of opposition protest in recent years, but Automaidan, which a Ukrainian opposition website recently dubbed "the frontline of Ukraine's civil protest," is a pretty novel concept. The roughly 5,000 activists involved dispatch protest convoys to the homes of high-ranking politicians, ferry supplies to protesters in Kiev's Independence Square, rescue demonstrators caught in violent clashes with police, and huddle for talks with Western envoys.
In late December, for instance, an 1,000-car caravan disgorged thousands of protesters within 1,000 feet of President Yanukovych's mansion outside Kiev before being turned back by police. Two weeks later, a 200-car column also came close to delivering Yanukovych a summons at his sprawling estate to the "People's Court."
"I realized a long time ago that 50 cars are incomparably more effective than 50 people, in terms of the problems they can cause," Automaidan founder Oleksiy Hrytsenko recently told openDemocracy. "It's no problem to disperse 50 people, but you just try moving on 50 cars."
Here's video of one of the caravans snaking its way to the president's house:
Ukrainian authorities seem to understand how potent a force Automaidan is as well. On January 16, the government passed a raft of since-repealed anti-protest laws that included a ban on motorists traveling in convoys of five or more vehicles—a prohibition that appeared squarely aimed at Automaidan. Even the country's traffic police got in on the action, as activists made their way to a protest gathering in early January. As Ukrainska Pravda reported:
One participant, Oleksiy Hrytsenko, told Ukrainska Pravda that the traffic police stopped the orange car of Automaidan leader Serhiy Koba three times. The first time, the car's registration number was supposedly not in the database (it was found after only 40 minutes). The second time, the emergency lighting was reportedly not registered, and the car was released about 50 minutes later. The third time, the activist was stopped on the way back because the car allegedly was wanted over an unpaid fine. They let the car go 1.5 hours later after Koba promised to see the State Executive Service.
Then, around the time that Bulatov disappeared this month, riot police conducted a series of violent raids on the group's members—allegedly by luring activists into an ambush with fake calls for help from protesters. The video below claims to capture one of those raids—from the perspective of an Automaidan vehicle's dashcam. The passengers say that they were dragged out of the car and that some were beaten, though the government maintains that the activists assaulted police officers, and has pressed charges (the action begins around 2:30):
What's perhaps most remarkable about Automaidan is that it has gained traction not just in Kiev but in cities around the world, including Philadelphia and Edmonton, where solidarity protests have recently taken place:
Its members may be battered and hounded, but Automaidan is proving just how effective 50 cars—let alone thousands—can be. At this rate, the iconic image of the Euromaidan protests could turn out to be a Ukrainian flag-festooned car.