The Trials and Hopes of a Jordanian Muslim Named Yitzhak Rabin
One family's 18-year quest to honor Israel's slain prime minister—and escape the resulting backlash.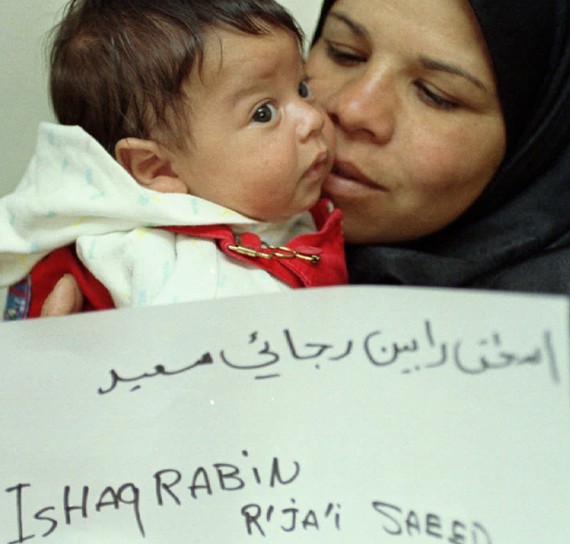 TEL AVIV – Yitzhak Rabin Namsy is, by all appearances, a regular Israeli teenager. The 17-year-old wears a Jewish skullcap, keeps the Sabbath, and upholds many of the faith's other commandments (mitzvot). Like many Israelis his age, he dreams of enlisting in the Israeli army and fighting as a combat soldier on behalf of the Jewish state. Yet there is nothing normal about Namsy's life story, beginning with his first and middle names, given to him in memory of the former Israeli prime minister, who was assassinated in 1995 just a few months before the boy's birth. Then there's the fact that Yitzhak Rabin isn't even officially Jewish, let alone Israeli, but a Jordanian Muslim. Forced to flee his country of birth when he was a baby, Yitzhak, along with his parents, has been living as an exile in Israel for nearly 16 years—all because of a name.
These days, Yitzhak and his mother, Miriam, are waiting for the Israeli government to follow through on promises and extend them permanent residency in their adopted home. Since their arrival in Israel in 1998, both mother and son have been living as temporary residents—a status subject to periodic renewal and an unsettling state of affairs given that a return to Jordan is, for them, literally a matter of life and death.
Responses to the family's petitions from the Israeli Interior Ministry have dragged on for years, but a positive resolution is finally, according to the family's lawyer, expected soon. The ordeal has made headlines in the local press over the past couple months amid Yitzhak's efforts to enlist in the military. When reached by phone recently, Yitzhak seemed tired of the press attention.
"The process has been approved, we received a letter from the Interior Ministry, we're just waiting to finalize things," he told me, "likely in the coming weeks." The family's lawyer, Naomi Gonen, is more circumspect, stating that until she sees the physical (and permanent) Israeli identification cards in the family's hands, nothing is guaranteed.
Soft-spoken, with a fully Israeli accent, Yitzhak peppers his fluent Hebrew with religious slang. "With 'the Name's' help, this will all work out, and we're near the end," he added. You get the sense, speaking to him, that the teenager doesn't see what all the fuss is about; he just wants to be like his friends and classmates, and live a normal life, for the first time in his life. "I want to become an officer [in the army], and continue in the path of Yitzhak Rabin, may his memory be blessed," the younger Yitzhak told an interviewer in November. "I want to give back to the state in a way that would make Yitzhak [Rabin] … proud of me. I don't understand what the problem is here."
Yitzhak's mother, Miriam, likely has a better sense of the problems arrayed against her son, born of personal experience. She knows that theirs has never been a normal life, nor an easy one. During an hour-long conversation from her small apartment in the southern Israeli city of Eilat, Miriam, 46, exuded a spirited defiance and pride—she wants her family's story told—along with the voice of a much older woman. She suffers from various ailments after years of working around toxic cleaning supplies in restaurants and factories, and is on disability welfare. She has undergone two separate operations in the past month alone. Yitzhak's father left the family a few years ago and, although he still lives in Israel, has little contact with either his son or ex-wife.
In fluent Hebrew tinged with a heavy Arab accent, Miriam stated that her highest calling is her son. "I have one foot in the grave already," she said matter-of-factly. "All I want in life is for my son to live well—that he continue with his studies, that he continue with school.… I want to protect the life of my child."
Protecting Yitzhak has been her life's mission ever since he was born, in January 1996, near the city of Irbid in northern Jordan—just two months after the assassination of the original Yitzhak Rabin at the hands of an extremist Israeli Jew opposed to the prime minister's peace overtures to the Palestinians. Miriam decided to name her son after the Israeli leader in honor of the historic Israeli-Jordanian peace treaty signed in 1994 by Rabin and Jordan's King Hussein.
The problems started almost immediately. The media in both Jordan and around the world got wind of the plan, and the Jordanian Interior Ministry wouldn't approve the name. Only the personal intervention of King Hussein, Miriam says, allowed the couple to prevail. "The king said, 'Let them name the baby whatever they want.'"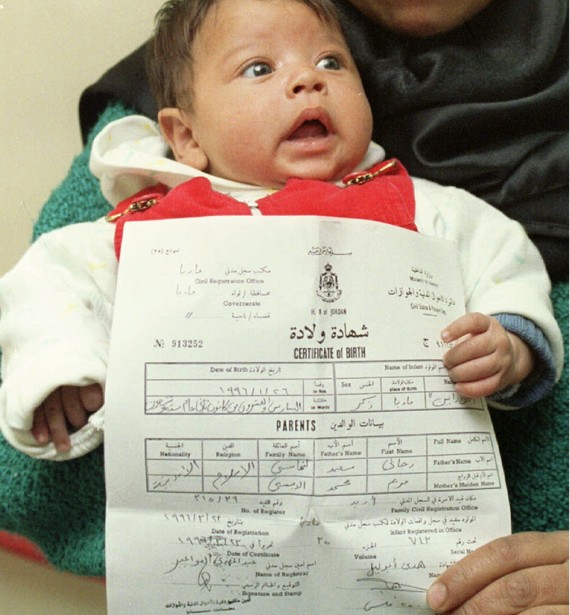 Local opposition to the move didn't subside, however, especially after King Hussein himself fell ill (he would die, in 1999, from complications arising from cancer). The family was harried by Palestinians inside Jordan who were strongly opposed to any reconciliation with Israel. (Yitzhak's parents are Bedouin Jordanians, also referred to as native "East Bankers," as opposed to Jordanians of Palestinian origin who came to the Hashemite Kingdom as refugees in 1948 and 1967.) Miriam and her infant son were forced to move from place to place like fugitives, even spending nights in bus depots and a safehouse with an uncle in Amman.
Germany, where her husband had lived in the past, offered asylum, but Miriam didn't want to relocate so far away from her family. Eventually Leah Rabin, Yitzhak Rabin's widow, came to Jordan and "adopted" them, in Miriam's words. The family understood that their time in Jordan was coming to an end. "We just wanted quiet," Miriam said, "and we couldn't live in Jordan any longer."
The former first lady of Israel arranged for the family to emigrate, and assisted them in their early years in Israel with work and navigating bureaucratic hurdles. But she passed away in 2000, after which the family fell on harder times.
Yitzhak, entering first grade in central Israel, was picked on by kids in his class—"Arab-Israeli children, whose parents put thoughts in their heads," Miriam recalled. There were issues, too, between Miriam and her Palestinian co-workers, who knew the family's history. But the most tragic situation befell Miriam's brother back in Jordan, who, according to Miriam, was murdered by a group of thugs as revenge for his nephew's name. Miriam took Yitzhak to Jordan with the intention of attending her brother's funeral, but, in her telling, a melee ensued at the border crossing, where a small group of protesters awaited them. She put Yitzhak, still a toddler, back on the bus to Israel, bruised and bleeding. It was the last time he would set foot on the soil of his native country.
Seeking a quieter existence away from the major Arab-Israeli population centers of northern and central Israel, the family moved down to Eilat, and have called the resort city on the Red Sea home for the past 11 years. Given everything that has transpired, it's no surprise that Yitzhak has grown up wholly Israeli, surrounding himself with Jewish friends, speaking Hebrew, and adopting Judaism as his own (he is set to officially convert in the coming weeks).
Miriam is still in touch with her family in Jordan; she speaks to them regularly on the phone and visits every few years, in part to renew her and her son's official documents. Yet Yitzhak refuses to have anything to do with his Jordanian family and, indeed, Arab culture. "He hears me speaking Arabic and he doesn't want to hear it," Miriam relayed with a laugh. "I speak to him in Hebrew, that's where I learned [the language]. But he refuses to speak Arabic and doesn't understand it anyway."
For Miriam, such lightheartedness is rare. She knows that for Yitzhak, there's only Israel, which makes the uncertainty surrounding his future not only an issue of personal security, but also one of existential angst. As Miriam put it, "He doesn't know who he is or what he is." But she is hopeful that the Israeli authorities will remedy the situation, and make their indefinite stay in Israel permanent. "I hope that this country will do the right thing with my son, that's my dream," Miriam said. "He can't go anywhere else, he has no other home and no other country."
Given everything she and her son have been through over the past 18 years, I had to ask Miriam the most obvious of questions: Did she have any regrets about naming her newborn after an Israeli prime minister?
"Why should I have regrets?" Miriam fired back without hesitation. "Yitzhak [Isaac] was a prophet for both Jews and Muslims. And Rabin? [Most] Jordanians want peace. So why should I regret it?"