The Specter of Mass Killings in Burma
Religious intolerance is threatening the country's tenuous transition to democracy.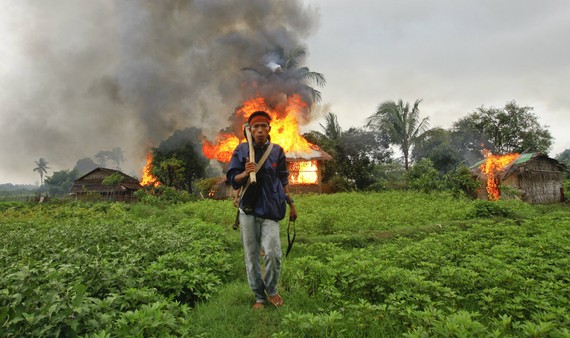 With all the dispiriting news about democracy these days, it is easy to lose sight of the promising transitions underway in Tunisia and Myanmar (Burma). After the recent constitutional bargain between the moderate Islamist party, Ennahda, and its secular opposition, Tunisia now seems headed toward viable democracy. Burma, however, remains a long ways from that achievement.
Whether Burma will become a democracy after parliamentary elections late next year rests not only on the integrity of that vote. It also depends on what parliament does—or fails to do—to amend blatantly undemocratic provisions in the country's current constitution. These give the military a quarter of the seats in parliament (and thus a veto over constitutional reform), control of the powerful National Defense and Security Council, and complete immunity from civilian oversight. They also continue to deny Burma's minorities (about a third of the population) meaningful devolution of power and resources, and they effectively ban opposition leader Aung San Suu Kyi from contesting the presidency.
Burma's parliament is now beginning to sort through numerous proposals for constitutional change, while President Thein Sein's government sporadically engages the country's minorities on reforms to end more than six decades of ethnic violence. But no major Burmese political leader—not even Suu Kyi herself—has confronted the most explosive threat to the transition: religious intolerance.
The problem is evident in the case of the besieged Muslim Rohingya minority, which mainly lives in Arakan (Rakhine) state in the west, bordering Bangladesh. The Rohingya (who are generally not recognized as citizens of Myanmar) have born the brunt of violence that has killed an estimated 300 Muslims and displaced a quarter of a million during this transitional period. Like another stateless people, the Roma of Europe, they have long been held back by poverty, crime, discrimination, and dismissal as interlopers. Just in the last few days, the United Nations received credible reports of a massacre of dozens of Rohingya Muslims by a Buddhist mob.
But these issues extend beyond the rather isolated Arakan state. A broader campaign of Buddhist religious bigotry has gained momentum, inflamed by the "969 campaign" of extremist monks and lay followers. The most visible leader of the movement is the Mandalay-based monk Ashin Wirathu, who a decade ago was convicted and jailed (and later released) for inciting religious violence. He has compared Burma's Muslim minority (an estimated 5 percent of the population) to "mad dogs" and "African carp" who "breed quickly" and are "very violent." He is believed to receive financing and encouragement from shadowy conservative forces who see religious chauvinism as perhaps the only way to counter the electoral appeal of Suu Kyi's National League for Democracy.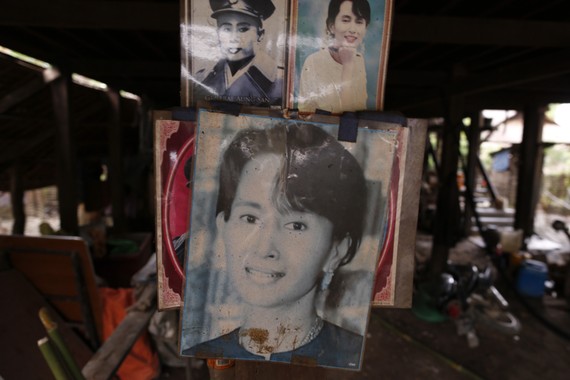 It is not only Muslims who are targeted. Religious freedom is broadly imperiled. Christians from the Chin and Kachin minorities have long been subjected to threats, intimidation, and discrimination, including the burning of churches. Allegedly perpetrated by local officials, these acts are (at least) tolerated by a national government that effectively treats Buddhism as a state religion. Militant monks are now pressing for legislation that would severely restrict the right of Buddhists to marry outside the faith.
Everything we know about mass ethnic killing urges us to take hateful language, discriminatory laws, and sporadic violence very seriously. They are not only in themselves human rights violations; they constitute early warning signs of a potential calamity. Any religious sentiment—with its strong sense of the holy and profane, and its clear identification of members and outsiders—is vulnerable to cynical exploitation. Buddhism is not immune to this; just ask Sri Lanka's Muslim and Christian minorities.
Burma's situation is especially precarious because of the stresses of social and political change, the intense uncertainty surrounding the political transition, and the difficult position in which Suu Kyi, who is torn between her liberal principles and political imperatives, finds herself. It is not just Suu Kyi who has been vague and circumspect in her pronouncements on these issues. Her party loyalists and political advisors—even some who are Muslim—worry that too aggressive a confrontation with the Buddhist religious juggernaut could cost her badly at the polls.
But as I found on a recent visit, other Burmese worry deeply about this muted reaction, and not only on principled grounds. The failure to denounce religious bigotry and the 969 campaign not only undermines Suu Kyi's moral leadership. It provides space for religious intolerance to mutate into precisely what its backers seek—a potent wedge issue for the 2015 election campaign. And it risks the continued escalation of violent conflict into something much more deadly and horrific. Bigotry is like cancer; it will spread if there is no effort to contain it.
As a dozen former Nobel Peace laureates urged in an open letter last June, there needs to be "an international, independent investigation of the anti-Muslim violence in Burma." International actors must do more to link diplomacy and aid not just to general democratic progress in the country but to protection of religious-minority rights as well.
It is especially crucial that moral and legal authorities be mobilized within Burma. So far, Catholic Archbishop Charles Bo has been one of the few prominent non-Muslim voices to explicitly defend the dignity and citizenship rights of the Rohingya. Burma's parliament has a chance now to embrace tolerance and turn the tide against the 969 campaign by rejecting the proposed interfaith-marriage law.
Aung San Suu Kyi is a member of parliament whose eloquent commitment to nonviolence has been influenced by Mahatma Gandhi. But Gandhi unequivocally denounced all forms of intolerance. So did Nelson Mandela. If she wants to help deliver her country to the promised land of freedom, Suu Kyi must do the same.