The Scholar-Rebels of the Free Syrian University
Piecing together a college in exile with Skype, Facebook, and some office space in Turkey.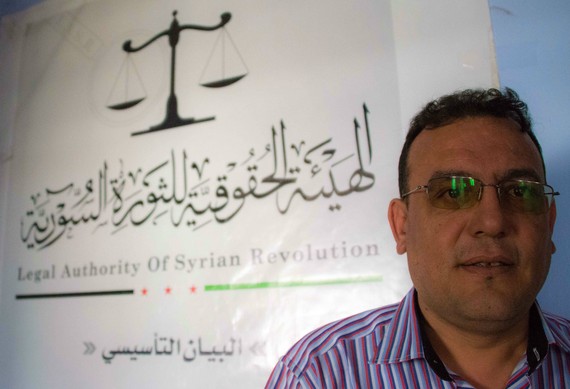 REYHANLI, Turkey — Mosab al-Jamal sees his family once a week, and sleeps only four hours a night. As he lights his fifth cigarette in almost as many minutes, he stops talking and looks out the window onto a dusty, quiet street, beyond which lies Syria. "So many students, so many educations interrupted," he murmurs quietly.
A former law professor at Damascus University and a portly man in his late fifties, al-Jamal is the leader of a group of academics who have created the Free Syrian University, an academic institution that began teaching classes in November in the once-sleepy Turkish town of Reyhanli, only a few miles from the Syrian border.
"This is only temporary," he says, arms swinging as he surveys his surroundings in his office on the top floor of a modest apartment building. A Free Syrian Army flag lies folded in the corner of the room, and an elaborate but weathered sign works hard to bestow legitimacy to his operation, saying simply, "Legal Authority of Syrian Revolution." Worn furniture, scattered ashtrays, and empty demitasses round out the rest of the room.
The effort to get the school off the ground comes as the Syrian conflict, which has left more than 130,000 dead and produced more than 2 million refugees, enters its 34th month. Amid the horrific day-to-day death and destruction, several concerned academics are taking the long view—realizing that regardless of the outcome of the war, Syria, whose society has long respected those with advanced degrees and whose state-run educational institutions were once points of pride, stands to lose the minds of an entire generation of educated youth. It is these young people who will be essential for the country's rehabilitation after the last bullet is fired.
Until then, ongoing conflict has ended almost all educational opportunities for Syrian youth, many of whom struggle in nearby countries to advance their educations against linguistic, cultural, and economic barriers.
Ismail is one of them, eager to build on his education in neighboring Turkey but thus far unable to enroll in classes. The 22-year-old was a law student at Damascus University before Syria's civil war erupted and attended the peaceful protests in 2011. "I was scared, but I was kind of optimistic too. The regime was there filming us, but, amazingly, nothing happened. I think this encouraged us. We were all dancing in the street," he recalls, eagerly showing videos taken on his iPhone that have received thousands of hits on YouTube. "Then, within a month or two, they started shooting at us. What [was] I supposed to do? They started shelling areas full of the youth, killing children." Ismail, who asked that his last name not be used, left Syria in early 2012 and arrived in Turkey via Aleppo as the fighting worsened.
Now delivering water for a Turkish company in Gaziantep, a city 40 minutes from the Syrian border, Ismail embodies the challenges facing displaced Syrian students hoping to continue their educations. "I have almost no options," he explains. "First, I have to take Turkish-language classes for nine months, and have to start university all over again, and that's only if I have the proper paperwork. But the FSA [Free Syrian Army] doesn't give out passports and the regime makes you collect your passport in person, so I have no paperwork. Second, there's lots of confusing information about scholarships—the Turkish government has announced them publicly, but when I ask about them, I am told they don't exist. And the fees for university here are high for Syrians, the Syrian pound is worthless now."
Asked if he could continue his studies at Damascus University, which is still holding classes and contributing to the veneer of normalcy that the Assad regime has sought to promote, Ismail is dismissive. "There is no more education in Syria," he says. "It's all for show, whatever is left."
"We university professors have an enormous responsibility to face this reality," says al-Jamal. "Ours is an academic duty to answer this educational crisis."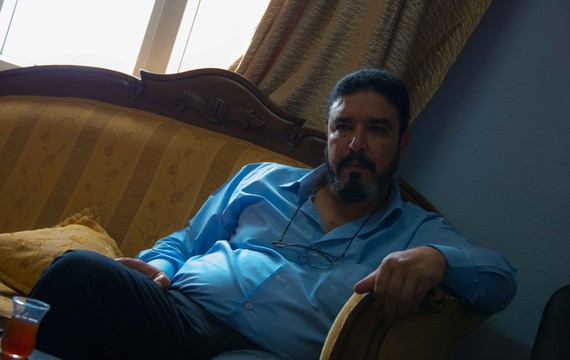 The idea for the Free Syrian University took root one year ago among several former classmates who attended Damascus University with al-Jamal in the 1970s and fled Syria for Turkey at the outbreak of violence. These include Ibrahimi al-Haji, who for 18 years was the chief justice in a court in Aleppo, Syria's largest city, and who now functions as the university's legal advisor. Support has also come from professors among the Syrian diaspora living in Europe, who have offered to teach classes both in Turkey and from afar via the Internet, primarily through Facebook and Skype.
The curriculum, al-Jamal says, is "a combination of the old regime curriculum and new information from Sweden and Germany in particular. For example, we are adding English to each student's courses each semester, so that all of our graduates can easily find work." University officials are offering students 13 majors, including political science, law, media, education, psychology, economics, business, Arabic literature, and pharmacology. Perhaps with a nod to the university's location, the institution will also offer degrees in Turkish and English translation.
"We have 32 professors ready here in Reyhanli and more than 60 around the world who are helping," says a young female lawyer from Damascus who is working at the university and who asked to remain anonymous because her family is still in Syria. "All are Syrian."
For young Syrian refugees like Ismail who are in Turkey, classes are taught in a three-story office building in Reyhanli. But al-Jamal is intent on also providing educational opportunities to students trapped or displaced inside Syria. To that end, through what he terms an "open-learning" approach, the Syrian academic is making heavy use of the Internet, including social networks like Facebook, to deliver lessons to students still in Syria. Syrian professors in Turkey and around the world are working to record lessons relevant to the set curriculum and post them online. University staff then distribute these lessons to a growing mailing list divided by major. "This is temporary, to immediately address this reality," al-Jamal says. The school sends most of its news out via its Facebook page, which more than 6,000 people follow.
The Free Syrian University has formally enrolled 870 students in Turkey and has hundreds more on digital mailing lists inside Syria and other neighboring countries, mainly in Jordan. "The enrollment looks great," al-Jamal says. He estimates that enrollment could reach as high as 11,500 in just a few years if the conflict continues, mainly because there are so few options for Syrians seeking an advanced degree, and because students may eventually come from Iraq, Jordan, and Lebanon to study.
A modest fee structure is in place, though more than 90 percent of students are unable to pay anything and attend classes for free. "We charge $280 per semester to those students inside Syria, and $560 per semester to those students outside," says al-Jamal. "We would prefer to charge nothing, but supplies are expensive and our teaching staff have families who need their support. This income just covers our costs." The university will admit any Syrian who was a student prior to the fighting as well as those who would have been scheduled to attend college.
Al-Jamal repeatedly stresses that no one has supported the venture financially, and that all costs are paid out of pocket, many by the university professors themselves. "We give new professors $1,500 when they sign up. Total. That's all we can give them," he notes, adding that he hopes others will see the importance of supporting Syria's future leaders. The university's stated goal is "to prepare educated generations who seek to build a country of law and justice and institutions."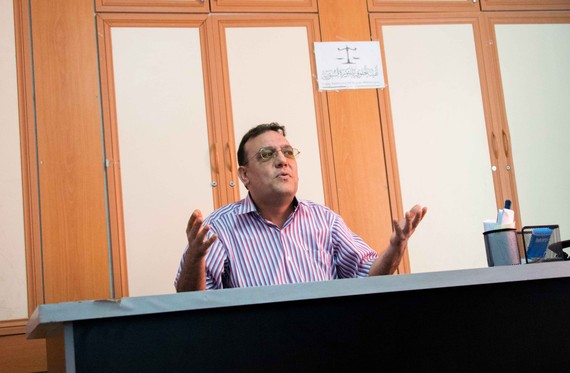 Though there is no outright political agenda in classrooms and operations are largely funded by professors themselves, the university—with both its name and its mandate from the Free Syrian Legal Authority, a type of clearinghouse organization that proves the organization functions with the blessing of the Free Syrian Army—is directly connected to the armed resistance against the Assad regime. Depending on the outcome of the war, this could prove problematic for graduates as well as university officials should they seek accreditation or re-enter Syria.
When we interviewed al-Jamal, this connection was personified by a quiet, chain-smoking man in a leather jacket who was introduced only as "the colonel" and who was never out of earshot during our conversation. He interrupted only when talk turned to the nature of the conflict in Syria. "This is a revolution, nothing else," he said sharply when the wrong vernacular was used. He is certain the Assad regime will fall "any day now."
For now, the Free Syrian University's bespectacled academics know there is no going back to Syria. "I burned my life in Syria when I left," says al-Jamal, eliciting nods of agreement from Syrian academics around him. "It was the suppression of the educated. It was the suppression of the arts. And the suppression of all those outside of the regime over the last decades—that is our reason for being a part of this."
"We have these new ideas," he adds. "That is why we started this."