Riot Police Use Cold as a Weapon in Ukraine's Violent Protests
This article is from the archive of our partner
.
Ukraine's riot police tried to deter molotov cocktails-armed protesters on Sunday and Monday by spraying barricades with water, which quickly froze. It led to striking images of burned-out ruins covered in ice and snow, as protesters tried to stay warm.
Kiev's Euromaiden protests began in November, when Ukraine's president backed out of talks to add the former Soviet country to the European Union in favor of closer economic ties to Russia. Over the last few weeks, the protests had calmed down, until new legislation banning anti-government rallies sparked Sunday's fighting. So this weekend, for the first time in more than a month, the protests turned violent again.
According to The New York Times, the violence started Sunday night when "men in balaclavas attacked the police with sticks and threw firecrackers and cobblestones at them." Thousands of protesters showed up: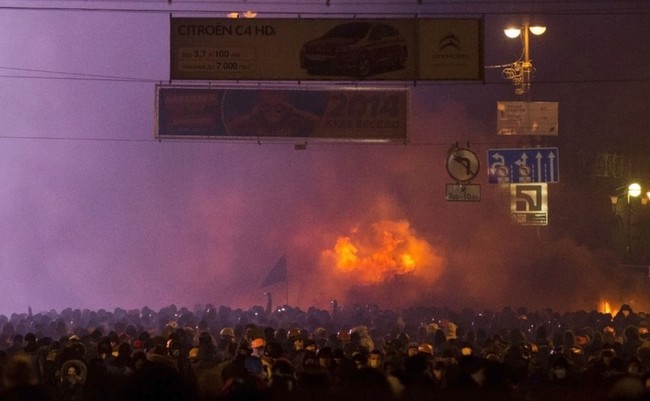 The violence quickly escalated, as protesters began throwing missiles at the riot police: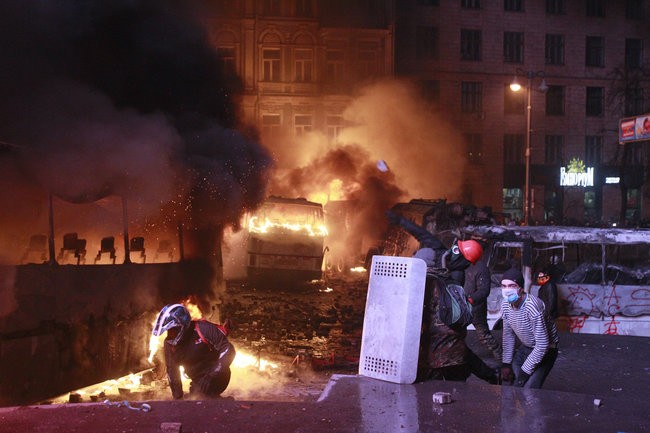 Protesters were also throwing molotov cocktails on Sunday night and Monday morning. On Monday protesters also built a catapult to throw objects across police lines. According to Gaztea.ru, 70 police officers were injured and 40 were hospitalized. Twenty-six journalists were injured. There aren't estimates of how many protesters were injured, other than "dozens." Vitali Klitschko, the opposition leader and former heavyweight boxer, was attacked and sprayed with a fire extinguisher while attempting to stop protesters from attacking the police.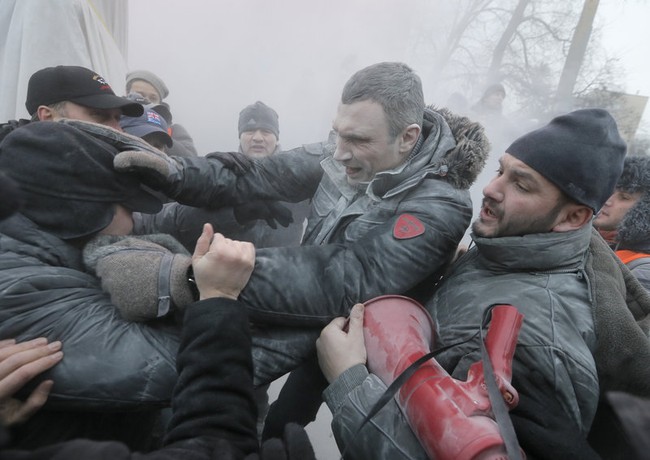 Here's how the Times described the scene on Sunday leading into Monday:
By midnight, the streets were a scene of utter mayhem. Those fighting the police struck them with lengths of pipes and sticks, and hurled cobblestones the size of soccer balls into their midst. They sent fireworks whistling and sparking into their ranks, and threw what appeared to be firebombs, blossoming into flames when they struck. The police stumbled backward, patting at their clothes as fire burned their metal shields.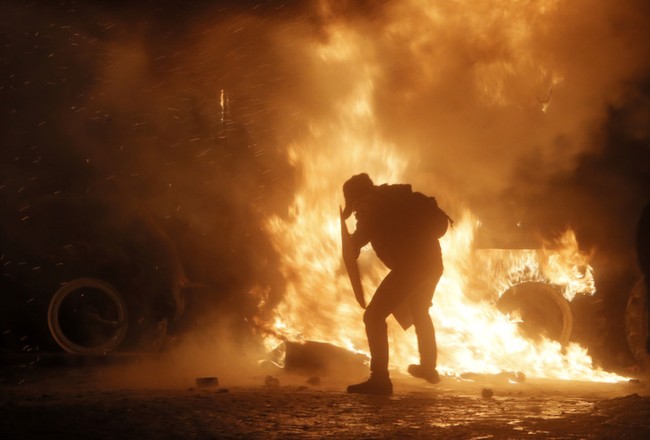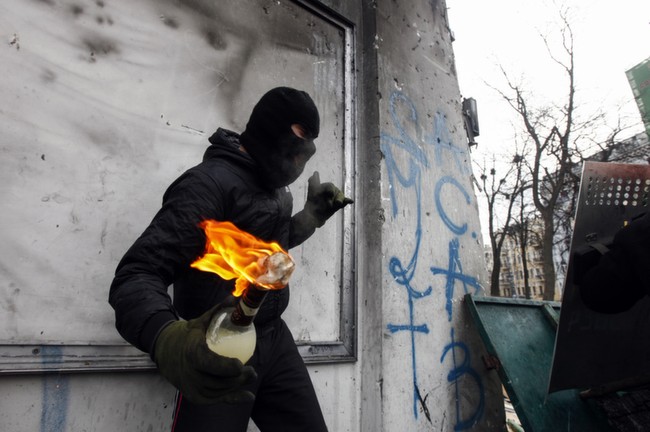 Protesters set fire to buses and police vehicles, which then froze: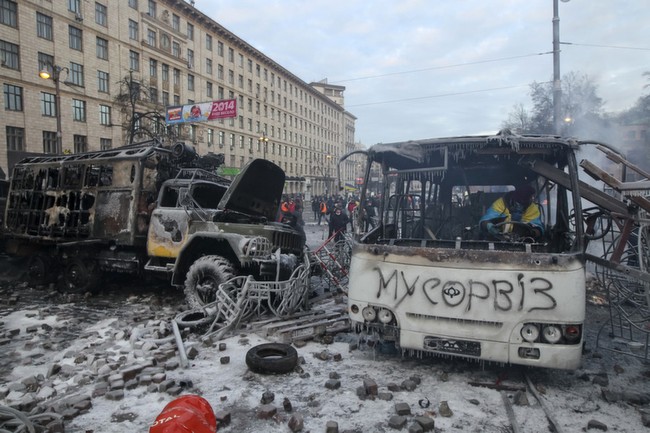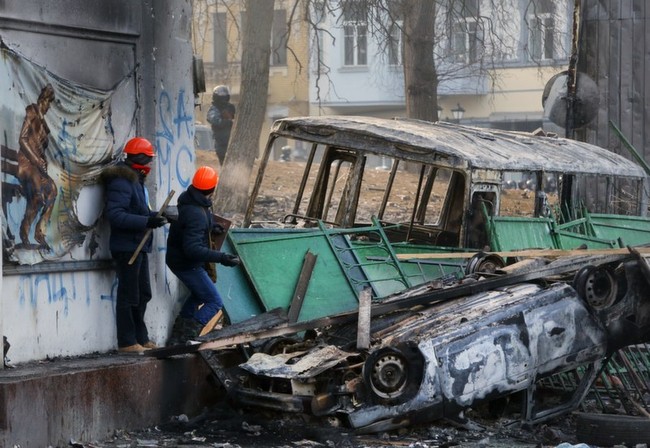 Protesters used the vehicles as barricades. In this photo, you can see a line of riot police through the windows of the bus.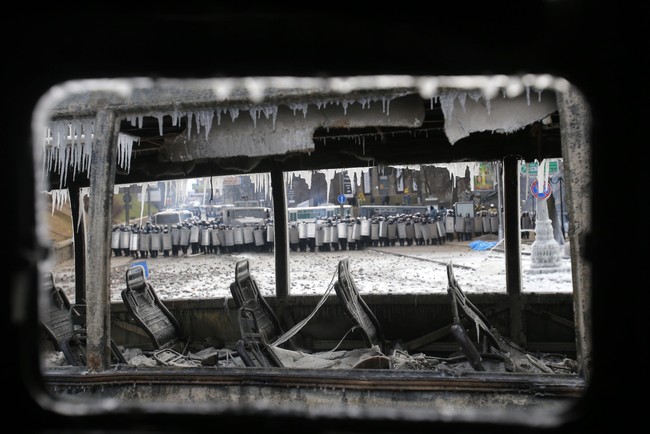 On Monday, protesters used charred police vans to set up barricades in an attempt to block the government's offices, according to The Times.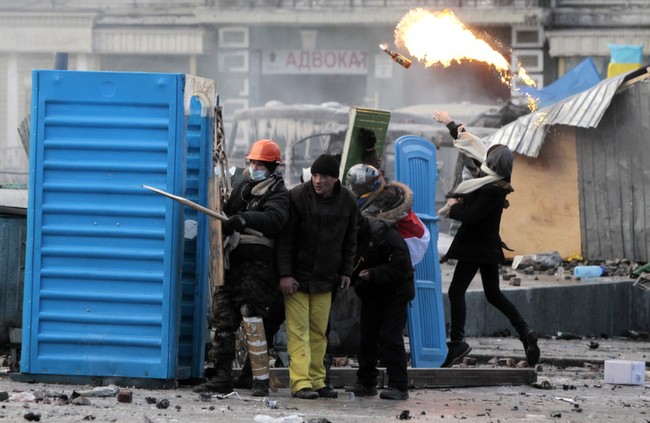 As the protest continued into Monday, riot police were firing rubber bullets at protesters, who (sometimes) wore improvised protective gear over their winter clothes.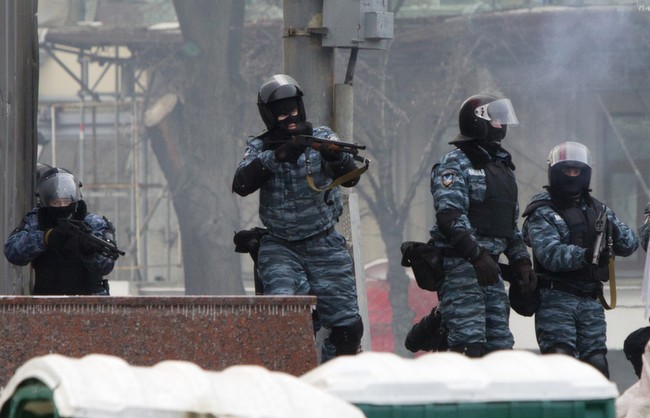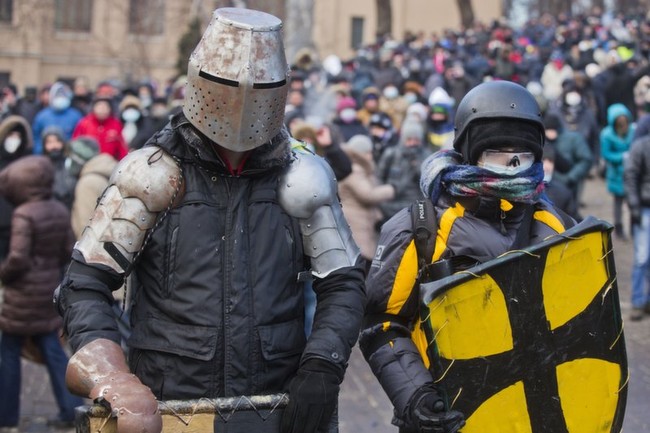 The Kyiv Post has live, daily updates of the Euromaidan protests.
This article is from the archive of our partner The Wire.