Polar Vortex's Polar Opposite Kills Thousands of Bats in Australia
A heatwave in Australia has killed tens of thousands of bats unable to cope with the high temperatures, leading to morbid incidents of dead animals falling from the sky.
This article is from the archive of our partner
.
While North America was blanketed by a frozen sheet of ice this week, a punishing heatwave down in Australia has killed tens of thousands of bats unable to cope with the high temperatures. The unusually stifling conditions led to morbid incidents of dead animals falling from the sky. 
According to an Australian news outlet, the RSPCA is reporting 100,000 bat deaths in the state of Queensland:
RSPCA spokesman Michael Beatty says the heatwave was a significant hit to the population of bats across the state. "The heatwave was basically a catastrophe for all the bat colonies in south-east Queensland," he said. "That's obviously going to have a pretty disturbing impact on those colonies and those colonies are vital to our ecosystem."
Flying foxes, including the endangered  gray-headed species, have also succumbed to the heat at record rates, according to the Guardian: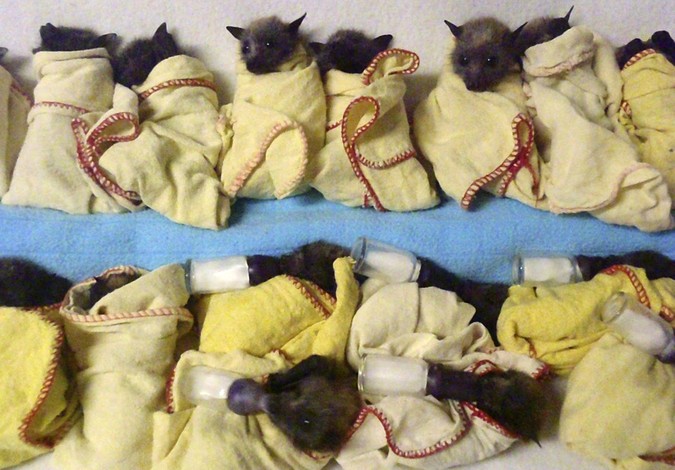 The number of flying fox deaths is "unprecedented", a spokesman for the Moreton Bay regional council told Guardian Australia. "Council has engaged contractors to help with the clean-up and disposal of deceased flying foxes, which is now under way at Burpengary and later today in Dayboro," he said.
Residents have been warned not to try to remove the carcasses themselves, as some of the bats may look, but not be, dead. Queensland's government warned of the consequences of trying to dispose of the bats without assistance:
Chief Health Officer Dr Jeannette Young said Queensland Health had already seen a dramatic increase (250 per cent) in the number of people reporting exposures to bat bites and scratches since the beginning of last year....  "If you find a bat it is very important not to touch the bat because of the risk of infection with Australian bat lyssavirus (ABLV)," she said. "Some bats may appear to be dead but they're not, and when people have attempted to remove them they have been bitten or scratched."
The Guardian reports that ABLV could cause paralysis or death, and is transferrable from bats to humans. Those who need to dispose of bat bodies should contact authorities, who will do so safely. One man, Murray Paas, who we suspect would need a team of experts to deal with his dead-bat problem, filmed the gruesome scene in his backyard: 
Paas did reach out to authorities but told The Guardian that two days after he discovered the bats, professional health was not forthcoming:
Paas said Moreton Bay council had still not come around to clean up the dead bats, despite repeated calls and having warned Paas not to touch them himself for fear of infection. Since Guardian Australia's inquiries the council has said it would be in Dayboro on Monday afternoon. Paas said he got through to the council on Sunday morning but the only action taken had been the delivery of five wheelie bins and a promise that someone would return soon to fill them.
Lots of untouchable dead (or near-dead) bats is a nightmare scenario for people in the vicinity, who must cope with the smell of rotting bats and the sight of them being eaten by maggots. That's on top of the humans themselves sweating in the record-breaking heat. 
According to the Associated Press, bats are not the only Australian animal casualties of the heat wave: 
In Winton, famous for being one of the hottest spots in Queensland and where Australia's unofficial anthem, "Waltzing Matilda," was penned, a large number of parrots, kangaroos and emus have recently been found dead, said Tom Upton, chief executive of Winton Shire Council.
Temperatures have reached as high as 122-degrees Fahrenheit in some parts of the country, in what sounds like an almost total reversal of the stifling cold being experienced on the other side of the globe. Could this mean Donald Trump was wrong?
This article is from the archive of our partner The Wire.