Kenneth Bae Apologizes for Crimes In Totally Believable Press Conference
Kenneth Bae, the American citizen who has been held in North Korea for more than a year, appeared for before cameras in a not-at-all-suspicious press conference on Monday.
This article is from the archive of our partner
.
Kenneth Bae, the American citizen who has been held in North Korea over vague offenses for more than a year, appealed to the U.S. for help in a not-at-all-suspicious press conference on Monday, during which he confessed to committing "anti-government acts."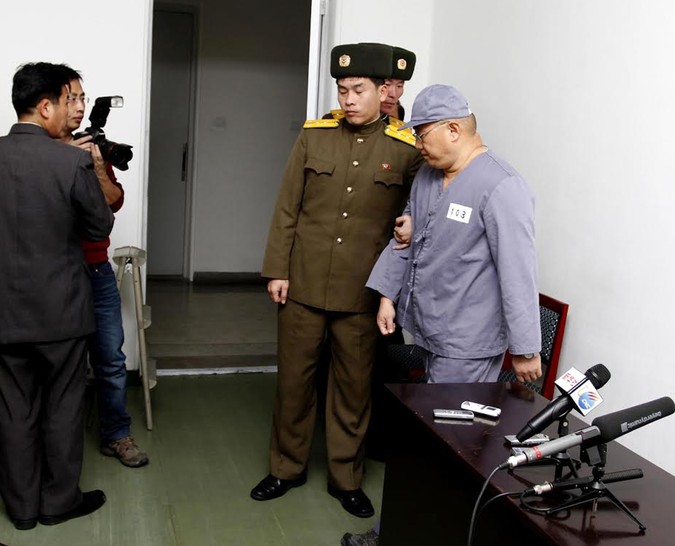 Bae, who was under guard while delivering the staged address, said that he had been treated well by the North Korean government while held in prison, and further stated "I believe that my problem can be solved by close cooperation and agreement between the American government and the government of this country." Bae also said that U.S. comments suggesting his innocence — like Vice President Joe Biden's recent remark that Bae is being held without reason, presumably — are just making matters worse.
Bae's situation has been precarious so far. Despite his assertion that he has been treated well in jail, the prisoner was moved to a hospital due to health problems back in August. His sister told CNN that he suffers from serious back and leg pain, kidney stones, impaired vision and dizziness, in addition to his diabetes. She says he has lost at least 50 pounds over the course of his imprisonment.
Bae's statement that North Korea has treated him well also flies in the face of what we know about the country's dismal human rights record and punitive criminal justice system, though he is probably treated better than most given his political value. Plus, the Associated Press notes that prisoners who speak under these types of conditions later say they were forced into making certain statements.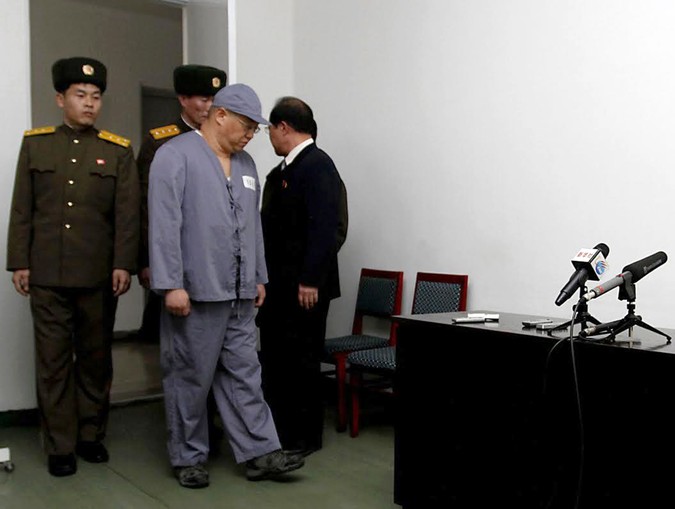 The South-Korean-born Bae was arrested by North Korean officials in November 2012 while leading a tour group in the secretive nation, roughly the 15th trip of its kind that he has taken. North Korea's state-run news agency reported at the time that Bae was taken for alleged crimes against the country, which may have included religious missionary work. CNN reports: 
Among the allegations: Bae was setting up bases in China to topple the North Korean government; he was encouraging North Korean citizens to bring down the government; and he was conducting a "malignant smear campaign." In May, the government also accused Bae of planning a "Jericho operation" to bring down the government through religious activities.
According to CNN, Bae may have been picked up for carrying a bible in the atheist state. His appeal today comes a few weeks after North Korea released an 85-year-old American veteran of the Korean war, who also apologized for his purported crimes. According to the Associated Press, Bae's press conference was likely orchestrated by the North Korean government in an effort to warm ties with the U.S.:
"We shouldn't take Kenneth Bae's comments merely as his own," said Kim Jin Moo, a North Korea expert at the state-run Korea Institute for Defense Analyses in Seoul. "The reason why North Korea had Kenneth Bae make this statement … is that they want Washington to reach out to them." "Bae's comments are an appeal to Washington to actively persuade Pyongyang to release him," Kim said.
Bae's release would be a relief after Dennis Rodman's flimsy "basketball diplomacy" trip to North Korea failed to further Bae's case. Last week, Rodman returned from a the visit, during which U.S. officials had hoped Rodman would make overtures to Kim in an attempt to free the prisoner. Those hopes were dashed on-air when Rodman exploded during a CNN interview, arguing (possibly?) that Kenneth Bae was guilty of the alleged crimes against the state, saying: 
Kenneth Bae did one thing ... If you understand what Kenneth Bae did. Do you understand what he did in this country? No, no, no, you tell me, you tell me. Why is he held captive here in this country, why?
Rodman later apologized for the drunken outburst, and is now heading to rehab.
This article is from the archive of our partner The Wire.