How Sochi Became the Gay Olympics
The Winter Games are serving as a barometer for the international politics of LGBT rights.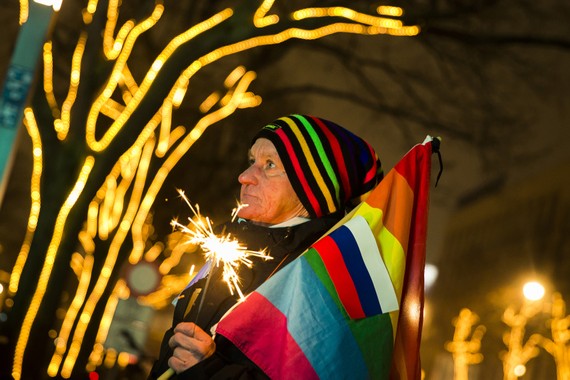 In August 1982, 1,350 athletes from 12 countries gathered in San Francisco for the first-ever Gay Games. The Stonewall riots were more than a decade in the past; a year earlier, reports had surfaced about rare pneumonia and cancer afflicting homosexuals in New York and California—the first glimmers of what would later be called AIDS. Tom Waddell, a gay Olympian who would die of AIDS five years later, told The New York Times that he had organized the athletic competition to "pull the gay community together globally."
At the time, that gay community found itself in vastly different circumstances around the world. As the activist Greg Day wrote in the program for the inaugural Gay Games, the U.S. had "much to learn from Holland, Norway and France where there are national laws protecting the rights of Gay and Lesbian citizens." "Direct contact" with athletes from these nations, Day argued, would be enlightening for Americans living in a country where international visitors were often denied entry because of their sexual orientation.
Three decades later, sports are once again stirring us to take stock of gay rights around the world. Controversy over recent restrictions on sexual minorities in Russia—along with threats of terror attacks, concerns about environmental degradation, and protests by the Circassian diaspora—have arguably made the Sochi Winter Olympics the most geopolitically charged Games since the Soviet-boycotted 1984 Summer Olympics in Los Angeles. Ultimately, the costliest Olympics in history may be remembered for marking a period in which gay rights aren't so much advancing globally as expanding in certain parts of the world while regressing or languishing in others.
As 6,000 athletes from 85 countries gather in Sochi, the global gay-rights divide will be unmistakable.
"The status of LGBT rights globally is schizophrenic," Jessica Stern, executive director of the New York-based International Gay and Lesbian Human Rights Commission, tells me. "You don't see a single trend anywhere you look."
When Russia was awarded the Sochi Games, in 2007, the environmental and security concerns that still plague the $51-billion project swiftly cropped up. But gay rights only came to the fore in the summer of 2013, when the Russian government, which decriminalized homosexuality in 1993, banned the dissemination of "propaganda of nontraditional sexual relations" around children—making it more difficult for gay activists to operate and, rights groups allege, fueling a rise in anti-gay violence in the country. Around the same time, President Vladimir Putin signed another law prohibiting gay and lesbian couples in foreign countries from adopting Russian children. Putin has since declared that gays attending the Olympics should feel "at ease" (so long as they "leave the children in peace"), but that's done little to prevent Sochi from becoming a battleground for gay rights. The mayor of Sochi saying there were no gay people in his city didn't help, either.
In perhaps the most provocative rebuke to Russia's limits on LGBT rights, President Obama has included three openly gay athletes—Billie Jean King, Caitlin Cahow, and Brian Boitano—in the U.S. Olympic delegation, while skipping the Games himself. Gay Olympic athletes have expressed outrage as well; the Australian snowboarder Belle Brockhoff, for instance, has vowed to "rip on [Putin's] ass" after competing and possibly flash an oblique six-finger salute in reference to "Principle Six," an anti-discrimination clause in the Olympic Charter. In this climate, and in light of the International Olympic Committee's prohibition against political statements, everything from American Apparel hoodies to the soundtrack at speed-skating competitions could serve as platforms for subtle protest. Then there's the solution proposed by Saturday Night Live: an all-heterosexual Team USA figure-skating squad:
The laws against homosexuality that have recently made international headlines aren't necessarily new, Stern says, but they are "getting more attention today because of the level of progress that we've seen in other parts of the world."
"What's unique about this moment," she adds, "is the convergence of court decisions and proposed legislation that go above and beyond in their efforts to repress LGBT people and LGBT-rights activism."
The Sochi Olympics come during a dizzying period in the history of the global gay-rights movement. Last year witnessed several significant advances for activists. In the U.S., nine states legalized same-sex marriage and the Supreme Court struck down the Defense of Marriage Act. Brazil, Britain, France, New Zealand, and Uruguay all legalized gay marriage as well (just this week, Northern Cyprus repealed Europe's last sodomy law). Questioned about gay priests, Pope Francis famously asked, "Who am I to judge?" It was enough for one activist to dub 2013 "the gayest year in gay history"—or, as Radio Free Europe/Radio Liberty put it, "the year LGBT rights went global."
But going global hasn't necessarily meant going in the direction gay-rights advocates would like. In recent months, India's Supreme Court has reinstated a ban on gay sex (in one fell swoop doubling, by one estimate, the number of gay people in the world who can be imprisoned for their sexuality) and Australia's High Court has overturned gay-marriage legislation. In Nigeria, Africa's most populous country, the authorities have reportedly begun arresting people under a new law that outlaws gay advocacy and punishes gay marriage with up to 14 years in prison. In Uganda, President Yoweri Museveni has expressed opposition to a proposed bill meting out life imprisonment for gays—only to characterize homosexuality as an "abnormality" and lesbianism as a product of "sexual starvation." We know the story in Russia, where Vladimir Putin has anointed himself the leader of an international conservative counteroffensive against the West's "genderless and infertile" liberalism.
As the Brussels-based International Lesbian, Gay, Bisexual, Trans and Intersex Association (ILGA) noted in its latest report on "state-sponsored homophobia," "little has changed in the proportion between countries criminalizing same-sex sexual acts between consenting adults and those which do not, i.e., respectively, 76 (roughly 40% of UN Members) versus 114 (roughly 60% of UN Members)."
The "current division of the world—from the point of view of legislation—into an LGBTI-friendly ­ field and an LGBTI-unfriendly ­field is the result of different cultural, social and political processes rooted in the histories of the countries and the history of their relations with one another," the study added.
Here's how that divided world looked as of May 2013, when ILGA came out with its report (click on the map to expand):
In a June report titled "The Global Divide on Homosexuality," the Pew Research Center arrived at similar conclusions, finding "broad acceptance of homosexuality in North America, the European Union, and much of Latin America, but equally widespread rejection in predominantly Muslim nations and in Africa, as well as in parts of Asia and in Russia."
Pew reported that attitudes about homosexuality "have been fairly stable in recent years" save for in Canada, South Korea, and the U.S., where public support has grown significantly, and that "acceptance of homosexuality is particularly widespread in countries where religion is less central in people's lives"—nations that also tend to be the wealthiest in the world. Exceptions include Russia and China, where levels of religiosity and tolerance for homosexuality are both low.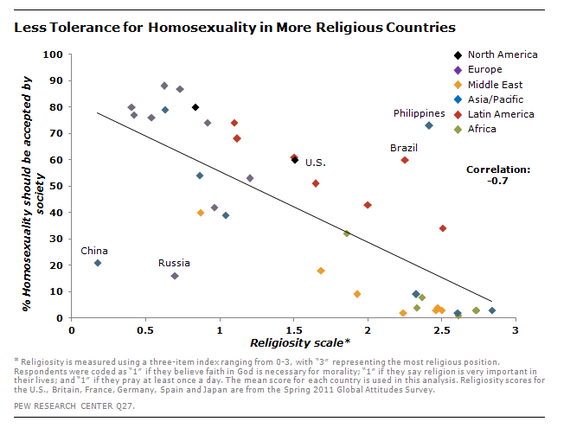 Here are the percentages of respondents in the 39 countries Pew surveyed who said society should accept homosexuality. Except in South Africa, where gay marriage is legal but only 32 percent accept homosexuality, same-sex marriage has, not surprisingly, advanced the most in countries where support of homosexuality is highest.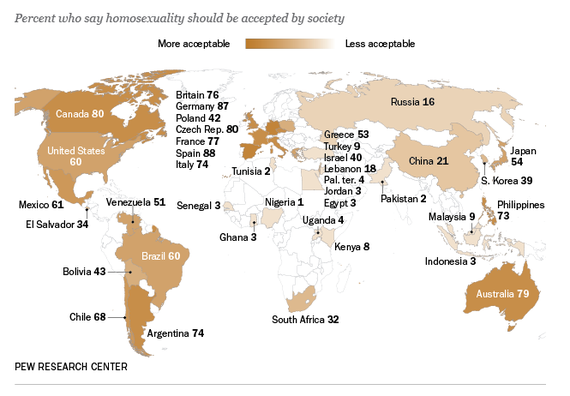 Religion undoubtedly informs opinions on LGBT rights—a dynamic reinforced by the recent trend of globetrotting American evangelicals, stymied at home, crafting and promoting restrictions on homosexuality in foreign capitals—but it's not the only factor at play. India and several countries in sub-Saharan Africa, for instance, are implementing gay-sex bans with roots in British colonialism.
Then there's domestic politics and geopolitics. Vladimir Putin, ILGA Executive Director Renato Sabbadini argues, sees anti-gay legislation as a means of placating the powerful Russian Orthodox Church and defending 'traditional values' in opposition to the West, where LGBT rights are generally advancing. But Putin knows that as a member of the Council of Europe, a human-rights organization, Russia cannot recriminalize homosexuality. Hence the country's roundabout propaganda and adoption laws.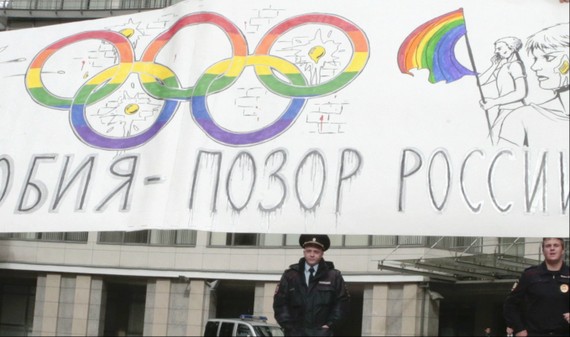 Stern and Sabbadini emphasize that legislation is only one means of assessing the state of the global LGBT community. The growth of gay activism, even in countries where the legal climate for homosexuals is repressive, is another. Stern points to the Kampala-based Civil Society Coalition on Human Rights and Constitutional Law's outspoken opposition to Uganda's anti-gay bill, while Sabbadini cites how Indian gay-rights activists swiftly mobilized to protest the restoration of the country's ban on homosexual acts. Sabbadini adds that his organization is trying to determine how to track another measure: levels of anti-gay violence across countries.
"The picture on the ground may be very different from one country to the other, and not always in direct correlation with the legislation they have," Sabbadini tells me. "You may have a country which has adopted progressive legislation and, at the same time, in the same country, you might have an increase in attacks against people based on sexual orientation or gender identity." In Brazil, for example, same-sex marriage is legal, but more transgender people are murdered than anywhere else in the world.
Stern also takes issue with the notion that Sochi is simply a dramatization of today's global gay-rights divide. "I don't think you can reduce it to a symbol, because the anti-gay laws are so far-reaching and egregious," she says. "The fear I have is that the day after the Olympics concludes, the global attention will move on from Russia. And the laws are still in place, and people are still unsafe."