Confronting a Sexual Rite of Passage in Malawi
In one African country, "initiation" is endangering the health of girls and boys.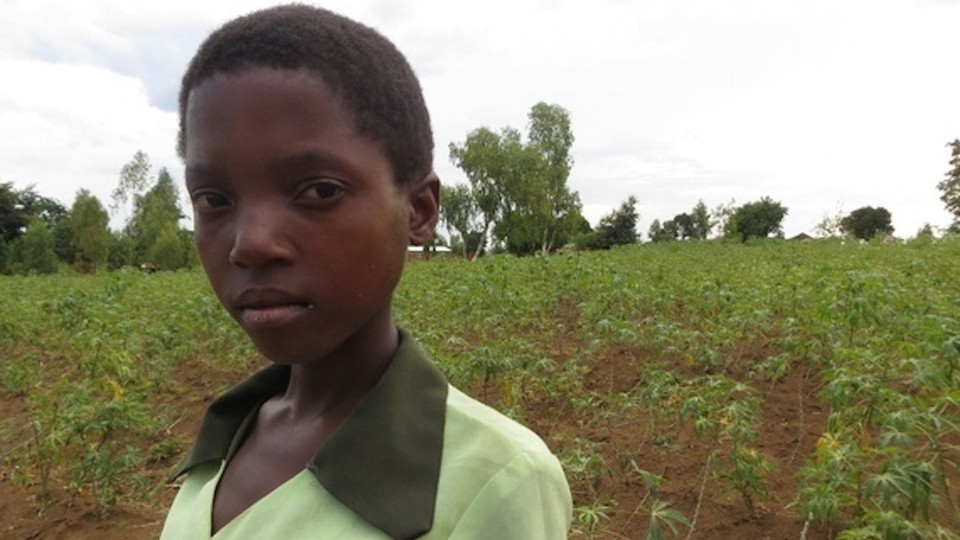 CHIRADZULU, Malawi — A slight frame gives her the appearance of a child, but the hardened look Grace Mwase wears makes her seem older than her 14 years. In many villages across Malawi, a largely agrarian sliver of a country in southern Africa, custom dictates that both boys and girls as young as 8 attend a rite of passage known as "initiation," after which they are no longer seen as children. The practice is most entrenched in the country's south, where Mwase's Golden Village is located.
Mwase was just 10 when she was led, along with about a dozen other girls, to remote huts outside her village during winter vacation from school in August. The girls were accompanied by older women from their village in Chiradzulu district, near the border with Mozambique. The women, known as anamkungwi, or "key leaders," told them that when they returned to their villages they should cook and clean—and have sex. According to Mwase, most of the two weeks she spent at the initiation camp were dedicated to learning how to engage in sexual acts. She had been excited for this time with friends away from home, but that feeling quickly gave way to dread as she learned the true purpose of initiation.
"They taught us only how you can handle a man," she says, looking down at her hands. "So you should be dancing for the man. The man should be on top of you and you should be dancing for him, making him happy."
The anamkungwi told the girls to lie on top of one another and get a feel for the various positions described to them. They then encouraged the girls to "practice" what they had learned. In fact, girls in Malawi are often told that if they don't have sex upon concluding initiation, their skin will become dry and brittle. This will mark them for life, and they will be ostracized if they don't complete the custom as their mothers and grandmothers did before them. These guardians often force their daughters to go through with the ritual for fear of breaking with tradition.
Initiation is a centuries-old practice in the region, according to Harriet Chanza of the World Health Organization. In many agrarian communities, she notes, "There's nothing like adolescence. You are either a child or an adult." Initiation is meant to establish the gender norms that boys and girls are expected to follow as men and women. The emphasis on having sex may also have a darker purpose in a country where nearly three-fourths of the population lives below the poverty line. Chanza, who is based in Malawi, says that some parents may actually want their daughters to get pregnant at a young age. A girl is often married soon after she is found to be pregnant, deferring the cost of caring for her and her baby from her parents to her husband.
Mwase was told "You are a woman enough" by an anamkungwi in her village, and informed, "if you come out [of the initiation camp], you should sleep with a man to cleanse you of your childhood thing." Worse, Mwase says though a translator, "They said you should do your sexual cleansing but not use a condom. You should do it plain."
Mwase sits in an uneven plastic lawn chair in an empty hall used for community gatherings as she recounts her experiences. She had walked to our meeting point in Chiradzulu district from her village to speak with foreign journalists, and agreed to discuss a topic that few women are willing to broach because we didn't share ties to her community or culture. "You're like a visitor so you don't know anything," she says. Conversing with us, in other words, isn't as difficult as telling women in her village how she feels about a custom they might support.
Her small, sharp eyes aglow in the dimly lit room, a grain mill whirring in the background, Mwase says the anamkungwi who oversaw her initiation told her to find an older man to have sex with after she left the camp. In defiance of tradition, however, Mwase refused to do so, fearing the costs to her health from unprotected sex. Like many first-born daughters in Malawi, Mwase was raised by her grandmother. She says her grandmother, who had sent her to the camp, didn't force her to have sex—likely because Mwase never told her about her decision not to do so. If her grandmother had learned the truth, she might have paid a man to take Mwase's virginity. In some villages, young men hired for this task are called "hyenas," and they occasionally have sex with many girls in a single village who have gone through initiation together.
Thera Rasing, an anthropologist who has studied girls' initiations in Zambia, writes that the secrecy surrounding these rituals increased during the colonial era and has remained in place to keep missionaries and churches from "trying to control and Christianize these rites." Still, as abominable as such customs might seem, Rasing adds that initiations are associated with honor for many women: "A woman's capacity to elicit change, to be powerful and empowered arises from her relative success in being a proper woman. Through this she acquires the respect of her spouse and of the neighbourhood as a moral community. This is what a girl learns during her initiation into womanhood, and that she is told during her wedding ceremony."
Despite the social role of initiations, there are numerous public-health concerns surrounding the custom in Malawi. Young girls largely unaware of the risks are being told to have unprotected sex in a country where a tenth of the population is HIV-positive. (While this figure is on par with other countries in the region, it is far higher than rates elsewhere in the world; 70 percent of AIDS-related deaths occur in sub-Saharan Africa.) Teenage pregnancies also abound in Malawi, where one in four teen girls under 18 is a mother (in sub-Saharan Africa as a whole, more than 50 percent of births take place during adolescence). The young age at which girls become pregnant complicates their deliveries and puts them at greater risk for losing their babies, losing their lives, or developing an obstetric fistula—a condition where a rupture in the birth canal leaves women suffering from incontinence and ostracized from their communities.
Female genital mutilation, which often entails the complete or partial removal of the clitoris, is not common in Malawi, though it can take place during similar rites of passage in other parts of Africa. But initiation can leave lasting trauma even without physical injury. The Malawi Human Rights Commission, a government agency, has reported that initiations impinge on girls' rights to education, health, liberty, and dignity. The commission further elaborates on some of these rituals, stating that girls are taught a dance known as chisamba "as a way of preparing them for their role of satisfying their husbands in bed," and that they are made to perform this dance at the end of their initiation "bare-breasted in a very explicit manner as they are being presented to the whole community." The study also notes, however, that initiation rites vary widely, and that in some communities girls attending initiation are advised not to have premarital sex.
For boys in Malawi, and in several other African countries, initiation sometimes involves circumcision. According to the Malawi Human Rights Commission, Malawian boys live in camps on the outskirts of villages and are occasionally forced to consume foods prepared with urine and "medicine" made with their severed foreskins. The report notes, "Once the boys undergo circumcision they are considered mature and are actually advised to have sexual intercourse with any girl as soon as they go back home."
Initiations for boys can easily go awry because the circumcisions are often performed by people without medical training wielding ritual knifes. Last year in South Africa, an estimated 60 young men died after their initiation ceremonies as a result of botched circumcisions and dehydration due to "survival tests." Local government officials were hesitant to intervene because of "cultural sensitivities."
"The difficulty with culture is you deal with the [village] chief and he says, 'I have changed. I have put [in] bylaws [to prohibit initiations]. [Then] you come [back] and [initiations] are quietly being done," says Jean Mwandira, a specialist in reproductive and adolescent health with the United Nations Population Fund in Malawi.
We speak over dinner beside the glittering but parasite-ridden Lake Malawi. Here in southern Malawi, where initiations are most widespread, girls are often married off as soon as they reach puberty, and literacy rates are among the lowest in the country. In the district of Mangochi, which borders the lake, 48 percent of teenagers have begun bearing children—the highest incidence in Malawi. Mwandira says it is hard to persuade local leaders here and elsewhere in the country to stop a custom that has such a long history, especially since annual initiations for boys and girls have become a kind of industry.
"Those people who perform such tasks are paid, either in cash or kind, so it's difficult for the whole thing to die [out]," she explains. Even "the chief gets something for allowing that initiation ceremony to take place."
In the face of public scrutiny, those who have a vested interest in keeping the custom alive try to do so covertly. Initiation camps are held outside villages in temporary shelters built just for this purpose and then burned to the ground once children are sent home, Mwandira says. Adults who aren't involved in managing the camps are not permitted near them. What's more, the girls who take part in initiations are loath to talk about them.
I spent a day in Mangochi, asking every young woman I could whether she had been initiated. Each time I got a shy smile and swift 'no' in response. This despite what Mwandira told me: "It's not possible to live in Mangochi and not be initiated."
In Chiradzulu, a few hours south by car, Grace Mwase was the rare exception willing to speak about her experiences with initiation. When I asked if she wanted her testimony about this deeply private matter to be kept anonymous, she said, "No, use my name." Her lack of shame may well stem from her involvement in the Girls Empowerment Network, a locally run coalition of young women.
The group is led by a woman named Joyce Mkandawire. She says that when she first arrived in Chiradzulu, where Mwase lives, she was struck by the lack of freedom afforded to girls. "A girl leaves a school [because she is] pregnant, nobody cared. A girl gets married today, nobody cared," she recalls. Mkandawire is now advocating for new bylaws in local villages to bar teenage girls from getting married. She has also reached out to local headmasters, who notify her when a girl has dropped out of school so that she and the Girls Empowerment Network can try to convince her to return—and to focus on education rather than marriage.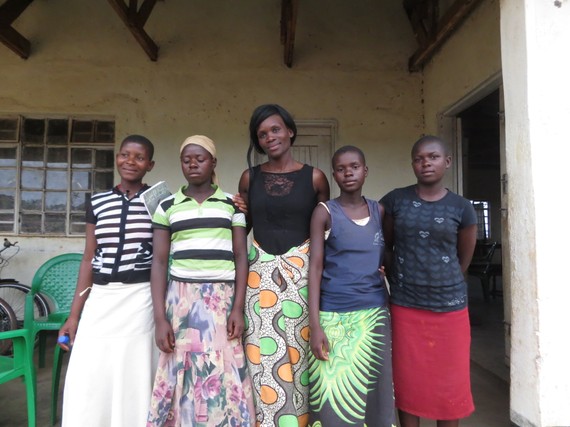 In speaking out about these issues, Mkandawire has inspired girls like Mwase to do the same. About her work as a leader in the Network, she says, "I am there just to help the community and to encourage myself. If there is anything [wrong], I go to the elders and speak to them." Mwase also goes to the initiation camps outside her village every year to speak to the girls there. "I go to tell them after your initiation, if you go out, don't do the sexual cleansing thing because it's bad for us," she explains.
And she's pleased with the progress she's made so far. "If I go talk to them, they listen to me," Mwase says, breaking into a smile.
---
Reporting for this story was made possible through a United Nations Foundation press fellowship.