Why Yasukuni Matters: The Snarls of Asian History
The many layers of past, present, and future exposed by one minor-seeming episode.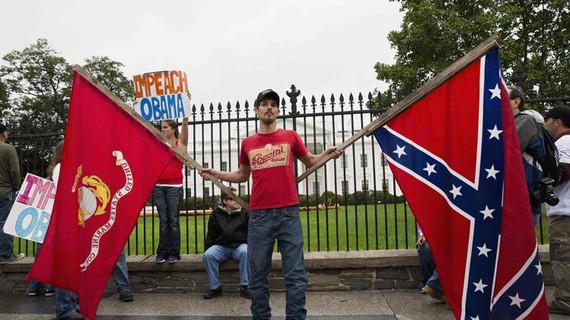 I hadn't expected to devote so much space to the ramifications of Shinzo Abe's recent visit to the Yasukuni shrine. For a catchup on previous discussion, see installments one, two, and three. But messages keep pouring in, and before turning back to American Futures and Redlands, Calif. this afternoon, here is one presumably final installment.
Ambiguous -- like the Confederate flag. From a friend who is a professor of Chinese history:
In terms of analogies, what's struck me as the best one to convey the response that visits to the shrine elicits in East Asia isn't a visit to a site located elsewhere, but rather displays of Confederate flags...

An effort is made then, by those who use it that way, to assert that it is a complex symbol that can mean many things, including a form of local pride, and that those aspects of it should be separable from slavery and from racism. Yet there is no way for many of us in America to see it as separable from precisely those detestable things.
From another student of Asian history, "a symbol of the modern Japanese nation-state":
I don't think that there is an analogue [to Yasukuni] in the United States, or perhaps even in Europe.

Yasukuni, beyond enshrining those Japanese who fell during World War II, enshrines all of those who fell in the Emperor's service. So all of those soldiers who died in the first Sino-Japanese War, the Russo-Japanese War, and World War I are there as well.

Beyond the issue of the war criminals there, the shrine is a symbol of the modern Japanese nation-state. When the large metal, rather than typical wood, torii gate was erected, it was the largest free-standing structure in Tokyo and towered over everything else in the city. It was a profound embodiment of the nation.

It's also worth noting that the modern Japanese nation-state largely defined itself in terms of "not China." The Japanese modernization project was prompted by the desire to avoid being carved up into European cantonments like China. [JF note: Yes, and this was one of the big themes of my book Looking at the Sun.] And quite early the Japanese began playing the imperial game in Korean, Taiwan, and China proper. These led to the above-mentioned conflicts.

Thus, Yasukuni is inextricably intertwined with Japanese modernity and cannot be separated from the often-brutal colonization efforts abroad. Of course, the scale of Japanese atrocities during World War II, and the war criminals, makes things a bit different, but in a sense, the shrine is a representation of what any modern nation-state does.

Japanese conduct in the Pacific War was indeed particularly barbaric, but the overall gist of things wasn't that far different from their earlier imperialism, for which they were often praised by European nations (during the Russo-Japanese War, for instance). And insofar as the Japanese nation-state colonized its neighbors, and thus was antithetical to their existence as independent states, Yasukuni can never be acceptable to them as it is a symbol of their oppression. The war criminals are just an intensifier.

I think that the modern outcry against Columbus Day in the United States might be approaching a good analogy. For many Native Americans and American Indians, Columbus stands as the progenitor of European colonization; for this reason, any celebration of him would be offensive. There cannot be a "clean" celebration of Columbus.

On the matter of the Japanese not being repentant enough for their actions during World War II, I think it is worth contextualizing that within US actions. The US desire to see a self-sustaining Japan that could serve as bulwark against Communism led to the US overseeing the completion of the Japanese economic expansion that had been aimed at during World War II by the Japanese, often using the same personnel and experts who had been movers and shakers during the Pacific War.

As Andrew Gordon has argued in The Modern History of Japan, it makes sense to think of a "transwar" period. The end of World War II, rather than marking a radical divergence, instead marked a continuation, albeit by different means. The retention of personnel, and the Emperor himself, by MacArthur created a sense of continuity. The end goal of the Pacific War (ie, a robust, industrialized Japanese nation-state within a quasi-autarkic economic sphere) had not been wrong, only the means that the Japanese went about achieving it. It is somewhat startling how much US policy documents, such as NSC 48-2, echo the goals of the Greater East Asia Co-Prosperity Sphere.

I think there are some parallels with this in Germany, too. But in the German case the Holocaust, card-carrying members of the Nazi Party and the SS in particular could serve as finite and concrete examples of bad acts to be repented. I don't think the Japanese can separate their atrocities in the same way. 
As noted above, I agree about the messy legacy of the Occupation years -- messy within Asia, messy between the U.S. and Japan, and messy most of all within Japan itself. In contrast to the situation in Germany, the wartime symbol of the state -- the Emperor -- remained in place; for this and other reasons, the contrast between pre- and post-war regimes was not as clear-cut as in Germany. Because of Hiroshima and Nagasaki, Japan's dominant imagery of the war emphasized its own status as wartime victim. And much more, about which there is a vast literature led in my view by John Dower's Embracing Defeat. 
The point is: as with anything involving race in America, the layers of history, symbolism, emotion, and paradox here go very deep.
Next, from a Westerner with experience in Asia, an argument that few outsiders really fear militarism from Japan, but they think differently about China:
A quick note on my background.  I was an exchange student in Japan for a semester in college, spent two years in South Korea in the U.S. military, and have studied both the Japanese and Korean languages, as well as East Asian history and culture.

My overall take is that this situation is being exacerbated on all sides, in part because it serves the interests of the leadership in each of the respective countries for various reasons.

China's leadership, for instance, has been quite active in trying to cultivate anti-Japanese resentment among China's populace well before any of the present series of confrontations. [JF note: Yes, as I've noted repeatedly in my own reports from China.] Abe has clearly been interested in reversing or at least easing the restrictions imposed by the postwar constitution on Japanese military power, and I suspect that absent the current atmosphere of confrontation, he would have much less of an excuse for this or other steps... 

One thing that stands out to me in all this, though, is that (at least as far as I've been able to tell) only China and South Korea have made any particular response. The lack of response from other countries that Japan conquered and occupied during World War II, who suffered as well from Japanese war crimes, is somewhat telling to me. These are predominantly Southeast Asian countries that border the South China Sea, and are involved in a dispute there with China — Vietnam, the Phillipines, Malaysia, Indonesia. I suspect it may indicate that they are much more concerned about China than they are a potentially re-militarized or active Japan.

I find myself in much the same situation. My grandfather fought on Iwo Jima and Okinawa, my great-uncle died on Iwo Jima, and my great-grandmother (as an U.S. military nurse) witnessed firsthand the results of the horrific treatment of POWs by the Imperial Japanese military — and yet, the prospect of a rearmed Japan, even one with unrepentant conservatives like Abe in power, does not worry me to the same degree that the actions of China's leaders, particularly its military leaders, do.

I find it difficult to believe that modern Japan, and its culture, lend itself easily to open political acceptance of the use of military force to impose its will on other nations as it did during and before World War II.* I do not see significant support for it in the popular culture and attitudes. I cannot say the same for China, at least not with the same degree of certainty. (And in fairness, I'd say the same of the U.S. as I do China — our track record isn't exactly great even as recently as Iraq.)

*I was going to say that the U.S. Japan alliance acts as a check here as well, but then I thought better of it — if anything, our track record indicates we would probably press a remilitarized Japan to participate more in future actions such as Iraq or Afghanistan.
 
Victors' justice. From another reader with a Western name:
You stress the timing issue with the Yasukuni visit. I'm not sure why you think that now is such a critical time in its relations with China. It's not like the countries are on the cusp of some sort of reconciliation.

The Yasukuni visit is something that should happen every year, or rather three times a year, according to Japanese custom, near New Year, in the spring, and around the summer Obon period. Yasukuni is like Arlington: it honors war dead, and U.S. presidents don't avoid Arlington visits simply because characters like Jimmy Doolittle, a war criminal if ever there was one, is buried there.

Abe is just asserting Japan's right to be a normal country, with the chief executive honoring the nation's war dead, just like any other country. Japan has been infantilized since the end of the war, but those days are over....

I don't think it's clear that forcing generations unborn during the war into guilt trips is effective, however morally necessary one might think it is. Japan has a remarkably non-nationalistic, peaceful population, who on the whole are more puzzled by Chinese and Korean hissy fits than angered by them. Perhaps if China's geriatric leaders would end the country's hate-inducing educational curriculum, and let its children grow up in the present day, without wallowing in the past, Chinese might be as mellow as most Japanese are, and everyone would get along.

Let me also point out a particular bias on your part. The scare quotes and the use of the word "nationalist" here: "the power of the 'victors' justice' concept among some Japanese nationalists." Do you seriously think that any post-war war crimes trial could result in real justice? And in practice in the U.S. the word "nationalistic" implies hard right-wing, even fascistic politics.

Any time you feel tempted to use it in reference to Japan, ask yourself, "How does this compare to the U.S? Is 'uppity' the word I'm really looking for?" For instance, is changing the Japanese constitution to be more similar to the U.S. constitution nationalistic? For the most part, politics in Japan that are labeled right-wing or nationalistic by U.S. commentators are closer to centrist politics in the U.S. There are no real right-wing political parties represented in the Diet, while there are many Diet members from socialist and communist parties. The entire Gaussian curve of Japanese politics is considerably more left-wing than the U.S.
I agree that Japanese politics (like those in most democratic countries) are to the left of America's. I disagree that this invalidates terms like "nationalist," as useful distinguishers within the Japanese spectrum.
What about American war crimes? Another reader:
The only difference between this and Presidents visiting Arlington or the Tomb of the Unknown Soldier is that the Japanese not only lost the war, but were occupied and had their leaders tried for war crimes rather than hide behind victory or at least not total defeat.

You could argue that Kennedy, Johnson and Nixon, and certainly the military command under those Presidents, would likely have faced some sort of war crimes trials had Vietnam invaded and overtaken the US. Frankly, those responsible for the dropping of nuclear weapons on Japanese civilian targets, or drone strikes against civilians in another context, should have been prosecuted as well.
"Don't give a damn about the outside world." From a foreigner living in Japan:
One of the main issues I see with it all is that the Japanese do as they wish and don't give a damn about the outside world and what they think. It seems that slowly they are trying to close their doors on the outside world but yet, want the benefits of trade. Abe is nothing but a sick right wing nut and many foreigners are packing up and going "home" because of his activities and our freedom slowly being threatened. 

I am a [North American] female married to a Japanese man and we can't discuss Abe,Yasukuni nor Abe's government without it turning into an argument. And he's one of the more open-minded and enlightened, needless to say. The Japanese see themselves as the victim of the Second World War and the rest of the world allows them to get away with it. Every year American politicians attend Nagasaki and Hiroshima memorial ceremonies. The same can't be the same for the Japanese with regards to places like Nanking, Pearl Harbor and many other places Japan destroyed during the war. They don't send anyone anywhere to try and atone for their past behaviour. 

The public, and government, is very well aware of how visits to Yasukuni upsets China and Korea but they don't care. They bleat on about Japanese victims but fail to understand that THEY caused the deaths of millions in Japan and abroad. They go on and on about how Japanese has apologized but fail to understand that apologies (and money) mean nothing if the current government makes inflammatory statements about the war, 'comfort women' and try to white wash history but changing their textbooks.

I am a university professor here; my current students do not have a clue what Japan did during the war. They think they were solely the victims of the Americans and have no idea why China and Korea hate them. They do not understand why Yasukuni is an issue. They do however, know that China and Korea get upset but they don't care. My students, at a very well known university, openly bash Chinese, Koreans and anyone who dares voice an opinion about how Japan was an aggressor. They simply do not know their history. It isn't covered on entrance tests to high schools and universities here. 
Actually, people in Japan are grappling with their history. From another Westerner:
Your depiction of Japan's attempt to grapple with its past elides a great deal of necessary detail. In defending the US and UK from charges that they have also attempted to whitewash their own histories, one of your readers seemed to imply that controversies like the one surrounding the statue of Arthur Harris don't exist in Japan. 

In fact, nothing is farther from the truth. Japan is deeply divided over the issue of apologies and reparations for misdeeds during the Second World War. Several well known Japanese historians, including Hirofumi Hayashi, have spent their lives exhaustively documenting Japanese atrocities during the war and many Japanese politicians, such as Yohei Kono, have lobbied for greater public demonstrations of contrition and regret.

While I agree with many commentators that Japan has not done enough to come to terms with the crimes it committed, it also seems clear to me that Japan is being held to a double standard. After all, Japan's failure to adequately apologize for its aggressive colonial past is hardly unique. The British have certainly never delivered an adequate apology to their former subjects in the Middle East or India. In fact, in Britain, the old British Empire still evokes a great deal of pride. The French, Dutch, Spanish, and Belgians are just as guilty of colonial abuses and have failed just as badly to come to terms with them. 

As an American, I have first hand knowledge of the fact that the United States has never quite reconciled its "Manifest Destiny" with the near genocide of the continent's Native American inhabitants. My middle school and high school history books very effectively championed the American "frontier spirit" while largely ignoring the impact our westward march had on the native peoples already living on the so called "frontier".

Despite this, none of these controversies have resulted in the type of geopoltical problems like those between Japan and China. I can't help but conclude that the current diplomatic problems have less to do with a lack of Japanese contrition and more to do with nationalist manipulation. Japan is a convenient target of Chinese hatred for a regime in need of one.
As an illustration of the kind of within-Japan debate this reader is referring to, consider this editorial, "Abe's Yasukuni Visit Isolates Japan," by the well-known diplomat and scholar Kazuhiko Togo, whose grandfather was the wartime foreign minister. It begins:
To those who are general supporters of Abe's economic, political and foreign policy initiatives, including myself, his visit to Yasukuni on 26 December was a bombshell of disappointment and helplessness.
On the other hand, from a reader in Japan:
You, Mr. Fallows, have made a lot of enemies here.
OK. Thanks to all for views and for reminders of the complexities of this important topic, and that is enough for now. Next up, more on the pluses and minuses of our own country.