'Who, If Not Me?' Why One Ukrainian Activist Is Protesting
"We stand days and nights on frost not to be part of Europe, but TO BE," Kateryna Kruk says.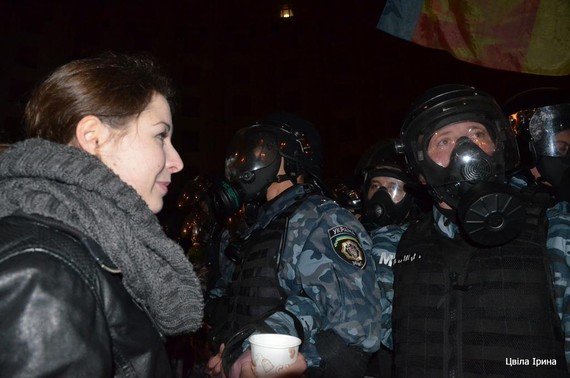 On Friday, November 22, Kateryna Kruk, a 22-year-old press secretary for an opposition lawmaker in Ukraine's parliament, left work and took to the streets of Kiev, where she joined budding protests against President Viktor Yanukovych's rejection of an EU trade deal.
Fourteen days later, she's still there, spending nearly all day, every day, providing a fascinating on-the-ground account on Twitter of Ukraine's "Euromaidan" protests. Her goal, as she put it in one tweet, is to break the "information blockade" that is keeping the world from understanding what's behind the massive demonstrations.
As protests have swelled over the past week, analysts have been picking apart a complex question: Why have thousands of Ukrainians suddenly descended upon Kiev, seizing public buildings and whole streets in the capital, setting up makeshift command centers, and demanding the fall of the government? Do the protests speak to a battle in the country over whether to move closer to Russia or Europe? Or is this really about a deeply unpopular president? A cratering economy? Police brutality?
I posed these questions to Kruk. Why, ultimately, is she protesting? Here's what the young political scientist from western Ukraine wrote back (I've lightly edited her response for clarity):
On one of the very first days of Euromaidan, someone on Twitter asked me why we are protesting. I could write thousands of words, but due to limitations on Twitter wrote this: "When words lose their meaning, people lose their freedom. We are protesting to restore the meaning of the words justice, freedom, human rights, choice."

But that was one week ago, when the biggest desire of Euromaidan was to sign an association agreement with the EU. After last Saturday, when young students and older people were brutally beaten on Euromaidan by riot police and some of them had to hide in Mykhalivska Church (which later was blocked by riot police!), the mood of protesters has completely changed. I remember myself standing on Mykhailivsky Square among people, who came there not because of the agreement, not because of the party, but because of anger—anger that you no longer can feel safe in your own country, that you can't express your opinion, that you can be beaten just because authorities want you to be beaten. I was looking in the eyes of people and there was one word: "enough." Saturday morning was the last drop; people can't endure the rules of bandits any longer. The Euromaidan that gathered on December 1 is absolutely different. Right now we stand days and nights on frost not to be part of Europe, but TO BE. We want to be a democratic state, we want to have our freedoms back, we want to feel like masters of our own country and not a playing card in someone's game. Yanukovych thought he could play with the destinies of 45 million people; we are showing that he can't.

A lot of my friends from European countries wonder why I am taking part in these events. My answer is simple: Who, if not me? I want to live in a better country, I want to have higher standards of life, I want to be proud of where I am from. That's why I'm doing my best to make some changes happen. I'm not standing for leaders, for parties. I'm standing for myself, for my future. People on Euromaidan understand that there is no road back; the authorities can only make our lives harder, especially if they see that nothing can stop them.

Everyone is trying to make their own contribution to our course. My humble role is to share news and my feelings as a protester with the world. From the very first day on Euromaidan I've been tweeting in English and helping foreign journalists with translations. The only thing I want to do is to let the world know about us—know the truth! Even Ukrainian TV channels, which are owned by oligarchs, aren't showing the truth about Euromaidan, so what filtered information could they send abroad? I simply want the world to see us—ordinary Ukrainians, poor, sometimes not very well-educated, without fancy clothes and gadgets but friendly, warmhearted, and hardworking. It is an unbelievable feeling to know that someone supports you, no matter whether you see it in the eyes of the person next to you or read it on the computer.

Last Saturday, after the bloody dispersion of Euromaidan on Independence Square, Ukrainians understood that they were waking up in another country, in Belarus—that their democratic state was crushed by riot policemen beating people and by the people giving them orders. But Euromaidan gathered again in just a few hours to fight for its existence and the future of Ukraine. Because there are some things fear, police sticks, and tear gas can't destroy—the hope to live in a better country and the willingness to stand for this.
To get a sense of what it's like to be at the nerve center of Ukraine's protest movement, check out some of Kruk's Twitter dispatches below:
ppl have blocked exit of Berkut military base in Vasylkiv near #Kyiv to prevent 33buses with riot police to go to #euromaidan !!!well done!

— Kateryna_Kruk (@Kateryna_Kruk) December 5, 2013
In City Hall there is beautiful white piano and one of protesters is playing it right now...it is so refreshing and beautiful...#euromaidan.

— Kateryna_Kruk (@Kateryna_Kruk) December 5, 2013
What days!yesterday was anniversary of Orange revolution, today-of Revolution of roses.will #euromaidan become another historical moment?

— Kateryna_Kruk (@Kateryna_Kruk) November 23, 2013