The Middle East's Snowstorm, Viewed From Space
Heavy rain and snow hit the region—from Lebanon down to Egypt.
We've seen the amazing photos of the uncharacteristically early and intense snowstorm that blanketed the Middle East last week (and if you haven't, head on over to In Focus), but sometimes you just can't beat the view from 440 miles above Earth's surface. On Monday, NASA released the image below, taken by Terra, a more than 11,000-pound satellite roughly the size of a small school bus.
The satellite, the agency notes, took the image of the snow on Sunday, after clouds over the region dissipated. The "snow is confined to higher elevations in Syria, Egypt, Lebanon, Israel and the West Bank, and Jordan," NASA writes, though some "lower-elevation desert regions in Syria are also snowy." Lower elevations near the coast have instead received heavy rain, resulting in deadly flooding. "The floods are not visible at this scale, but tan and green plumes of sediment are visible along the Mediterranean Sea coast," the agency adds.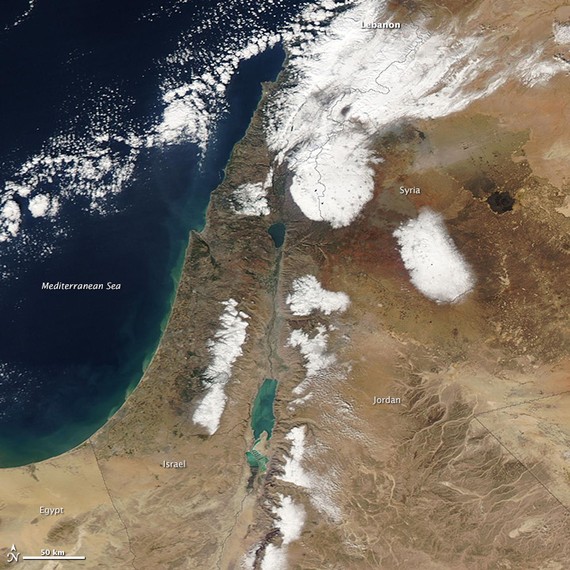 A zoomed-out map, showing more of Egypt, Saudi Arabia, and the Mediterranean Sea, gives you a sense of just how far the wintery weather reached: