The Art of the Christmas Truce
A tradition forged in Europe during World War I finds modern expression everywhere from South Sudan to Colombia.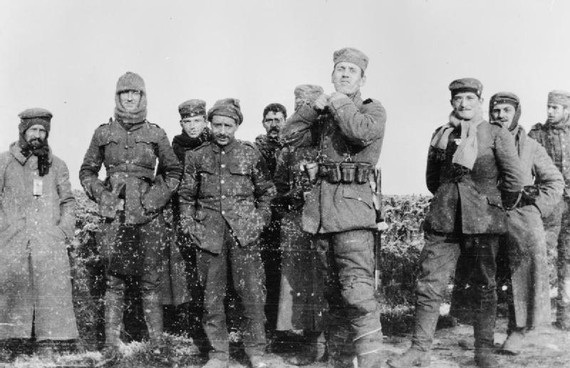 Ninety-nine years ago today, something strange happened on the Western Front: It fell silent. World War I had only just erupted that summer, but the fighting had already proven fierce, claiming nearly a million lives. On December 24, 1914, however, an estimated 100,000 soldiers, mainly British and German troops, laid down their guns, left the trenches, and mingled in the frigid cold of No Man's Land to mark Christmas—an uplifting if surreal moment in an otherwise soul-crushing war.
"All I'd heard for two months in the trenches was the hissing, cracking and whining of bullets in flight, machinegun fire and distant German voices," Alfred Anderson, a British veteran and the last survivor of the Christmas Truce, recalled in 2004. "But there was a dead silence that morning, right across the land as far as you could see. We shouted 'Merry Christmas', even though nobody felt merry. The silence ended early in the afternoon and the killing started again. It was a short peace in a terrible war."
Elsewhere on the Western Front, the celebrations were more exuberant and long-lasting, involving everything from impromptu soccer games to spirited renditions of "Silent Night" to free haircuts by a British machine gunner. On December 30, The New York Times republished a bubbly letter from a British soldier that captured the mood well:
We exchanged souvenirs: I got a German ribbon and photo of the Crown Prince of Bavaria. The Germans opposite us were awfully decent fellows—Saxons, intelligent, respectable-looking men. I had quite a decent talk with three or four and have two names and addresses in my notebook.

It was the strangest scene you could imagine—going out unarmed to meet our enemies, also unarmed. After our talk I really think a lot of our newspaper reports must be horribly exaggerated. Of course, these men were Saxons—not Prussians.
Nearly a century after these fleeting expressions of fraternity, the concept of a Christmas truce is alive and well. As ethnic violence swelled in South Sudan this week, the African Union urged "an immediate humanitarian truce for the Christmas season"—a call echoed by the United States. Ahead of Christmas, the Philippine government announced a unilateral, month-long suspension of security operations against the leftist rebel group New People's Army to honor the holiday, though both sides are now accusing the other of violating the truce.
Colombia, meanwhile, is home to perhaps the most remarkable modern manifestation of the Christmas truce. For the second time since peace talks with the government began last year, leftist FARC rebels have declared a yuletide ceasefire (one that was broken after just one day). But it is the government's approach to the holiday that is most novel. For some years now, Colombia's Ministry of Defense (MOD) has turned to the London-based ad agency Lowe and Partners for help in developing ad campaigns to encourage FARC guerrillas to disarm and return to society—based on the insight that demobilizations peak during Christmas as homesick fighters yearn to reunite with their families. Last year, for instance, the agency strung lights on trees in the FARC's jungle strongholds with the slogan, "If Christmas can come to the jungle, you can come home."
This year's TV and radio campaign, entitled "Mother's Voice," uses "intelligence from the MOD and the Colombian Army and Navy" to tell "the real life story of 31 Mothers whose sons and daughters have either joined or have been taken by FARC, against their will," according to Lowe and Partners.
The message beamed at the rebels in Colombia's jungles? Your mother wants you home for Christmas.