Talk Radio After Mandela's Death
A South African talk-show host reflects on his surreal day covering the passing of the anti-apartheid leader.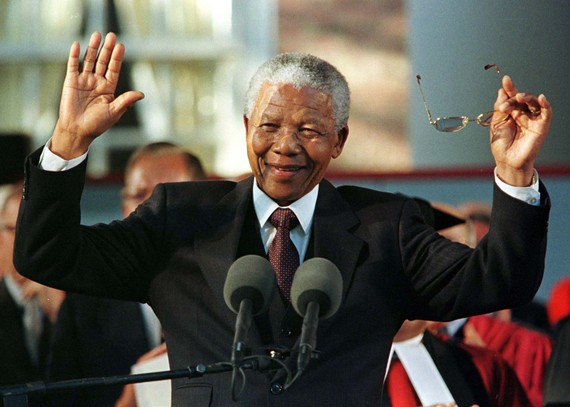 JOHANNESBURG — "Wake up! It's happened! Put on some work clothes, and go to your studios to start planning now before the official announcement!"
That was the message at the other end of the phone on Thursday night, about half an hour before South African President Jacob Zuma confirmed the death of former President Nelson Mandela. The person who had called me was a senior South African journalist whom I trust wholeheartedly. And since there had already been an hour or two of nervous activity at the Mandela home in the leafy Johannesburg suburb of Houghton, including a priest who had been seen entering the house, I knew that I need not ask her who her news source was.
The world's most anticipated death was now an established fact.
"OK, thanks" I mumbled. And hung up. I remained still on my couch in the living room of my flat in the Johannesburg district of Sandton. Stunned. Numb. How could one be so overprepared, and yet utterly shocked, simultaneously, at the cruelest of life's certainties: death? I felt a profound sadness that I last felt when a close friend of mine suddenly died earlier this year. And this made me realize just how deeply personal the loss of Mandela is. Wearing a commentator's hat, it's easy to speak of 'us,' of 'our nation,' but as the news hit me, it was clear that I had lost a parent. Melancholy washed over me.
And yet, at the same time, I was emotionless, really—like a Sartrean character too dumbstruck to act, to do anything other than just sit motionless on my couch and imagine myself as an object with no agency, no feeling, no capacity to transcend the moment.
But resilience is what Mandela's name connotes, and what he has imbued our nation with, and so I found myself going through the motions of calling my boss, getting ready for my radio broadcast the following morning, and thinking about what I might say to my listeners.
I struggled to sleep, but had to. I am the anchor of a three-hour daily talk show on Power 98.7 in Houghton, Johannesburg. And I had to scrap my show plan and open the phone lines instead to hear reactions from listeners to what had just hit us all.
I woke up early, setting out to my radio studio in Houghton, literally a few hundred meters from Mandela's home. I felt nervous. What do I say to my listeners? To the country? Should I sound somber? Do I resort to trite lines about the man's great place in history? Do I merely allow the public to cry? Do I initiate a critical discussion about his legacy or is it callous, and way too soon, to have that discussion? Such is the false privilege of anchoring a talk show hours after Nelson Mandela's death.
In the end, it was three hours of melancholic joy, as oxymoronic as that sounds. What got me through the broadcast was sticking to the most fundamental rule of talk radio: Be sincere! Most South Africans were overwhelmingly grateful for the freedom that Mandela had brought this nation in the wake of a past where oppression was the dominant narrative of our lives.
During the broadcast, Constitutional Court Justice Edwin Cameron pushed back—and rightly so, in my view—against fears that we are, or will be, a nation on the verge of a nervous breakdown now that its center is no more. That view, he told me, is a disservice to Mandela's legacy. The key part of Mandela's legacy, in his view, is a deep commitment to the rule of law, social justice, and constitutionalism.
Mathews Phosa, a senior African National Congress leader and a former anti-apartheid activist himself, pointed to Mandela's legacies of entrenching "non-racialism" and promoting nation-building by recalling Mandela visiting the wife of apartheid architect Hendrik Verwoerd—and kissing her. It was a kiss, Phosa argued, that took the breath out of apartheid.
In a nuanced character sketch of Mandela, Aubrey Matshiqi, a prominent local political analyst, pointed out that the former president should not only be associated with reconciliation. His biography is richer than that, Matshiqi argued, and it includes personality traits that are not necessarily flattering, including his well-known temper and occasional imperiousness.
Hours after the broadcast, I am back at my flat, crafting these personal reflections almost 24 hours since I first learned of Mandela's death. An emotionally and professionally challenging day has also proven joyous—joyous because, well, the world has not come to an end. In the background, as I am typing, I can hear the local clubs in Sandton pumping dance music. Some, no doubt, will find this disrespectful. But I think it partly answers a question many people have about South Africa: 'Will that country live up to Mandela's legacy? Will it survive him?!' The dance beats say it all.
We have challenges, for sure, and they are gigantic—unemployment is high, poverty deep, and inequality almost the worst on the planet. But we are a nation that has successfully lived without Mandela for many years already. We should mourn the passing of a great global citizen, and celebrate his brilliance and profound legacy. But there's no need for us to have an existential crisis here in South Africa. That would do his legacy, as Justice Cameron said so eloquently, a great disservice.