Second Member of Pussy Riot Released, Both Continue to Criticize Putin
Russian activist punk band Pussy Riot member Nadezhda Tolokonnikova was freed from prison today, soon after the release of bandmate Maria Alyokhina, under an amnesty bill passed last week.
This article is from the archive of our partner
.
Nadezhda Tolokonnikova, the Russian activist from the punk band Pussy Riot, was freed from prison today, soon after the release of bandmate Maria Alyokhina, but neither have given up on their criticism of the regime that put them there.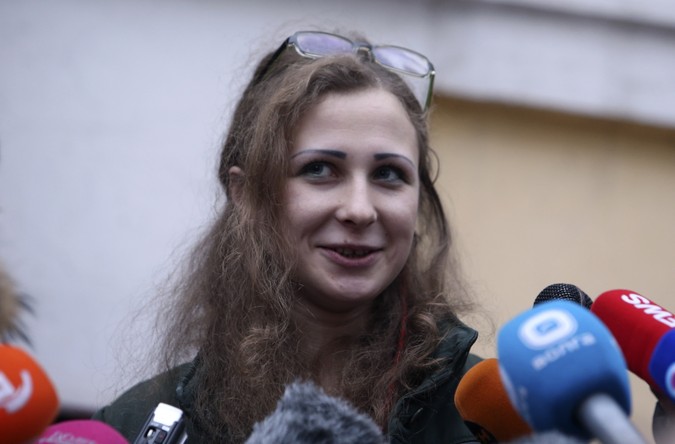 Tolokonnikova and Alyokhina, along with Yekaterina Samutsevich, were charged with hooliganism motivated by religious hatred and received a two-year prison sentence in March 2012 for performing anti-government songs in a Russian Orthodox church. The two were freed under an amnesty bill President Vladimir Putin passed last week, while Samutsevich had her sentence suspended by a judge last year.
Despite what Putin may have hoped, the band's stint in prison and early release did little to crush their anti-Kremlin sentiments. Alyokhina said upon release that that ""My attitude to the president has not changed." The amnesty bill, which also led to the pardon of Putin-opponent and former oil tycoon Mikhail Khodorkovsky, has been criticized as an attempt by Putin to whitewash Russia's poor human rights image ahead of the 2014 Winter Olympics in Sochi.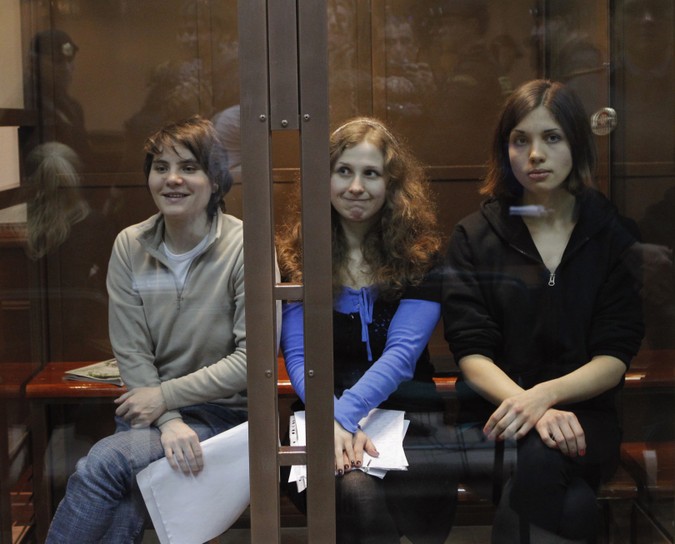 "I do not think it is a humanitarian act, I think it is a PR stunt," Alyokhina said of the bill, adding "I was keen to reject this amnesty, but the prison had received an order that is why I was brought here." Alyokhina also said that she hasn't been deterred from activism: "I would like now to deal with the issue of prison, I would like to engage in human rights ... I'm not afraid of anything anymore - believe me."
Tolokonnikova also displayed  commitment to Pussy Riot's cause, shouting "Russia without Putin" as she left the prison. Tolokonnikova went on a hunger strike earlier this year to call attention to the unlivable conditions of Russian prison camps, detailing the difficulties of surviving a sentence in an open letter published in the Guardian:
"If you weren't Tolokonnikova, you would have had the shit kicked out of you a long time ago," say fellow prisoners with close ties to the administration. It's true: others are beaten up. For not being able to keep up. They hit them in the kidneys, in the face. Prisoners themselves deliver these beatings and not a single one of them is done without the approval and full knowledge of the administration. A year ago, before I came here, a gypsy woman in the third unit was beaten to death (the third is the pressure unit where they put prisoners that need to undergo daily beatings). She died in the medical unit of PC-14. The administration was able to cover it up: the official cause of death was a stroke. 
Tolokonnikova was released from a prison hospital. She and Alyokhina qualified for freedom under the new amnesty bill because they are mothers of young children and because they were imprisoned for hooliganism. Thirty jailed Greenpeace activists, charged with hooliganism as well, could also receive amnesty soon.
This article is from the archive of our partner The Wire.