Sandwiches and Sleeping Bags: Inside Ukraine's Opposition HQ
Protesters have seized whole streets of the capital, recruiting their own doctors and security guards.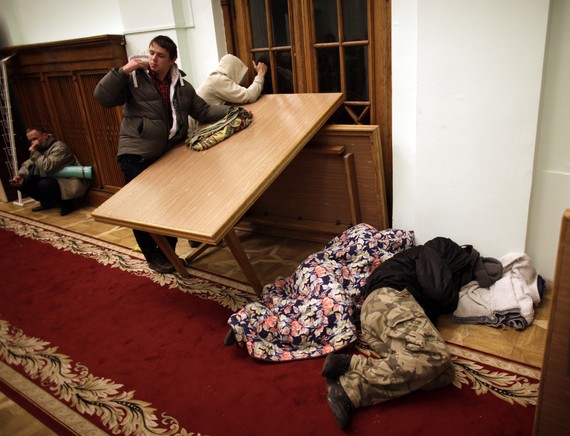 KYIV, Ukraine — It's shaping up to be a long day for Mykhaylo from west Ukraine's Ternopil. And a fairly unusual one at that.
Late on December 2, the 26-year-old medical student was bussed 500 kilometers through the night to the capital, Kyiv. The trip was paid for by donations. And before dawn had even broken, he was stationed behind a table sprawling with medicine treating sick protesters as they roll in from the cold to Kyiv's City Council, which has become an opposition stronghold.
Mykhaylo took the decision to volunteer as a doctor and signed up in Ternopil after the November 30 events when police special forces violently broke up a sleep-in protest in the early hours.
"After the bloody beating by riot police of young people, students, and girls, I just realized that as a medic I can actually help out here," Mykhaylo said.
Thousands of Ukrainians are traveling to Kyiv from the provinces. They're joining protests against the government's rejection of closer ties with the European Union—or, like Mykhaylo, providing support for those who've come out onto the streets in the biggest demonstrations since the 2004 Orange Revolution.
Since it was seized from the authorities three days ago, the City Council on the central Kreshchatyk Street has become a revolving-door opposition dormitory-cum-headquarters.
It has faint echoes of the Smolny Institute that Vladimir Lenin's Bolsheviks used as a headquarters during the 1917 October Revolution.
Guarded by opposition security guards, by night hundreds of weary protesters sleep on rugs and sleeping bags under the high ceilings of this Stalinist neoclassical government building.
By day, the city council houses teams of volunteers distributing cups of tea and coffee and sandwiches, raising funds for the opposition, providing medical consultation and help—Mykhaylo says he's been treating mainly sore throats and high temperatures—and handing out warm clothes.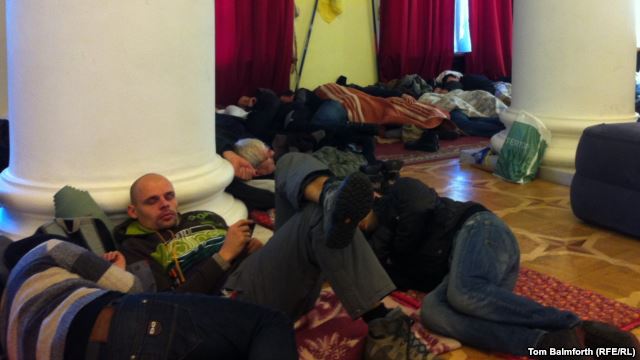 The opposition has also staked a claim to surrounding parts of the center, effectively seizing whole streets. In some parts of central Kyiv police are nowhere to be seen, while protesters wrapped in the Ukrainian national colors of yellow and blue, chanting "Glory to Ukraine!" walk through the center.
In Independence Square where the dramatic events of the Orange Revolution unfolded nine years ago, the opposition has erected barricades out of defaced wooden boards and building materials torn from a decorative Christmas tree.
In the place of police, opposition support networks and communities are taking shape and consolidating, often spanning disparate political views. In the assembly hall of the City Council, flags are on display from the three main opposition parties—Yulia Tymoshenko's Batkivshchyna (Fatherland) party, Vitali Klitschko's UDAR, and the right-wing Svoboda party of Oleh Tyahnybok. Other activists are uninterested in hard party politics.
Mykhaylo describes himself as a west Ukrainian "nationalist" but says he has no party affinity because he distrusts party politics.
For the time being, he is happy to help. But he is also looking forward to when his friends get back to City Hall and relieve him from duty.
"I'm going to go to the protests. Basically, the guys who are also from my university are at the protests. They'll get cold, come back here to get warm and they will man the medical point and I'll go to the square," Mykhaylo said.
---
This post appears courtesy of Radio Free Europe/Radio Liberty.