Nicolae Ceauşescu: 'Nimbus of Victory,' Megalomaniacal Tyrant, Friend of America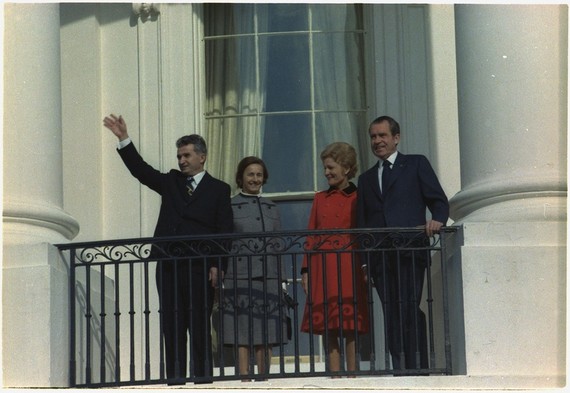 One of the more depressing aspects of last week's appraisals of Mandela was how it revealed a depressing willingness to ignore world history, in general, and American history particularly. The constant harping on Mandela's alliance with communists, ignores this country's alliance with everyone from Louis XVI to Josef Stalin. This would not even be worth mentioning were it not for some peculiar need for some to present America as a beacon of democracy ever untrammeled by statecraft and politics.
One need not look past living memory to find our partnerships in conflict with our stated ideals:
This morning the people of the United States are honored by having as our guest a great leader of a great country. President Ceausescu comes here from Romania with his wife, Elena, and it is a great personal pleasure for me on behalf of our country to welcome them...

There are differences, obviously, between the United States and Romania, in our political system and also in our military alliances. But the factors which bind us together are much more profound and of much greater benefit to our countries. We share common beliefs. We believe in strong national sovereignty. We believe in preserving the independence of our nations and also of our people. We believe in the importance of honoring territorial integrity throughout the world. We believe in equality among nations in bilateral dealings, one with another, and also in international councils. We believe in the right of every country to be free from interference in its own internal affairs by another country. And we believe that world peace can come—which we both devoutly hope to see—through mutual respect, even among those who have some differences between us.

Our goals are also the same, to have a just system of economics and politics, to let the people of the world share in growth, in peace, in personal freedom, and in the benefits to be derived from the proper utilization of natural resources.

We believe in enhancing human rights. We believe that we should enhance, as independent nations, the freedom of our own people. 
That is president Jimmy Carter greeting Romania's communist president Nicolae Ceauşescu in 1978. Again Tony Judt paints the picture of what Ceauşescu's belief in "enhancing human rights" actually looked like:
In 1966, to increase the population—a traditional 'Romanianist' obsession—he prohibited abortion for women under forty with fewer than four children (in 1986 the age barrier was raised to forty-five). In 1984 the minimum marriage age for women was reduced to fifteen. Compulsory monthly medical examinations for all women of childbearing age were introduced to prevent abortions, which were permitted, if at all, only in the presence of a Party representative. Doctors in districts with a declining birth rate had their salaries cut.

The population did not increase, but the death rate from abortions far exceeded that of any other European country: as the only available form of birth control, illegal abortions were widely performed, often under the most appalling and dangerous conditions. Over the ensuing twenty-three years the 1966 law resulted in the death of at least ten thousand women. The real infant mortality rate was so high that after 1985 births were not officially recorded until a child had survived to its fourth week—the apotheosis of Communist control of knowledge. By the time Ceauşescu was overthrown the death rate of new-born babies was twenty-five per thousand and there were upward of 100,000 institutionalized children.
One gets some sense of Ceauşescu's reign by looking at the names awarded him--"The Architect," "The Creed-Shaper," "The Wise Helmsman," "The Tallest Mast," The Nimbus of Victory," "The Sun Of The Son." If Nicolae Ceauşescu hadn't been a totalitarian, he surely would have been an MC.
But Ceauşescu's reign did not discomfit a nation pledged to anticommunism, freedom and democracy:
...eight months after imprisoning the strike leaders in the Jiu Valley (and murdering their leaders) the Romanian dictator was visiting the United States as the guest of President Jimmy Carter. By taking his distance from Moscow—we have seen how Romania abstained from the 1968 invasion of Czechoslovakia—Ceauşescu bought himself freedom of maneuver and even foreign acclaim, particularly in the early stages of the 'new' Cold War of the 1980s. Because the Romanian leader was happy to criticize the Russians (and send his gymnasts to the Los Angeles Olympics), Americans and others kept quiet about his domestic crimes. Romanians, however, paid a terrible price for Ceauşescu's privileged status. 
As you can see from the picture, Carter's decision to receive "The Wise Helmsman" says very little about Carter, individually, and a great deal about American policy, and a great deal more about the nature of states. I love my country. I just wish we could cultivate a broad sense of ourselves wary of sanctimony.
A quick word on Tony Judt. I'm nearing the end of Postwar. This has been a great read. It's just a few steps below Battle Cry of Freedom in my pantheon. I'd add that I greatly appreciate those who read this with me, and were able to contextualize and correct some of the information. This was particularly helpful in Eastern Europe.