Meet the Brains Behind Ukraine's Massive Protests
Organizers include an anarchist, an ex-TV host, and a former boxing champion.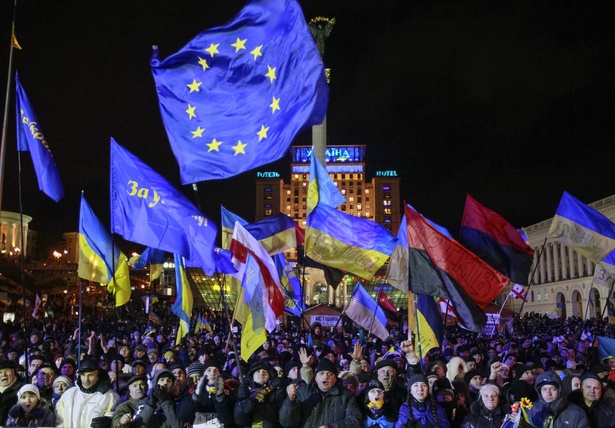 Here's a look at the politicians and street organizers driving Ukraine's "EuroMaydan" protests (a movement supporting integration with the European Union) following President Viktor Yanukovych's decision to reject an EU trade deal under pressure from Moscow.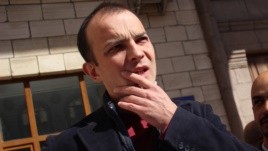 Yehor Sobolev, one of the "commandants" of Kyiv's EuroMaydan protests, has kept a watchful eye on Viktor Yanukovych since his early days as a financial reporter in the president's hometown of Donetsk. In 2004, as a freelance journalist, he gained rare access to Yanukovych and his staff during the controversial election that led to the Orange Revolution and the first Maydan protests.
Sobolev went on to tackle censorship on Ukraine's central television channels as head of Kyiv's media labor union and became the co-host of the popular Vremya news program. He abandoned television, however, after fallouts with oligarchs Petro Poroshenko, the head of Vremya broadcaster Channel 5, and Rinat Akhmetov, who broke Sobolev's contract just two hours after hiring him as a top editor at his Ukrayina station. (Sobolev's wife, Marichka Padalka, is herself a popular television host.)
Sobolev went on to create an independent center for investigative reporting, but finally left journalism for good this year, with the formation of his political activist group, Volya (Will). One of his first actions was storming the Kyiv city administration this summer in a protest over the failure to hold a mayoral election. As EuroMaydan continues, Sobolev has proved an able strategist, mapping out blockades and urging cool heads.
"Throwing stones only hurts people and takes away our moral high ground," he wrote in a December 2 blog post, one day after violent clashes between protesters and police outside the presidential administration building. "Give [the authorities] a chance to feel that no one need be thrown out. Show even Yanukovych himself that it's possible to walk away. Lure ministers and regional leaders with the notion of joining the people before it's too late. Between this and paralyzing the streets, the government will fall."
Many EuroMaydan participants were chagrined when a group of masked demonstrators broke away from what had been a peaceful mass protest, using a truck and brute force to storm past riot police into the presidential administration building on December 1. The strong-arm tactics, which police met with truncheons and tear gas, have sparked rumors of a provocation aimed at steering the pro-European demonstrations off-course. And some suspect the ringleader may be Dmytro Korchinskiy, the 49-year-old leader of Bratstvo (Brotherhood), a political organization that describes its ideology as "Christian Orthodox national-anarchism."
Korchinskiy wields both pen and sword: a published poet and philosopher, he was also the founder of the 1990s ultra-radical Ukrainian National Assembly (UNA) and the head of its paramilitary wing. During his time with the UNA, Korchinskiy was given to fierce pronouncements, saying death was the only path to self-discovery. For Bratstvo, however, he has adopted a more playful tone, describing politics as a "fun" vocation that falls somewhere between literature and music.
Websites reported eyewitnesses as saying Korchinskiy, with his distinctive mustache, was visible among the crowd that first stormed the presidential building, but soon disappeared from the scene. The Interior Ministry later announced that as many as 300 Bratstvo members had participated in the siege. Critics have taken to Twitter, calling him a "cockroach" in the alleged pay of pro-Russian strategist Viktor Medvedchuk. Korchinskiy has denied the claims, saying Yanukovych is to blame for the protest's violent turn. "If the Ukrainian people only disliked him yesterday, today they hate him," he said. "This is no longer a public protest, it's an uprising."
Some Maydan protesters are motivated by their longing for the West. Others, like nationalist Oleh Tyahnybok, are motivated by the loathing of the East. Tyahnybok is the 45-year-old head of Ukraine's Svoboda (Freedom) political movement, which stormed Kyiv's city administration building on December 1 and has since called for a national strike. "A revolution is starting in Ukraine," said Tyahnybok, who has accused Russia of "waging virtual war" on Ukraine; he has called for a visa regime with Russia and argued against the introduction of Russian as a second state language.
Tyahnybok, who has had a long, slow-growing career, may also see the protests as a political opportunity. Tyahnybok first entered parliament in 1998 and eventually won reelection as a member of Viktor Yushchenko's Our Ukraine bloc. But his nationalist views eventually saw him ousted from the bloc, and have routinely set back his political progress, with critics regularly accusing him of anti-Semitism.
In 2012, after failed presidential and mayoral runs, Tyahnybok reentered the Verkhovna Rada on his own terms, as the head of Svoboda's parliamentary faction. But his support of the Maydan protests has not endeared him to many fellow lawmakers: during a December 2 interview, Tyahnybok showed head wounds he said were the work of parliament members irate over his role in the protests.
For a country with a famously fractious opposition, Tyahnybok is for now a team player, strategizing with mainstream opposition figures Arseniy Yatsenyuk and Vitali Klitschko. When it comes to Klitschko, the common ground extends beyond politics: Tyahnybok's father was himself a celebrated boxer. But with Tyahnybok opposed to EU integration, it's far from certain the opposition leaders will see eye-to-eye if the protests continue.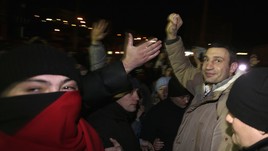 The best-known player not behind bars in Ukraine's ongoing political showdown, Vitali Klitschko has a vested interest in keeping the protests going strong. The heavyweight boxing champion, 42, has made no secret of his presidential ambition, and launched his UDAR party in 2010 with the aim of running for the post in 2015. And the weaker Yanukovych looks, the stronger Klitschko appears.
Klitschko's stance is firmly pro-European and anti-corruption; he has been a fixture of the EuroMaydan protests since the government's decision to reject an EU trade deal on November 21. He has since called on Yanukovych to step down, and has introduced a draft resolution in parliament aimed at what he called a "complete resetting" of the Ukrainian state.  But he's also played peacemaker, defusing potential protester violence and staring down drunken street critics -- literally -- from his vantage point of 1.98 meters. "If Klitschko does become Ukrainian president some time," tweeted "The Guardian's" Shaun Walker, "Putin is going to dread those joint press conferences."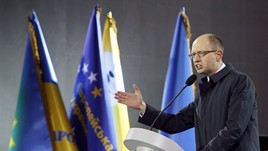 The EuroMaydan protests are about a lot more than the jailing of former Prime Minister Yulia Tymoshenko. But the presence of lawmaker Arseniy Yatsenyuk, the leader of her Batkivshchina (Fatherland) opposition party, is a constant reminder of her continued influence on Ukraine's political scene.
Which is not to say that Yatsenyuk is a place-holder. The 39-year-old party leader is one of Ukraine's most powerful opposition politicians, having served as economy and foreign minister as well as parliament speaker.
As the leader of Fatherland, Yatsenyuk oversees the second-largest party in Ukraine and theoretically could represent a direct numerical threat to Yanukovych's Party of Regions should his regime's fortunes continue to fade. Yatsenyuk has called on Ukraine's prime minister, Mykola Azarov, to resign as a "first step" toward a government overhaul.
---
This post appears courtesy of Radio Free Europe/Radio Liberty.