The Nelson Mandela Memorial Service
President Barack Obama delivered a stirring address as thousands came out in the pouring rain to honor Nelson Mandela in Johannesburg, South Africa.
This article is from the archive of our partner
.
The massive memorial service for Nelson Mandela was held this morning in Johannesburg, South Africa, and the four-hour program contained a multitude of tributes, including a moving speech by President Barack Obama. United Nations Secretary General Ban Ki-Moon also delivered remarks, along with other leaders from Brazil, China, Namibia, India, and Cuba. South Africa's own Jacob Zuma gave the main address, to crowd of dignitaries and celebrities, even as his own citizens greeted him with jeers and boos.
The 94,000-seat stadium was expected to be packed, but there were still several thousand empty seats, mainly due to the bad weather. The mood in the stadium was one of celebration as well as mourning, with watchers dancing, singing, and stomping throughout the proceedings. TIME estimates that the last comparable memorial service for a head of state was for British Prime Minister Winston Churchill in 1965.
(All times given are Eastern. Johannesburg is seven hours ahead.)
The Latest
8:48 a.m.: The service appears to have concluded. The event was marked by ceaseless rain, and fell short of the full four hours after a delayed start. Obama's eulogy served as the centerpiece of the memorial, drawing a strong reaction from the crowd - which interrupted Indian President Mukherjee's speech and booed South African President Zuma repeatedly. Of note was a handshake between Obama and Cuban President Raul Castro, a sign that relations between the Washington and Havana could be warming. Thanks for tuning in.
8:24 a.m.: The crowd cheers as Zuma wraps up a nearly 30-minute long keynote address.
7:56 a.m. Zuma describes the response to Mandela's death as "grief tinged with celebration."
7:48 a.m.: President Zuma, the final speaker, is cheered as he prepares to take the stage.
7:36 a.m.: The crowd is thinning out as Cuban President Raul Castro begins delivering his speech in Spanish.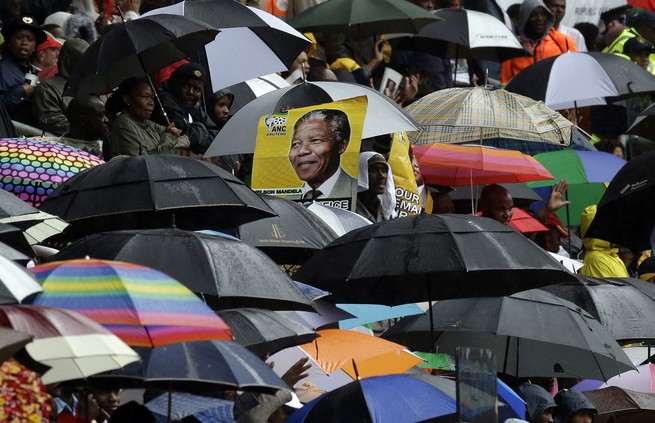 7:32 a.m.: Mukherjee compares Mandela to Mahatma Gandhi and calls the leader "Madiba," like Obama.
7:27 a.m.: ANC deputy president Cyril Ramaphosa urges the crowd to be disciplined for the remaining three speakers. Indian President Pranab Mukherjee is up now, though interrupted by the singing, cheering crowd. A band that started to play was told to put their instruments down.
Many people leaving the stadium after Obama's speech. The rain is heavy, but President Zuma has yet to speak. #MandelaMemorial

— Michael Skolnik (@MichaelSkolnik) December 10, 2013
7:18 .a.m.: The crowd breaks out into song as Namibian President Hifikepunye Pohamba takes the stage.
7: 13 a.m.: Rousseff was followed by Chinese Vice-President Li Yuanchao, who has also finished delivering his address. Li used a translator, as well. The crowd was respectful but did not respond with nearly as much enthusiasm to these speakers as to Obama, perhaps because of the combined effect of stilted translations and the more formal style of Li and Rousseff's words. Obama, with his personal connection to the continent and formidable oratory skill, was a tough act to follow.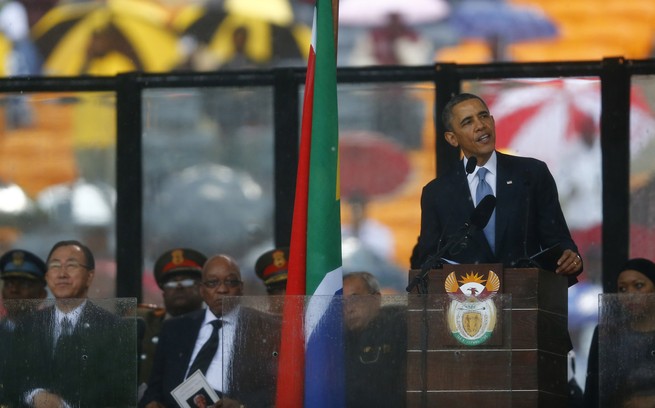 6:59 a.m.: Brazilian President Dilma Rousseff is now taking the stage. She is speaking in Portuguese and is aided by a translator.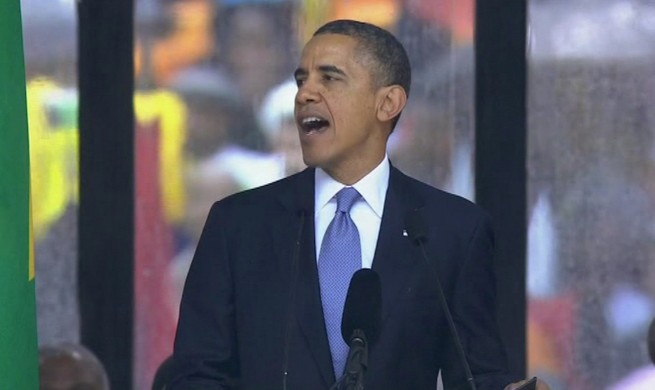 6:51 a.m.: George W. Bush gives Obama a standing ovation, and the crowd cheers as he leaves the stage.
6:50 a.m.: Cheers for "[Mandela] makes me want to be a better man."
6:47 a.m.: Obama is issuing a call to action, saying "we too must act on behalf of justice." He criticizes those who vocally embrace Mandela's words but do not put them into action, and cites Mandela and South Africa as an example of the changes possible.
6: 44 a.m.: The crowd cheers for these words: "It took a man like Madiba to free not just the prisoner, but the jailer as well." Obama focuses on Mandela's desire to make South Africa a better place for all its inhabitants.
6:41 a.m.: Obama praises the force of Mandela's ideas,  his ability to reason and his commitment to defeating apartheid through law.
6:36 a.m.: Obama starts his eulogy with a brief summary of Mandela's life. He is referring to the former president as "Madiba," Mandela's clan name, which is used as a familiar term by South Africa's people. Click through to see Obama's prepared address.
6:33 a.m.: Obama is cheered after just a few sentences: "It is a singular honor to be with you today. To celebrate a life like no other."
6:30 a.m.: President Obama will be the next speaker. As he took the stage he shook hands with the other dignitaries, including in a surprise, Raul Castro of Cuba.
6:18 a.m.: National Chairperson of the ANC, Baleka Mbete, read through a list of the foreign dignitaries present at the memorial service. The crowd reacted vocally to most names, including controversial leaders like Robert Mugabe of Zimbabwe. The crowd is being called upon to act with discipline in the presence of South African President Jacob Zuma. Former Presidents Bill Clinton and George W. Bush are present.
5:58 a.m.: Barack Obama has taken his seat and huge cheer erupted when he was first shown on the video screen inside the stadium. U.N. Secretary General Ban Ki-moon (who also got rousing applause) is speaking now, and the President will follow shortly.
5:42 a.m.: It seems that the FNB Stadium is not as full as expected, with many empty seats in the lower bowls. This is partly due to the weather, the difficulty of getting to the stadium (traffic in Johannesburg is notoriously thorny), and concerns about getting inside the stadium with all the extra security precautions. Many locals probably chose to stay home and watch it on TV, or have gone to alternate venues to avoid the more chaotic scene at the main stadium. President Obama has still not arrived, choosing to wait until after the service started to leave his hotel.
5:30 a.m.: Among the famous faces sitting together: Bono and South Africa's own Charlize Theron.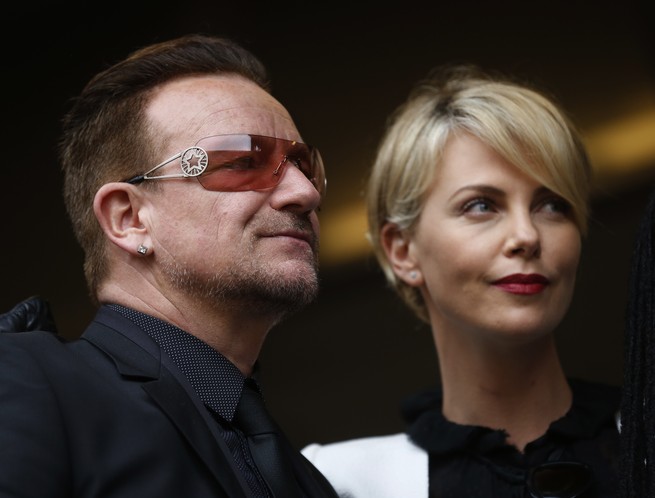 Tough crowd at Mandela's funeral. Doesn't cheer for SA's president Zuma but cheers for all his predecessors--including apartheid's de Klerk.

— drew hinshaw (@drewyorkminute) December 10, 2013
4:57 a.m. We're Nearly an hour past the scheduled start time of the service and the guest continue to pour into the stadium, as if making their red carpet entrances at an award show. A steady rain is falling on the stadium, but it has not dampened the festive, celebratory mood of the crowd. The actual program is just now getting underway, with the South African national anthem.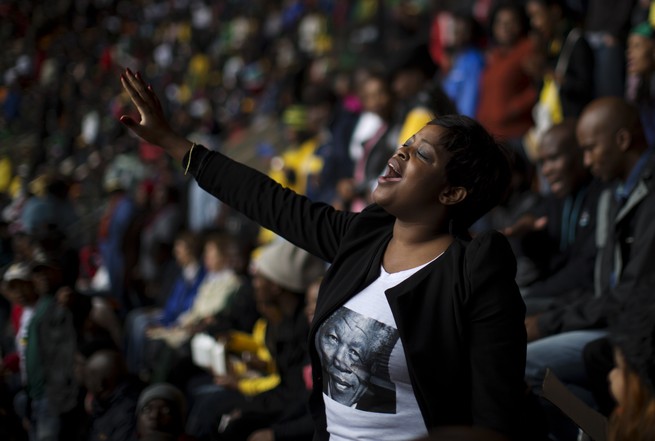 4:00 a.m.
Here is the official program:
National Anthem: Mass Choir

Welcome and Opening Remarks: Programme Directors

Interfaith Prayers

Tribute by Family Friend: Andrew Mlangeni

Tribute by Family: General Thanduxolo Mandela

Tribute by the Grandchildren: Mbuso Mandela, Andile Mandela, Zozuka Dlamini, Phumla Mandela

Tribute by UN Representative: Secretary-General Ban Ki-Moon

Tribute by AU Commission Chair: Dr. Nkosazana Dlamini Zuma

Tribute by Foreign Dignitaries: President Barack Obama (USA), President Dilma Rousseff (Brazil), Vice-President Li Yuanchao (China), President Hifikepunye Pohamba (Namibia), President Pranab Mukherjee (India), President Raúl Castro Ruz (Cuba)

Keynote Address by the President of the Republic of South Africa: His Excellency Jacob Zuma

Sermon: Bishop Ivan Abrahams

Vote of Thanks: Premier of Gauteng, Nomvula Mokonyane
This article is from the archive of our partner The Wire.