Life Next Door to Russia's Chemical Weapons Arsenal
In the village of Mirny, the destruction of Soviet-era nerve agents carries deadly risks.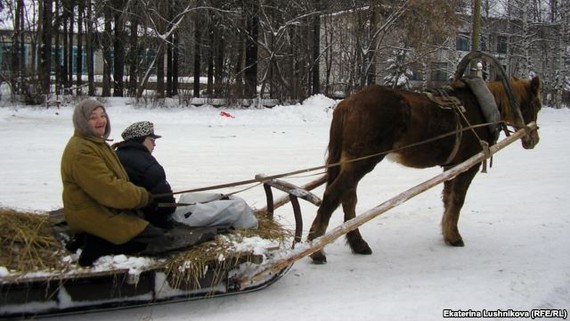 MIRNY, Russia — Seventy seven-year-old Klavdia and her husband Mikhail, 84, are struggling to put on a gas mask.
Mikhail: "So, I undid the zipper. Now, I'm looking at these straps. I loosened them. I'm loosening and loosening."
Klavdia: "We should have thrown these things out ages ago."
Mikhail: "I've unfastened this thing."
Klavdia: "That thing is supposed to reach over to here and that's it."
All the residents of the village of Mirny, in Russia's central Kirov Oblast, have gas masks tucked away somewhere, in cupboards or under beds. Klavdia explains how she was required to pick up the masks from local authorities about five years ago. She signed a receipt, tucked them away, and hasn't needed to think about them since.
But in Mirny, you never know. The village is located just across the railroad tracks from the Maradykovsky chemical-weapons facility—one of eight sites in Russia where massive stockpiles of Soviet-era chemical weapons are being destroyed. Over the last seven years, nearly 7,000 tons of nerve agents like sarin, blister agents like Lewisite, and other deadly chemicals have been neutralized at Maradykovsky.
The base made headlines in October when the regional branch of the Investigative Committee announced that officials had prevented a terrorist attack targeting Maradykovsky and arrested two suspects from the restive North Caucasus. Police said they found bomb components in an abandoned house just 500 meters from the facility. Just days after that announcement, a female suicide bomber from the North Caucasus attacked a bus in the southern city of Volgograd, killing seven.
Pavel Filev, a spokesman at the Maradykovsky information center, says that gas masks and other protection from chemical leaks have been provided to all of the roughly 50,000 people living within the security zone around Maradykovsky.
"According to federal law, means of individual protection [from chemical leaks] are provided. Both to the adult population and, of course, the children," Filev says. "So all the people living in the security zone of Maradykovsky have been provided all means of protection and today those means are in their possession." However, when asked about portable protective chambers for infants, Filev says the base only has "a few" of them and that they are stored at the information center.
Workers at the facility itself are better prepared than the general population. A young mother who identifies herself only as Svetlana said that she carries her gas mask to and from work each day.
"We have to have our gas mask over our shoulders at all times at the workplace in case there is some sort of drill or emergency," Svetlana says. "There are always surprise inspections and we have to put them on and go to our places at the evacuation point."
Officially, there have been no incidents at Maradykovsky since the weapons-disposal program got under way. But locals and workers at the base have reported several incidents. The most serious of these was a report by the local Communist Party branch that several workers were poisoned in 2010. In 2009, a soldier named Konstantin Ilynskikh died of poisoning—"from an undetermined substance," according to the official report.
"I myself saw how he was walking around without a gas mask and even photographed himself near some [chemical] shells," one older worker says. "He wanted to send some pictures to his girlfriend. And that's how he ended up."
The area also has a long history of environmental problems since the Soviets first began storing chemical weapons there in 1953. In the 1960s, the Soviets began disposing of chemicals in the area, burning some and dumping others in local lakes. In the village of Mirny, one can see sheds and fences made of old military crates that once contained chemical weapons.


This summer a local environmental-monitoring group found elevated levels of phosphorus in plants within the security zone.
Mirny resident Klavdia says many locals don't believe official statements that the Maradykovsky facility presents no danger. "Why should we believe them when every second person ... even children, walking with their mothers down the street and they say, 'Mama, my legs hurt!'" she says. "A child of two or two and a half or three years and his legs hurt! Why should the legs of such a child hurt?"
​The destruction of the Maradykovsky chemical weapons is more than 98 percent completed, although much of the trickiest decontamination work remains to be done. Russia plans to finish the destruction of its old chemical-weapons stockpiles in 2015.
The future of Maradykovsky—and of Mirny—is uncertain. Maradykovsky worker Svetlana is anxious. "I hope that they won't completely dismantle everything here. Maybe some sort of work will remain here anyway," she says.
"Those who came here from other places will have to go somewhere else, but as for local people who work here—we are all hoping that something will remain and that there will be some sort of work for us here."
---
This post appears courtesy of Radio Free Europe/Radio Liberty.