Just How Big a Deal Is the Obama-Castro Handshake?
This isn't the first time U.S. and Cuban leaders have shaken hands, but that hasn't stopped people from getting worked up.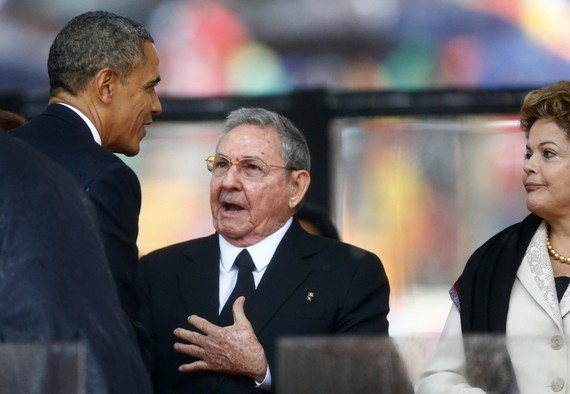 During a rain-drenched memorial service for Nelson Mandela on Tuesday, Barack Obama delivered a moving tribute to the late South African leader, telling tens of thousands of South Africans packed into a soccer stadium in Johannesburg that Mandela was "the last great liberator of the 20th century."
But those words are getting crowded out in today's coverage by something Obama did just before his speech. Ascending the stage to greet world leaders, the president extended his hand to none other than Cuban President Raul Castro. You can watch the moment, in all its six seconds of glory, below:
The handshake quickly became politicized—inspiring everything from speculation about how the gesture will play in Florida to farewells to the five-decade-old U.S. embargo on Cuba to criticism of the president's actions at a time when an American, Alan Gross, remains imprisoned in Cuba.
I hope the Obama/Castro handshake is the first step toward lifting the embargo, and not just a headline-grabbing photo op.

— Joshua Hind (@joshuahind) December 10, 2013
It's certainly a significant gesture—CNN's John King recalls that Al Gore ducked "behind aides, through doors" to avoid meeting Fidel Castro during Mandela's inauguration in 1994—but it's also far from the first time that a U.S. president has shaken hands with the leader of a hostile government. In 2000, for instance, then-President Bill Clinton shook Fidel Castro's hand during a U.N. summit in New York. Here's how the BBC reported the encounter at the time:
The White House originally denied that a handshake had taken place, but later admitted it had occurred.

The encounter on Wednesday is understood to be the first time a US president has ever shaken hands with the Cuban leader. There is no picture of the moment….

The handshake occurred as the two leaders were making their way from a lunch towards a conference room, where they were due to pose for a group photograph.

The White House says Fidel Castro approached Bill Clinton.

US Secretary of State Madeleine Albright told reporters: "As I understand it, it was a chance encounter that Mr Castro initiated.

"They talked for a couple of minutes and there was no substance. It was just a cordial conversation."
Raul Castro greeted Obama's election in 2008 with enthusiasm, noting that the newly elected president seemed "like a good man" and that Cuba was open to talks with the U.S. about "everything" (Castro's daughter even endorsed Obama during the 2012 election—to the delight of Mitt Romney supporters). Raul's brother Fidel was initially a supporter as well but has since grown disillusioned, asserting that a "robot" would do a better job running the United States. Obama, for his part, has lifted some restrictions on travel to and financial transactions with Cuba, but the embargo remains firmly in place and the two countries still don't have diplomatic relations.
In other words, the exchange of a handshake and pleasantries at a memorial service is unlikely to move the needle on U.S.-Cuban relations. But if the White House doesn't go through Clinton administration-like contortions to explain the encounter, it might be fair to conclude that shaking hands with the Cuban president just isn't as big a deal as it used to be.
For those interested in more than the handshake, here's Obama's full eulogy for Mandela: