New Video Proves That China (Probably) Landed on the Moon
This article is from the archive of our partner
.
China's state television has released video footage taken by the country's Jade Rabbit lunar probe, which successfully landed on the moon on Saturday.
The video shows the probe's journey towards the satellite and the soft-landing rover's less-than-elegant crash into the surface, before moving to external shots of the probe rolling along the surface.
The Chang'e 3 lunar rover touchdown marks a victory for China, making it the third nation to soft-land a probe on the moon and moving it towards the ultimate goal of launching a manned lunar mission. A soft-landing protects the vehicle from damage upon reaching its destination, rather than just crashing anywhere it can. On Monday, China's space agency released a statement hailing the mission's success. AFP reports:
"Exploration of outer space is an unremitting pursuit of mankind," China's space agency, the State Administration of Science, Technology and Industry for National Defence (SASTIND) said in a statement. The successful mission reflects "the new glory of China to scale the peaks in world science and technology areas," it said, adding it was committed to exploring and using space "for peaceful purposes."
Until today, China had only released computer-generated images of the probe's journey, like this one: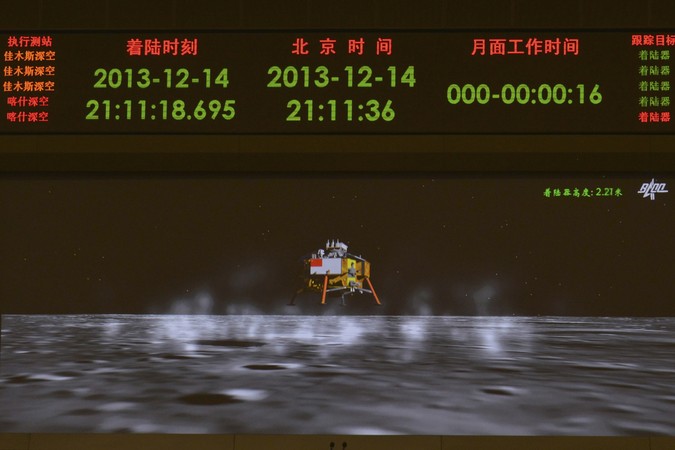 The Jade Rabbit will spend three months exploring, using a radar device to analyze rocks, minerals and other elements up to 300 feet below the moon's surface - suggesting that China could be interested in mining the moon for profit. (Just like everyone else.) The country's next mission may attempt to bring space rocks back to earth, reports the Christian Science Monitor, and could be a step towards sending a man to the moon by 2020: 
Chinese policymakers are expected to decide sometime in the next two years whether to merge the manned and lunar probe programs to try a manned moon landing in the next decade. That would make China the second nation, after the United States, to launch such a program.  The success of China's space ventures have translated into "geostrategic influence and a perception of regional leadership," says Joan Johnson-Freese, an expert on China's space program who teaches at the US Naval War College. 
In order to stay ahead in the space race, China will have to beat out India, which hopes to launch a manned mission in 2017 despite criticism, and corporations, like Google, that are sponsoring private space research.
This article is from the archive of our partner The Wire.