Behold: The World's First Digitally Signed International Agreement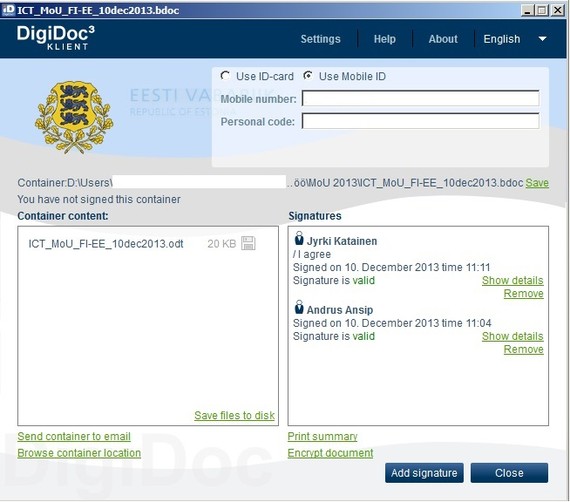 A diplomatic milestone got lost in the shuffle last week: On Tuesday, December 10, Estonian Prime Minister Andrus Ansip and Finnish Prime Minister Jyrki Katainen sat down at their respective desks in Tallinn and Helsinki and concluded what they claim is the world's first digitally signed international agreement. The leaders, who met in person the next day in Helsinki, used ID cards to sign the memorandum of understanding, which will govern cooperation on e-services between the two countries.
Digital signatures are far from new—they've been widely adopted in the business world (and, controversially, by President Obama), and recognized by national and international legal systems. Way back in 1998, U.S. President Bill Clinton and Irish Prime Minister Bertie Ahern became the first heads of government to electronically sign a communique—a pact on e-commerce.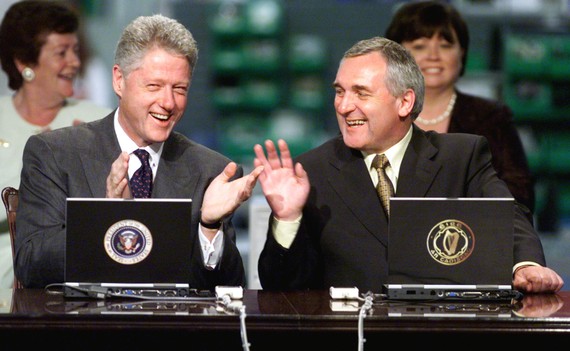 But the Estonian government maintains that the latest deal is unprecedented. The Ahern-Clinton accord was merely a communique, says Siim Sikkut, an information and communications technology advisor with the Estonian government, while Ansip and Katainen have signed a memorandum of understanding containing clear commitments by both parties (the next frontier for digital signatures, it seems, is full-fledged treaties). Finland, for instance, will be able to reuse the source code for Estonia's data exchange platform.
The signing by Clinton and Ahern, Sikkut tells me, "was a one-time event with specially issued ID-cards, with their signatures not carrying full legal weight (only ceremonial value)." Ansip and Katainen, by contrast, will now regularly use digital signatures to conclude agreements.
Ansip is already promoting the accord as a means of saving the two countries time and money. But what, if anything, will it mean for diplomacy when government officials can seal deals from the comfort of their capitals?