Stranded Shipmates Surprisingly Cheerful About Being Stuck in Antarctic Ice
On November 27, 74 people set out to explore Antarctica and the Southern Ocean on a scientific adventure, part joy-ride through the mysterious, icy antarctic and part effort to learn how climate change is affecting the region.
This article is from the archive of our partner
.
A ship full of Antarctic explorers has been stuck in a sheet of sea for nearly a week now, but their non-panicked response almost makes being trapped on the bottom of the world seem like a lot of fun.
On November 27, 74 people set out to explore Antarctica and the Southern Ocean on a scientific adventure. It was part joy-ride through the mysterious, icy seas, and part effort to learn how climate change is affecting the region. The team remained jovial through the harsh conditions, posting consistent updates on its website. They've even remained upbeat and happy despite their ship being rendered immobile by a frozen block of sea ice since December 24. 
The team has been posting (mostly) cheery video updates to YouTube while it awaits rescue. The first attempt, by way of a Chinese icebreaker, was blocked by then. The second, via an Australian icebreaker, was also blocked by ice. That brings the score to Ice: 3, Ice Breaking Boats: 0.
Thankfully, China is making moves to outsmart the ice by swooping in via helicopter. The rescue copter is preparing to air-lift some passengers off the Russian ship Akademik Shokalskiy, according to Russia's foreign ministry, which said that "a decision has been reached to evacuate 52 passengers and four crew members by helicopter from China's Xue Long ship, should the weather allow."
The ordeal would seem much more terrifying if the team, including crew, scientists and paying travelers, weren't being such good sports about it. Members of the group have been constantly updating their expedition website with video and written dispatches on the situation. Marine biologist Graeme Clark, a member of the science team, wrote on December 24 that the ship had been stalled: 
Too dense to travel through, the sea-ice has stopped the mighty Shokalskiy in its tracks despite aggressive charges by Captain Igor. The ship is now resigned to wait for a change in wind conditions to loosen or dissipate the sea ice before we can escape to open water. These are the challenging conditions for which Antarctica is so well known.
He went on, however, to describe morale on the boat as high, writing of crew members taking the break as a chance to rest and prepare for Christmas:
While our ice-bound predicament is clearly frustrating to some, others have assured me that they don't mind at all. The adversity adds to the sense of adventure and satisfies a primal desire for battle with the elements. After all, what is an Antarctic expedition without time spent trapped in the ice, and there are certainly worse places to be stuck than in a seascape of magnificent icebergs. 
One video, set to a rather sensual ditty, shows people eating together, preparing to watch a movie, and hanging around the cozy-looking ship.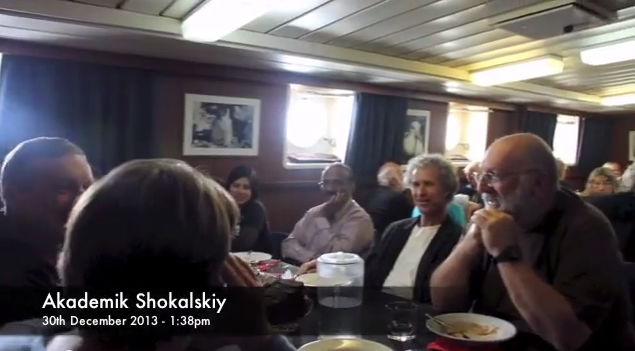 Another shows member John Black describing a blizzard while standing on the deck of the ship. He assures viewers that everyone on board the ship is fine, adding:
"It's a fantastic adventure we're having. I knew it would be an adventure with the AAE but this exceeds all expectations by a mile. So everyone have a happy new year, we certainly will."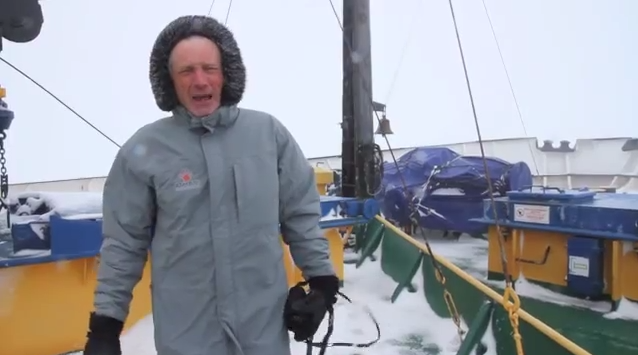 That almost makes it sound like you should be disappointed if you go on an Antarctic adventure and don't get caught in the ice for a week. However,  Guardian video producer Laurence Topham posted a slightly more despondent confessional-style video:
According to the Australian Maritime Safety Authority, the Australian icebreaker will continue "in due course to undertake the rescue once weather conditions improve."
Expedition leader Chris Turney has said the crew has enough supplies to last for weeks. He's been updating his Twitter regularly, with both practical updates and pleasant scenes from the ship:
Bad news: Aurora couldn't get through. Tried twice. Low visibility & heavy ice. Returning to open water. Try again tomorrow? #spiritofmawson

— Chris Turney (@ProfChrisTurney) December 30, 2013
We're glad to see the team with their chins held so high and also pretty jealous of their trip — or at least, their enthusiasm for the trip. But we hope they get moving soon. Get home safe, Spirit of Mawson! 
This article is from the archive of our partner The Wire.