229 Million Children Are Officially Invisible
According to a new report, the births of one in three kids under the age of five have not been registered.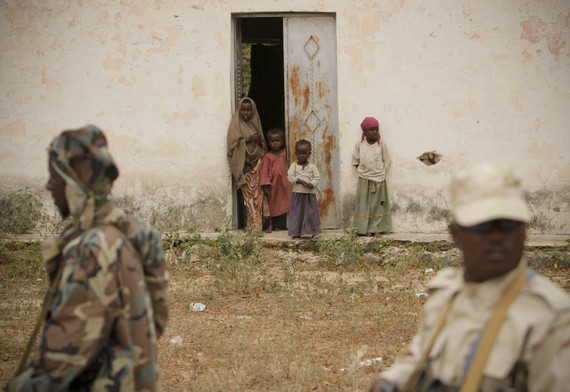 Registering babies at birth may be a routine, almost automated process in the United States, but it's a rarity in some impoverished nations in both South Asia and Sub-Saharan Africa, according to a new report released on Tuesday by UNICEF. In all, there are nearly 230 million children in the world who are nameless and stateless. And they may languish in anonymity for a good portion of their early lives.
Living without any proof of your existence can be a major challenge. The associated paperwork is often necessary to secure healthcare, education, and other basic rights. And children who don't have identification are also left at higher risk of displacement, exploitation, and human trafficking. In the chaos of war or disaster, reuniting children separated from their family can be difficult, if not impossible, without proper documentation. And with no formal proof of age, marriage, military service, and employment may all become a reality much sooner than appropriate.
The problem is particularly acute in India, where 71 million children under the age of five go undocumented by the government. Though India leads the world in sheer number of uncounted children, its rate of birth registration—at 41 percent—means that the civil administration there is actually outperforming the bureaucracies in many of the other countries mentioned in the report. Somalia, for example, does not record the existence of a staggering 97 percent of its young children. Here's a list of the ten countries with the lowest birth registration rates:
Somalia (3 percent of children registered) 
Liberia (4 percent)
Ethiopia (7 percent) 
Zambia (14 percent)
United Republic of Tanzania (16 percent) 
Chad (16 percent) 
Yemen (17 percent)
Guinea Bissau (24 percent)
Pakistan (27 percent) 
Democratic Republic of the Congo (28 percent) 
Though a child's gender isn't a predictor in this paperwork game, socioeconomic status and a country's wealth, as evidenced above, certainly factor into the equation. Across different countries, kids from poor and uneducated households who live in rural regions—without access to basic infrastructure and transportation to get to registration facilities—are documented at much lower levels.
In Papua New Guinea, for instance, a single birth registration site is responsible for sorting through the heap of data related to the country's population of around "seven million people spread across more than 460,000 square kilometres, including 600 islands," according to the report. That's certainly an unworkable journey for most parents and an impossible caseload for the poor soul sitting on the receiving end of that desk. Unsurprisingly, the report does not even hazard an estimate of the birth registration rate there. The graphs below display registration rates sorted along wealth and geographic divides.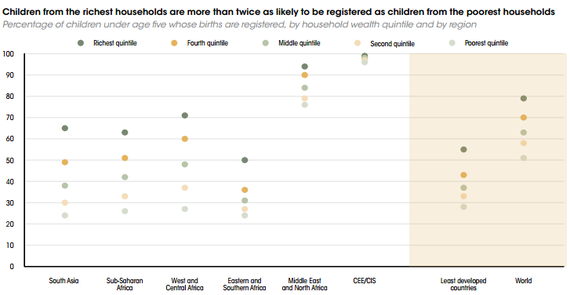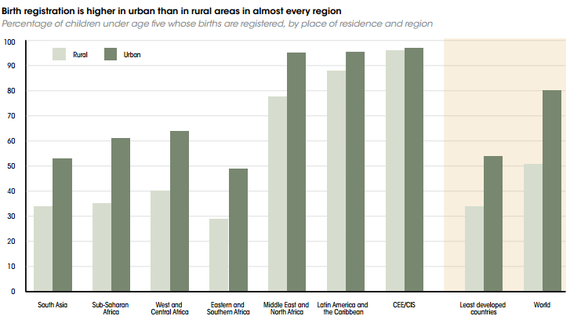 UNICEF suggests making registration free (and eliminating late penalties) to help battle the wealth problem. As for the thorny urban vs. rural divide, the UN agency is working on simplifying the registration process so any local official can master it. In Kosovo, UNICEF Innovations Lab has experimented with "an open-source mobile-phone based" system called RapidSMS to locate children who haven't yet been documented. It's hard to imagine how these strategies will be deployed in even poorer areas with a weaker rule of law. But tackling bottlenecks, one hopes, will provide more children with the recognition and rights they deserve.