Why Lee Harvey Oswald Fled to the Soviet Union
The years Kennedy's assassin spent in Minsk only deepened his isolation, biographer Peter Savodnik says.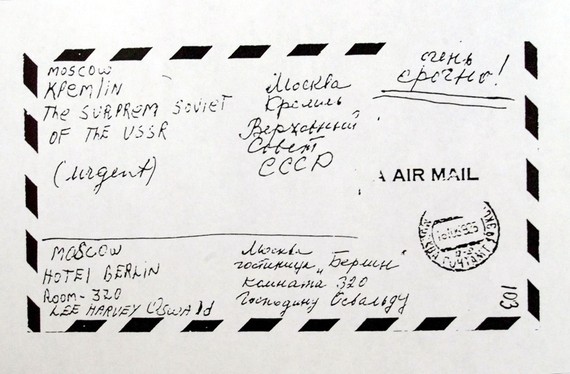 To mark the 50th anniversary of the assassination of U.S. President John F. Kennedy, a wave of books has been published in the United States covering everything from Kennedy's legacy to alleged new details about his death. One new title examines the Soviet chapter of the life of Lee Harvey Oswald, the man who shot Kennedy. Oswald defected to the Soviet Union in 1959 and spent two and a half years living in Minsk before he grew tired of the adventure and returned home. In The Interloper: Lee Harvey Oswald Inside the Soviet Union, Peter Savodnik looks at why Oswald fled America, his life in Minsk, and what ultimately led him to climb to the sixth floor of the Texas School Book Depository in Dallas and aim a rifle at Kennedy's head on November 22, 1963. An interview with the author follows:
You write that Lee Harvey Oswald's decision to defect to the USSR was part of an unhappy pattern that existed throughout his entire life and was established by his mother.
Peter Savodnik: Before joining the Marines [at the age of 17] and leaving home, Oswald moved 20 times with his mother. And each move was precipitated by some failure on her part—a failed relationship, a lost job, or some rupture or crisis. The point is that Oswald never has, throughout his childhood or adolescence, anything akin to a home, a sense of rootedness. And if you view the Soviet foray through this prism, then it becomes pretty clear pretty quickly that the whole point of going there—even if Oswald wasn't aware of it—was to find some sense of permanence, a place to call home.
Why the USSR? What did he see in that country and what did he hope to do once he got there?
I think that the initial appeal [for him] came through communism, or Marxism, with its very violent and bellicose language and its appeals to overturning established wisdoms or powers. And that certainly [played] into—or fueled or comported with—Oswald's anger and sense of dislocation.
And then, of course, it was only a very small half-step to get to the Soviet Union, to get to this place that kind of embodied all the kind of Marxist revolution [ideas] that he had been hearing about and reading about.
And what made this, of course, more alluring from Oswald's point of view was that no country represented the total refutation of America and of everything he came from as much as the Soviet Union [did].
Oswald was in Moscow when he asked for Soviet citizenship. Why did the authorities ship him off to Minsk, 675 kilometers away?
The most important thing from the KGB's vantage point was that Oswald be far away from anyone or anything important. So they just wanted him somewhere sleepy and boring and quiet. And that's why almost all the other American defectors were also sent to provincial cities. In the case of almost everyone else, they were sent to Ukraine. In the case of Oswald, he was sent to Minsk. I don't think we should read too much into going to Ukraine versus going to Belarus. I think the more important point is that, in all these cases, defectors were sent somewhere far from the capital.
Oswald's life in Minsk begins well enough, but he eventually becomes unhappy. What made him lose his enthusiasm for Soviet life?
The most important change that takes place over the course of Oswald's two and a half years in Minsk is, from the very beginning, this sort of waning celebrity. The first six months or so, he's a celebrity. He's this oddity, he's "the American in Minsk." But over time, that begins to fade. People become accustomed to him, they no longer regard him as all that special or important. And as his novelty begins to fade, his interest in this place begins to fade. So that's the first thing.
The second thing is that the routine of Minsk would have been amazingly tedious and slow moving. Minsk is a very, very communist-[style city.] It was leveled during the war, and after the war it was re-made with a Stalinist vision. So the first thing that one notices in Minsk is the absence of stuff—the absence of clutter and all the kind of urban detritus that one finds in big cities in countries like the United States. What Minsk felt like was quiet, simple, pared down, and there was an absence of things to do and experience. So there was the tedium, the boredom.
And then on top of that—and this was something which only began to occur to Oswald after he had been there for at least a year—was the growing awareness of the degree to which he was monitored by the KGB. And I think that severely compounded his sense of alienation from the bigger society around him.
So when he returns to the United States in 1962—it turns out he never formally renounced his U.S. citizenship—you write that the sense of rage and desperation that had propelled him to leave became even worse. Why?
The Soviet Union was supposed to put an end to all this constant … [wandering] or moving that courses through his childhood and adolescence. And of course the Soviet chapter is a failure; instead of creating a new life for himself that is going to take him in a different direction permanently, he lasts about two and a half years and then he gets sick of it and gets out. So in some sense, Oswald, I think, was keenly aware when he came back to the United States that he had failed, and that his great ambition to find permanence had been derailed.
Describe the mental state of the now 24-year-old Oswald after he arrives back in the United States. How does he end up in the Texas School Book Depository with a rifle?
The rest of Oswald's life, the last 17 months of his life, fit neatly into the bigger pattern of his life. He resumed his [wandering]—once he's back in the United States, he's jumping around, moving manically, hoping very much to find somewhere that will rescue him from his psychology, from his plight, and, of course, he keeps failing and failing, and the pressure keeps building and he finally succumbs to this mounting violence in his mind and discovers the president is coming to Dallas, and kills him. The details of the assassination itself have been discussed, as you know, at great length many, many, many, times. What is much more interesting than any of the particulars is the psychology leading up to the assassination.
Is Oswald a misunderstood figure in U.S. history? Do people see him as something that he wasn't, or vice versa?
I think that there's a real dearth of discussion of Oswald because he is constantly thought of—we have insisted on thinking of him—as a cog in someone else's detective story. So he's always portrayed in this kind of amorphous, one-dimensional light, this very shadowy light. We never really know Oswald, I think, because we insist on not knowing him. We like the idea of him as a mystery. But when one looks much more closely at the mystery, one realizes that, in fact, it's much less mysterious than we might have thought. Oswald was very complicated. He had many demons preying on him but he could be understood, like all people. And when you play close attention to the Soviet period, when you examine that, a lot of these complexities are laid bare.
---
This post appears courtesy of Radio Free Europe/Radio Liberty.