U.K. and U.S. Spy Agencies Betray Citizens' Privacy to Foreign Powers
In the latest example, Britain's GCHQ reached a secret deal with the U.S. that gives us private information on innocent Britons.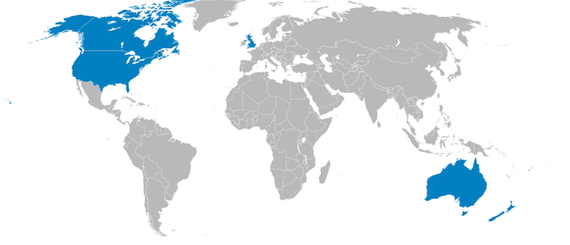 The latest Edward Snowden revelation is a doozy: "The phone, internet and email records of UK citizens not suspected of any wrongdoing have been analysed and stored by America's National Security Agency under a secret deal that was approved by British intelligence officials," The Guardian reported on Wednesday. "In 2007, the rules were changed to allow the NSA to analyse and retain any British citizens' mobile phone and fax numbers, emails and IP addresses swept up by its dragnet. Previously, this data had been stripped out of NSA databases."
Little wonder that GCHQ is so intent on stopping British publications from reporting on its activities: the spy agency ceded the privacy of the citizens who bankroll it. Says TechDirt, "Of course, you also have to assume that this original deal was not one-sided. It almost certainly involved the NSA telling GCHQ that it could also collect data and 'unminimize' information it collected on US persons as well."
I'm less than "certain" that's the case, but it certainly is worthy of further inquiry.
Recall that the U.S. surveillance state has definitely ceded the privacy of its citizens to a different foreign power:
The National Security Agency routinely shares raw intelligence data with Israel that probably includes sensitive information about Americans, according to the latest top-secret document leaked by former intelligence contractor Edward Snowden. The 2009 document, a memorandum of understanding between the NSA and its Israeli counterpart, says the U.S. government regularly hands over intercepted communications that have not first been reviewed by U.S. analysts and therefore may contain phone calls and emails of American citizens.
What's especially galling about Britain's behavior: even as the government is ceding the privacy of Britons to the United States, it is condemning The Guardian for working on the Edward Snowden scoops with American newspapers on the theory that sending secrets abroad is an illegitimate thing to do.