This Is Bigger Than a Nuclear Deal
The agreement with the Islamic Republic isn't just a diplomatic milestone—it symbolizes an unprecedented era in U.S.-Iran relations.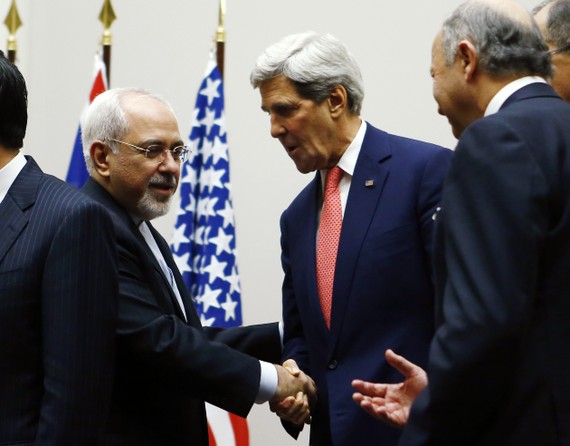 We have a deal.
After several setbacks, negotiators in Geneva have reached a historic agreement that will place restrictions on the Iranian nuclear program in exchange for easing some of the sanctions arrayed against the country. In the early hours of Sunday morning in Switzerland, Iranian Foreign Minister Javad Zarif broke the news in a tweet:
The details are still coming into focus, but here are the basics: Iran will stop enriching uranium beyond the 5-percent level (nuclear power plants typically run on 3.5 percent-enriched uranium), refrain from installing new centrifuges for uranium enrichment, and dilute or convert to oxide its stockpile of 20 percent-enriched uranium (a level that allows Iran to quickly enrich uranium to the weapons-grade threshold of 90 percent). It will also refrain from producing fuel for or operating its heavy-water reactor near the city of Arak, which experts believe could produce weapons-grade plutonium. International monitors will be granted expanded access to Iran's nuclear facilities.
In response, world powers will offer Iran billions of dollars in sanctions relief. Critically, the accord appears to be ambiguous on Iran's right to enrich uranium—a key sticking point in the talks—with Iran and the United States interpreting the text in different ways.
It's a big deal, though best seen as a temporary, brittle one designed to buy the parties six months to hammer out a longer-term—and far trickier—agreement.
But what's arguably a bigger deal, and what's been overshadowed in all the coverage of the haggling over this interim pact, is just how momentous these last several months have been for U.S.-Iranian relations. Since Iranian President Hassan Rouhani took office this summer, the two countries have engaged in the highest-level talks since the 1979 Iranian Revolution, first through a meeting between Zarif and Secretary of State John Kerry, and then through a phone call between Rouhani and President Obama (the two had previously exchanged letters). Zarif has also pioneered a new approach to speaking directly to the American people, turning to social-media outlets like Twitter and YouTube to defend, in English, Iran's positions at the Geneva negotiations.
The way the news cycle works these days, we take it for granted that Kerry is now in Geneva celebrating a diplomatic breakthrough with Zarif. But the frenzied diplomacy this fall has truly been exceptional. As the Ploughshares Fund's Joe Cirincione remarked after nuclear talks collapsed earlier this month, Kerry and Zarif "spent more time [together] in the last 24 hours than they have in 34 years."
Nothing drives this point home more than David Crist's The Twilight War, which chronicles America's failures, over three decades, to communicate with Iran—and the grave risks this state of affairs has posed for war by miscalculation. "With no diplomatic ties and only occasional meetings in dark corners of hotel bars and through shadowy intermediaries, neither side has an accurate view of the other," Crist, a Pentagon historian, wrote. In other words, we've been living through another cold war—but one without a proverbial "red phone."
The nadir in this "twilight war," at least symbolically, came on a Monday evening in February 1990, when President George H.W. Bush, desperate to free American hostages in Lebanon, spoke for 29 minutes on the phone with a man he believed to be then-Iranian President Hashemi Rafsanjani. Only later did Bush learn that the person on the other end of the line was an Iranian who opposed Rafsanjani's outreach to the United States and wanted to embarrass the Iranian leader. The lines of communications between the two countries were so frayed that the president of the United States fell for a prank call.
But the examples don't stop there. The history of the relationship is littered with unrequited outreach, abortive low-level diplomatic encounters, byzantine communications channels, and two-timing intermediaries. During his first term, Ronald Reagan sent three letters on White House stationery via foreign ministers from other countries to the Iranian government in an effort to improve bilateral relations, never receiving a response (the Iranians weren't sure the letters were authentic). After American officials—secretly spirited to Tehran on board a CIA-piloted Israeli aircraft—failed to strike a weapons-for-hostages deal in 1986, Reagan took to his diary to vent his frustration. "It seems the rug merchants and the Hisballah [sic] would only agree to 2 hostages," the president wrote. "This was a heartbreaking disappointment for all of us." In 1999, Bill Clinton grew so frustrated with his administration's thwarted overtures to President Mohammad Khatami that he loitered around the U.N. General Assembly after Khatami's address in the hopes of bumping into the reformist Iranian leader. Khatami ducked out a side entrance.
After the 9/11 attacks, Iranian and American officials engaged in their first face-to-face talks since 1986, holding meetings in Geneva and Paris to discuss cooperation in Afghanistan. But George W. Bush's inclusion of Iran in the "axis of evil"in 2002 pretty much put the kibosh on that effort. Then, in May 2003, just months after the U.S. invaded Iraq, raising alarm bells in Tehran that Iran was next, the Swiss foreign ministry sent the State Department a two-page fax drafted by Iran's top leaders (including Supreme Leader Ayatollah Ali Khamenei and now-Foreign Minister Zarif) outlining, as Crist put it, "a way forward to address every issue of contention between the Islamic Republic and the United States."
The Bush Administration ultimately dismissed the roadmap, though Richard Armitage, one of the officials involved in the decision, later admitted to Crist that he would have taken the memo more seriously if he'd known the moderate Zarif had a hand in writing it. (In 2008, as communications between the two countries deteriorated, the powerful Iranian commander Qassem Suleimani reportedly relayed a message to David Petraeus by sending a text message to a phone that Iraqi President Jalal Talabani then delivered to the U.S. general.)
Barack Obama came into office in 2009 pledging to meet directly with Iran's leaders without preconditions, even sending a pair of letters to the supreme leader, but he ended up relying more heavily on blistering sanctions and the threat of military force, with the administration's fitful diplomatic efforts only now bearing fruit. It didn't help that in 2011, the Iranians rejected a military-to-military hotline that U.S. officials had proposed to prevent an unintentional conflict from erupting between the two countries.
It's a backstory that makes the flurry of diplomatic activity leading up to this weekend's deal all the more remarkable. (On Sunday, the AP reported that Iran and the U.S. were engaged in secret, direct talks for a year preceding the agreement in Geneva.)
Consider this: In 2003, Javad Zarif outlined a plan for rapprochement with the United States by helping draft a document that was then handed over to the Swiss ambassador to Tehran, who then handed it over to the Swiss foreign ministry, which then faxed the document to the U.S. State Department, where the roadmap was then circulated among Bush administration officials and eventually filed away, without ever being made public.
Ten years later, Zarif simply uploaded this video to YouTube:
We've come a long way from the days when a president's outreach to Iran could crumble as a result of a prank call.
You can read the full White House fact sheet on the interim nuclear deal below: