The Suffering of the Philippines: 2 Charities to Consider
My list starts with Mercy Corps and Global Giving.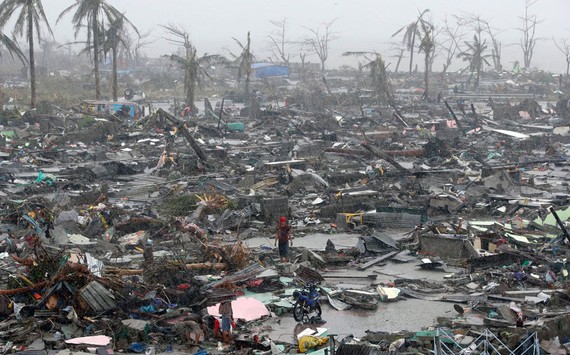 Of course natural disasters do not operate with deliberate cruelty. But it is hard not to imagine that they do, considering how often the countries and communities already hardest-pressed are the ones that bear the brunt of earthquakes, typhoons, earthquakes, landslides, floods.
That is the case now with the central Philippines, devastated by Typhoon Haiyan. Anyone who has spent time in the country understands its distinctive mixture of uplift and heartbreak. Uplift from the effort and idealism of so many people there -- a huge proportion of whom leave home for jobs around the world as nurses, mariners, construction workers, domestics, oil-field laborers, doctors, and any other role in which they can earn money to send back to the Philippines as "remittances." A few years ago my friend Jason DeParle did a memorable NYT Magazine story about the bravery and sacrifice that fuels the Filipino remittance economy (and he is now doing a book on migration economics). Sample from the story:
With about one Filipino worker in seven abroad at any given time, migration is to the Philippines what cars once were to Detroit: its civil religion. A million Overseas Filipino Workers — O.F.W.'s — left last year, enough to fill six 747s a day. Nearly half the country's 10-to-12-year-olds say they have thought about whether to go. Television novellas plumb the migrants' loneliness. Politicians court their votes. Real estate salesmen bury them in condominium brochures. Drive by the Central Bank during the holiday season, and you will find a high-rise graph of the year's remittances strung up in Christmas lights.
The heartbreak of the Philippines is not simply that so many of its people have to leave to support their families but also that the country's long succession of leaders have repeatedly raised and then crushed (and often betrayed) the public's hopes. The novels of the wonderful Philippine / Ilocano writer F. Sionil Jose depict the origins and long effects of this pattern. Twenty-five years ago, I wrote an article on the subject, called "A Damaged Culture," which for a long time was extremely controversial there.
For the moment: please consider helping the people of the central Philippines through any organization you trust. Here are two whose operations around the world I know and respect, and to which I've contributed over the years and will again for their special typhoon appeals:
Global Giving, with its Super Typhoon Relief Fund.
Mercy Corps, with its Typhoon Survivors Fund.
---
More on the typhoon from the Atlantic via James Hamblin, Conor Friedersdorf, and Alan Taylor's InFocus photos, source of the Reuters picture at the top of this post.