Thanksgiving Dinner in Rwanda
Through a gourmet restaurant in Kigali, one couple thinks they've identified a better model for eliminating poverty.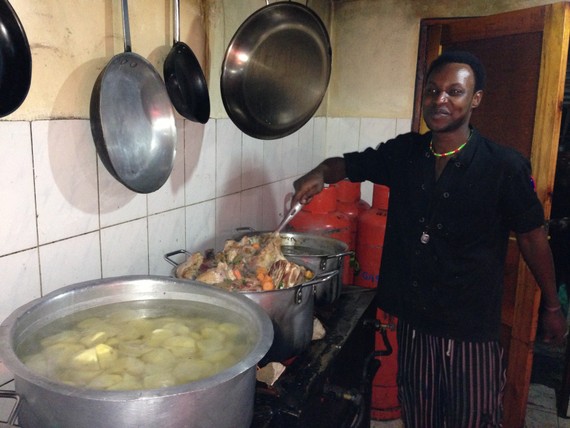 If you needed more evidence that Thanksgivukkah—the mash-up conceived on a highway near Boston for this year's coinciding Thanksgiving and Hanukkah celebrations—has spread far and wide, here it is: Seven thousand miles away from Beantown, 150 guests, including the U.S. ambassador and his wife, gathered on Thursday night at a restaurant overlooking Kigali, Rwanda for a Thanksgiving dinner featuring oven-roasted turkey, apple-and-sausage stuffing, pumpkin pie—and potato latkes. Maya Ruxin, the daughter of the restaurant's owners, even lit a Coke-bottle menorah to mark Hanukkah during the meal: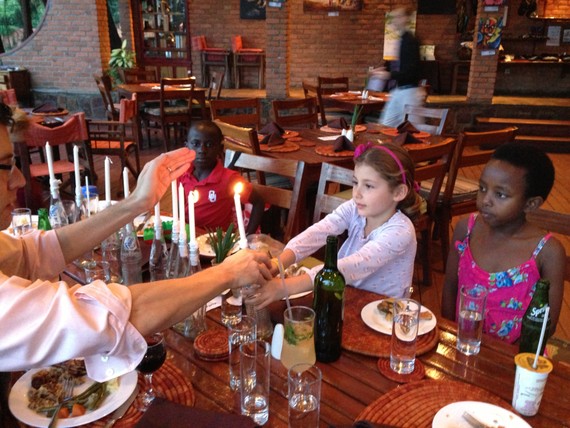 It was just another night—albeit a special one—at Heaven, a gourmet restaurant started by Alissa Ruxin and her husband Josh, a public health professor at Columbia University, in 2008. The establishment, located in an upscale, expat-friendly neighborhood of the Rwandan capital, now employs around two dozen people. And in his new book A Thousand Hills to Heaven: Love, Hope, and a Restaurant in Rwanda, Josh makes the case that the project—an agile, private enterprise that employs Rwandans and builds local capacity—represents a new and more effective way of thinking about poverty eradication on a small scale.
It's a "venture capital approach to development," Ruxin told me over the phone, while munching on a Heaven burger at the bar as the staff prepared Thanksgiving dinner. "When you employ one person in a place like Rwanda, there are at least a dozen people who are completely dependent on that person's income for education, health, shelter, food, you name it." He says job creation is particularly important in a country where families and communities are so tight-knit, and where people are still rebounding from the devastating 1994 genocide (one of Heaven's cooks, a Tutsi, lost his brother in the violence and served as an administrator in the impromptu court system established after the massacre to mete out justice).
Humanitarian organizations, Ruxin claims, could learn a lot from the private equity investors rushing into East Africa to capitalize on robust economic growth in the region. They could, for example, devote more resources to financing small- and medium-sized businesses like Heaven. As he noted in a recent interview, Heaven is "not aid. It's a business."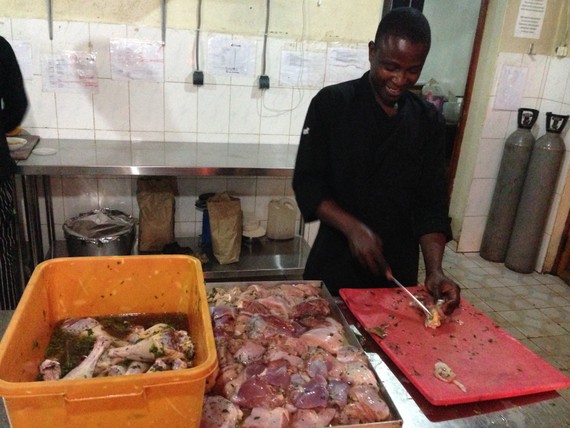 Ruxin, who's originally from Connecticut, frames the issue even more bluntly in his book:
Why, after all the fundraising and new charities and billions in foreign aid from successful countries and full-hearted volunteers heading off to all corners of the world and donated goats and sponsored children, is there still so damn much poverty in the world?... It suggests that poverty programs are created for our own satisfaction and rationalization, not for true and permanent results. While most development assistance has evaporated without a trace—eaten up by business-class plane tickets, hotel stays, conferences, and never-to-be-read presentations and pamphlets—there are also too many abandoned schools and clinics and other things of great human value littering the landscapes of the poor—facilities funded by well-meaning people with short attention spans and no true belief that poverty can actually be eliminated.
Large, established relief organizations do important work, Ruxin argues, but they're too hulking, too bureaucratic, and too focused on responding to emergencies to combat poverty in long-lasting, self-sustaining ways. "There are people who are starving and people who need immunizations and fertilizer and improved agriculture, and kids who need access to education," he says. "But very few people are thinking about the other side: What then?"
It's a characterization that major players like USAID and UNICEF would likely dispute. And the criticism comes amid a pivotal debate in the development world about just how large a role the private sector should play in fighting poverty. As the journalist Paul Starobin recently explained, some observers have marveled at China's ability to lift hundreds of millions out of poverty over the past two decades on the strength of economic growth rather than foreign aid, and arrived at a conclusion: "the best medicine for poverty is reforms to scale back the role of the state in the economy and to open sheltered markets to global investors."
Ruxin himself left New York for Rwanda in 2005 to head up a Millennium Village Project 25 miles south of Kigali—part of a bold experiment by the economist Jeffrey Sachs to end extreme poverty by investing heavily in everything from agriculture to education to health care in a string of model village clusters across Africa. Detractors argue that Sachs has set overly ambitious goals and shielded the campaign from the kind of rigorous assessment necessary to prove whether his interventions are effective. But Ruxin argues that his village, which is now being wound down as responsibilities are transferred to local and national authorities, is "replicable" and being "adopted and scaled" by the Rwandan government, which he claims has been particularly receptive to the project.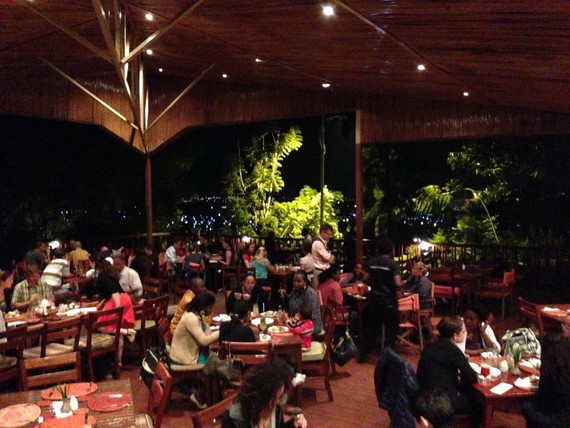 In making the case for the 'Heaven model' for poverty reduction, Ruxin points to Solange Murekatete, the restaurant's sous-chef, who started out as a cleaner and dish-washer and moved into her current role when Alissa learned that the staff liked her cooking best. The young chef, who was six at the time of the Rwandan genocide, is now helping put her siblings through high school and herself through a degree in business management at the Kigali Independent University, making her the first person in her family to attend college. "There are more dreams than ghosts in today's Rwanda," Ruxin writes in a chapter devoted to Solange's story.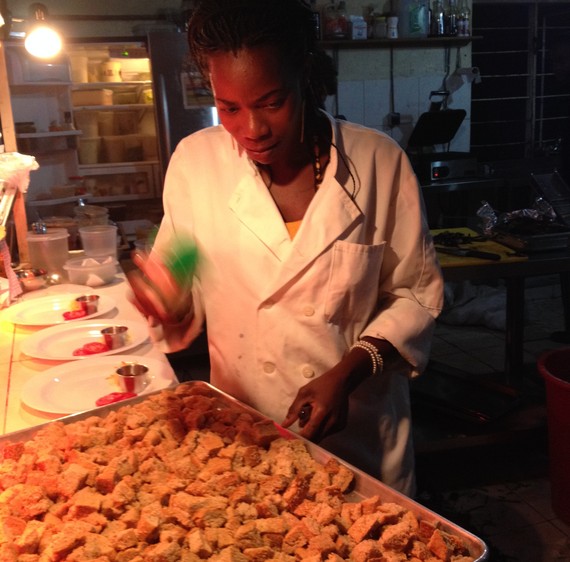 ***
As Thanksgiving approached this year, Heaven's staff turned to the difficult task of serving up a holiday dinner in a country where several of the traditional components are nowhere to be found. Local farmers raised turkeys and grew orange sweet potatoes specially for the occasion (the first year the Ruxins had turkey at Thanksgiving dinner in Rwanda, they kept the birds in their backyard). Chefs searched for a suitable alternative to cranberry sauce (the solution: Japanese plum chutney). Speaking to the staff as preparations were underway, I got the sense that debates about how best to eliminate poverty had been put on hold.
You can check out Heaven's Thanksgiving dinner menu and recipes below: