Spin Wars: How the Nuclear Deal Is Playing in the U.S. and Iran
The countries' top diplomats are selling the landmark agreement on Iran's nuclear program very differently.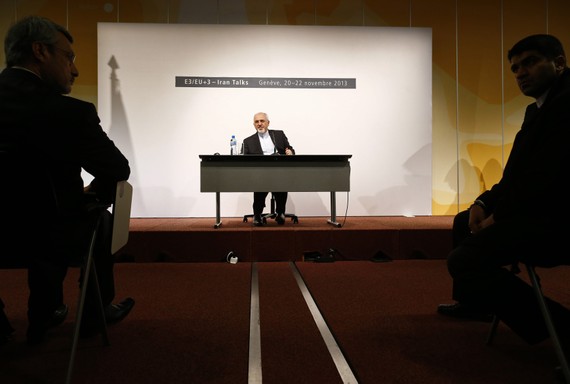 The day after world powers struck a historic nuclear deal with Iran, the headlines say it all. Over at USA Today, one reads, "Kerry: Iran has to prove its nuclear deal compliance." Iran's Fars News Agency, meanwhile, has a somewhat different take on the road ahead: "Iran to Verify World Powers' Compliance with Geneva Talks Undertakings."
It's either a sign of a good agreement (each side sees something in it for them) or an indication of just how much still divides the parties as they begin the difficult work of fashioning a longer-term accord on Iran's nuclear program. Or both. But whatever the case, U.S. and Iranian leaders spent Sunday pitching the diplomatic breakthrough to domestic audiences in remarkably different ways.
Nowhere is this more evident than in the confusion over whether the agreement recognizes Iran's right under international law to enrich uranium—one of the most sensitive issues in the negotiations. It's a technical but significant debate that centers on whether Iran, as a signatory to the Non-Proliferation Treaty, inherently has the right to enrich uranium, and whether this weekend's agreement, through clauses like one pledging that a "comprehensive solution" will "involve a mutually defined enrichment program," reinforces that right. On both counts, the United States says 'no' and Iran says 'yes.'
In an address to the nation on Sunday, Iranian President Hassan Rouhani declared that world powers had explicitly recognized Iran's right to enrich uranium in the nuclear deal. But Secretary of State John Kerry forcefully rejected that notion during an appearance on ABC's This Week.
"No, there is no right to enrich," Kerry said, claiming that Iran will face "stiff hurdles" in proving that its nuclear program is peaceful before it can achieve the "capacity to have some enrichment, as some countries do."
"If you didn't do what we're doing, [the Iranians] would be marching forward and putting more centrifuges in, enriching more, moving closer to a weapon." Kerry added. "What we have done absolutely, unequivocally, allows us to get into [the Fordow enrichment facility], know what they're doing in that enrichment, stop that enrichment. And if they're not prepared to do the things necessary to be able to have a peaceful program, truly peaceful and provable as such, then the sanctions can be turned back up and, of course, [Obama] always has every other option available to him as commander in chief."
Now compare Kerry's characterization of the deal to the description offered by Iranian Foreign Minister Mohammad Javad Zarif during a Farsi-language press conference in Geneva early Sunday morning. According to a report by Fars News Agency, Zarif declared that, as a result of the deal, Iran's nuclear enrichment program will continue (the foreign minister has also suggested that the agreement recognizes Iran's right to enrich).
"None of the enrichment centers will be closed and Fordo and Natanz will continue their work and the Arak heavy water program will continue in its present form and no material (enriched uranium stockpiles) will be taken out of the country and all the enriched materials will remain inside the country," Zarif said, according to the Iranian news agency's translation. "The current sanctions will move towards decrease, no sanctions will be imposed and Iran's financial resources will return."
Here's video of Zarif's press conference, with English-language subtitles courtesy of the Tehran-based @MeetIran Twitter feed, which appears to be part of a larger Iranian online public diplomacy campaign.
What Kerry and Zarif do have in common is that they must both overcome opposition to the deal from domestic factions. In the United States, skeptical lawmakers from both parties are threatening to impose new sanctions on Iran if the interim agreement collapses. In Iran, according to a report from Tehran by The New York Times' Thomas Erdbrink, some hard-liners are arguing that Iran failed to extract enough concessions from world powers. "We had expected the U.S. to lift all sanctions," Hamid Reza Taraghi, a conservative political analyst close to Supreme Leader Ayatollah Ali Khamenei, tells Erdbrink.
Hence the hard sell on Sunday by Kerry and Zarif to their people back home. The question is: Even after this weekend's momentous deal, and all the theatrics that accompanied it, just how far apart do U.S. and Iranian officials remain on the big issues that stand in the way of a more comprehensive agreement?