Liberia's Top Presidential Escort Busted for Smuggling Pot With Official Jeep
The official was detained near the border early Saturday morning with his accomplices.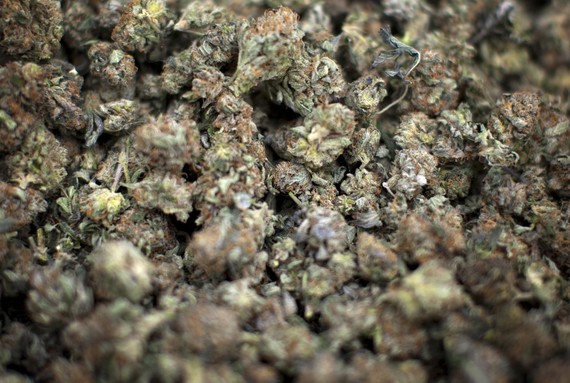 The man in charge of Liberia's presidential motorcade security was arrested over the weekend for using the lead convoy jeep, "Escort 1," to allegedly transport 654 pounds of marijuana (enough for approximately 297,000 joints) from Sierra Leone through the border town of Bo Waterside, the Associated Press has reported.
Superintendent Perry Dolo was apprehended near a security checkpoint around 1 a.m. Saturday morning, along with three other men—a Sierra Leonean military officer, a Guinean national, and another Liberian, according to All Africa. It's unclear whether Dolo's alleged connections to the drug underworld signal deeper deficiencies in President Ellen Johnson Sirleaf's larger escort and security teams. Officials at the Embassy of Liberia could not be reached for comment.
Dolo was not on duty when he was arrested by joint security forces; he had just decided to borrow the official wheels on his day off. According to Rose Stryker, Liberia's deputy police director for administration, Dolo hopped out of the car as authorities pursued him and fled on foot, leaving his co-conspirators behind. He was later tracked down at an abandoned building and arrested.
Stryker says authorities have been watching the borders more closely in an effort to crackdown on transnational crime. "We would like to stress that no one is above the law. We will take the necessary action to bring all perpetrators of crime, particularly drug trafficking at our borders to justice," she said at a press conference announcing the bust. The director of Liberia's Drug Enforcement Agency told the AP that it was making the case a priority because of the audacity of using a presidential vehicle. 
For the last several years, the DEA there has struggled to crack down on domestic marijuana production and sales in its central farming regions, including Bong County, where a lack of jobs and an ideal climate has attracted many to the business.