How Responsible Are Rich Countries for the Damage from Typhoon Haiyan?
The international community is debating whether wealthy nations should compensate poorer ones for the ruin brought about by climate change.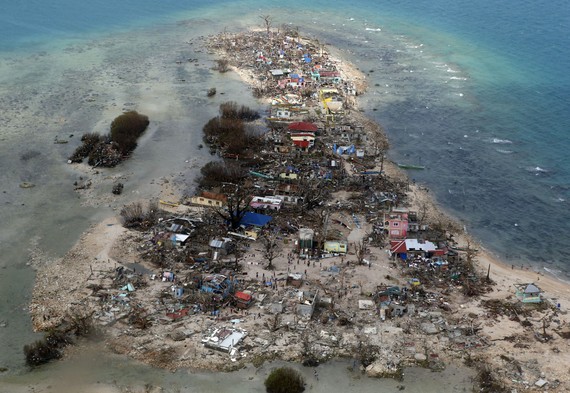 Super Typhoon Haiyan, one of the most powerful storms in recorded history, has affected over 4 million people and is estimated to have killed more than 10,000, according to officials in the Philippines. Some coastal cities, including Tacloban whose population is about 220,000, were almost completely flattened, which means that aid efforts around the country remain severely hindered. One United Nations official in the Philippines compared the damage to the 2004 Indian Ocean tsunami and an analyst pegged the cost to the Philippines economy at $14 billion.
The Philippines, a collection of thousands of islands, is ranked the third-most vulnerable nation in the world to climate change caused by the effects of greenhouse gases.
There have been no conclusive scientific studies finding that storms are getting more frequent or stronger in the Pacific Ocean, but the destruction wrought by Haiyan, known as Yolanda in the Philippines, marks the third year in a row that the island nation has been hit by such a deadly storm. It will also be the sixth year in a row that a storm has cost the country hundreds of millions of dollars in damage.
Each typhoon season costs the Philippines 2 percent of its GDP from lost crops and productivity, and an additional 2 percent in reconstruction costs, according to estimates from Naderev Madla Saño, the country's climate change commissioner.
Last December, a tearful Saño pleaded with nations that had agreed to adopt the Kyoto Protocol to act fast, after Typhoon Bopha, another "extreme weather event," killed hundreds in the Philippines. This week in Warsaw, the next round of Kyoto Protocol discussions are scheduled to take place. A top priority is the idea of developing a way to compensate poorer countries for damage caused by climate change. Richer nations, which have historically contributed the bulk of the gases that cause climate change, are expected to foot the bill.
While billing wealthy countries directly for storms sounds unlikely, the disproportionate effects low-income countries feel from climate change and extreme weather is a growing topic of discussion for development experts. There's also a push from international aid agencies to develop climate change and extreme weather insurance for these countries.
Still, discussions about how much responsibility developed nations should have in these situations have been contentious and complicated. Developed nations, many of which are traditionally the biggest donors after natural disasters, have raised questions about their liability because a lack of infrastructure and poor-quality construction often compounds the damage. In 2001, developed nations pledged to give billions of dollars to help low-income countries adapt to climate change through the Green Climate Fund. It has yet to actually raise any money.