Can Fish Sauce Be Vietnam's Champagne?
The country is ready to start trademarking its cultural goods but is unsure how to go about it.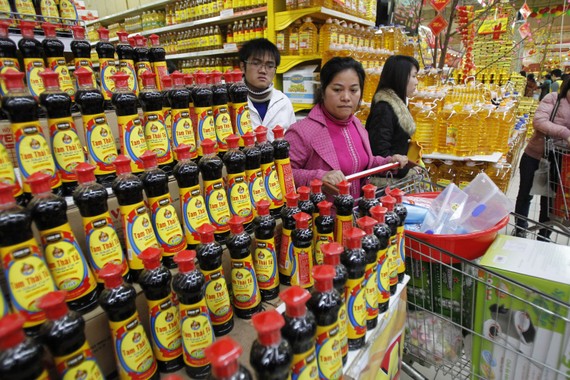 Cuong Pham's family left Vietnam by boat in 1979, after his father's association with U.S. agencies during the war made it too "difficult" to continue living there. Three decades later, Cuong returned to Phu Quoc, an island off the country's southern coast, to make fish sauce.
Fish sauce is the essential condiment of Southeast Asian cuisine. Made from fermented anchovies, it gives Vietnamese and Thai dishes their distinctive sweet-sour taste. More than 95% of Vietnamese households use fish sauce daily, tossing it into everything from noodles to dipping sauce.
In previous decades, housewives bought unmarked jars at the local market. Today, they've developed fierce brand loyalty. Three sauces manufactured by Masan Consumer Corp. make up 76% of the domestic market, which this year is forecast to top $400 million. New York-based private equity firm KKR recently increased its stake in Masan to $359 million—the largest investment a private equity firm has ever made in Vietnam.
But Cuong and the other approximately 90 Phu Quoc producers want consumers to see their fermented condiment as much more than a household staple.
This year, Phu Quoc fish sauce became the first product from Southeast Asia to receive Protected Designation of Origin certification from the EU Commission. To earn the prestigious label, a food product must be made entirely within a defined geographical area, using skills and ingredients from the region. European PDO products, including Prosciutto di Parma, Balsamic vinegar and Champagne, often enjoy a global reputation.
"We think of ourselves like a fine Bordeaux," Cuong told me. "The things that make Phu Quoc fish sauce special—the anchovies, process, and climate—are quite different in Phu Quoc than in other fish sauce producing areas. The new designation recognizes these terroirs."
The readiness with which Cuong tosses out terms like terroir indicates that Vietnamese producers are becoming more conscious of branding, especially for export markets.
The French word terroir describes the set of regional characteristics that give a wine or food its distinctive character: physical conditions (climate, geography), production methods, and intangible qualities like a sense of authenticity and identity. While Westerners typically associate the concept with French wine, the same idea has been ingrained in Vietnamese culture for centuries as dac san ("specialty"), but with much less aggressive marketing.
When I asked Ha Nguyen, a Vietnam News reporter who often writes about food traditions, about dac san, she immediately grabbed a pencil to scribble down a list: Buon Ma Thuot coffee, Lý Sơn garlic, Hải Dương mung beans, Ninh Thuân grapes. The country's finest tea comes from Thai Nguyen province, she said, although a concrete reason for its specialness evaded her: "When you smell tea from Thai Nguyen, there's something about it. You know that it's good." She waved her hand as if to inhale the scent of invisible green leaves.
But while Vietnamese might prize Thai Nguyen tea, consumers in America have no clue it even exists. Vietnamese tea "lacks branding," Nguyen Quoc Vong, an agricultural product quality expert from the Ministry of Agriculture and Rural Development, told attendees at this year's Vietnam Tea Outlook conference. "Consumers perceive it as low value."
Other local specialties face the same problem.
"High-end food products made in Vietnam are very much the exception," said Samuel Maruta, one of the founders of Marou Chocolate—the first artisan bean-to-bar chocolate maker in Vietnam. "Even products for which Vietnam is a major player, such as coffee and pepper, don't really have much of an image overseas."
As Maruta suggests, the coffee industry's woes offer a good illustration of Vietnam's image problem. The country has a variety of microclimates with ideal conditions for growing unique beans. But government policies focus on boosting exports—forcing growers to ignore quality in favor of quantity.
Typica and Bourbon beans, brought to Vietnam by the French, once grew all over Cau Dat district in Lam Dong province, according to Dao Tran Phuong, who founded single-origin coffee maker Oriberry in 2008 under the auspices of the local NGO he heads, Advancement of Community Empowerment and Partnership. However, the emphasis on planting cheap coffee for export means that these varieties have been almost entirely replaced by higher-yielding beans.
"We provide the largest quantity of Robusta to the world, but it goes to the instant coffee industry, so consumers rarely recognize the origin of coffee beans," Phuong told me. "Until our coffee is recognized by the world as high-quality, we won't have a PDO."
Failing to capitalize on recognizable terroirs can be costly. Growers in Buon Ma Thuot, a temperate area known as the "coffee capital" of Vietnam, found out in 2011 that a company in Guangzhou had already registered the Buon Ma Thuot trademark in China—a decade earlier. Other companies have registered it in Germany, the U.S., the U.K., Canada, South Korea and Japan, preventing producers in Buon Ma Thuot from doing so.
If you've heard of any Vietnamese coffee brand, it's probably Trung Nguyen. Founded by Central Highlands native Dang Le Nguyen Vu in 1996, Trung Nguyen is now Vietnam's biggest coffee label, and Vu aims to raise revenue to $1 billion by 2015. Most significant, however, is his marketing strategy. Like Red Boat and Oriberry, Trung Nguyen uses the idea of terroir to sell its products. Packaging emphasizes the fact that the "heirloom, gourmet" coffee comes from the coffee capital, Buon Ma Thuot.
"There's a reason to believe in the brand: it's authentic Vietnamese coffee from an area that's recognized as being good," Chris Elkin, managing director at the marketing agency red brand builders in Ho Chi Minh City, told me.
In 2006, Elkin helped Trung Nguyen create a "brand personality" for G7 instant coffee. "We came up with the name because there are seven good reasons to have the coffee," Elkin said. "And the logo's easy to recognize. Retail-friendly colors. Easy to resonate overseas." Today, G7 brings in millions from exports, which he holds up triumphantly as proof that Vietnamese brands can achieve international success.
"If there's a story to tell, a brand can be successful," he said.
Red Boat certainly knows the power of storytelling: the company recently sponsored a trip to Vietnam for several Food Republic bloggers to "learn about fish sauce." Marketing materials invoke the island's exotic image and use words like "all-natural" and "umami-laden."
This translates into major profits, especially for exports. In Hanoi, a large bottle of fish sauce costs about a dollar. Red Boat sends its "extra-virgin" fish sauce to gourmet retailers like Dean & Deluca in New York City's SoHo, where a 250-ml bottle sells for $10.
Still, despite these isolated triumphs, Vietnamese brands remain conspicuously absent from the global stage.
"In the past few years we've been to a number of major food exhibitions around Asia and nobody's there to raise the Vietnamese flag," Maruta said. "You can blame this squarely on Vietnamese producers' obsession with volume and their lack of investment in building internationally recognized brands."
While Vietnam frequently resists comparison with neighboring China, the two countries face similar obstacles in building brands. China has its own centuries-old traditional food producers, like Shanghai soy sauce maker Qian Wan Long Condiment Co. But despite receiving an Intangible Cultural Heritage Award from the Chinese government, the soy sauce firm doesn't even have its own website.
In both countries, this problem reflects a broader struggle to transition from churning out cheap goods to producing value-added branded products. As Elkin put it: "A ton of products offer something special. But labor costs are low, so the country is seen as a manufacturing hub."
China appears to be scoring points on the branding front. A government-backed campaign heaps recognition on the country's most vaunted trademarks. There are new labels like Li-Ning, a sporting goods company founded by an Olympic athlete that has scored prominent celebrity endorsements, and WeChat, a social networking tool that, as of August, was the fifth most-popular smartphone app in the world.
But these companies have yet to make inroads abroad. A recent marketing survey revealed that 94% of surveyed Americans couldn't name a single Chinese brand.
China and Vietnam are still new to the market economy, let alone the concept of branding. Before 2006, when the Vietnam National Tourism Administration introduced the slogan "Vietnam: The Hidden Charm," there was no national branding policy.
How branding works, exactly, still seems to elude officials. VNAT has announced ambitious plans to revamp the tourism industry, but so far the only concrete thing that's changed has been the national slogan. In 2012, Vietnam went from boasting that it's a "Hidden Charm" to claiming it's a "Timeless Charm." Tourism professionals find this strategy incomprehensible.
"Branding is not only slogans and logos," Nathalie Termoz, Hanoi office manager at Exotissimo Travel, told me. "If you want to promote a destination, you need to build a strong identity."
Getting a PDO label shows that Phu Quoc fish sauce has built that identity. Can Vietnam do the same?