When Governments Go After Witches
In some parts of the world, being suspected of sorcery can result in harsh sentences.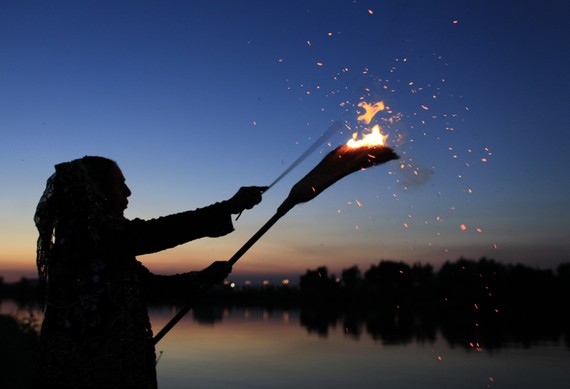 Most Western countries stopped executing people for witchcraft by the late 1700s. To this day, however, many governments around the world still pursue people suspected of sorcery. Here are five places where the global hunt for witches continues.
1. Swaziland's Regulations on Broomstick Flight
After a private detective in Swaziland was arrested on charges of violating airspace rules with a makeshift drone last spring, journalists reached out to Sabelo Dlamini, the country's Civil Aviation Authority marketing and corporate affairs director, for a more detailed explanation of the aviation laws in question. The statute sets a clear ceiling of 150 meters, just under 500 feet, on light aircraft, which can include wayward kites or remote-controlled toys. According to Dlamini, though, the edict also covers a more imaginative type of aerial vehicle. "A witch on a broomstick should not fly above the [150-meter] limit," he said. Witches violating the rule would be subject to the same penalty as other violators, an arrest and a fine of more than $50,000, the South African newspaper The Times reported on its website. No penalties cover "witches flying below" that height, yet.  
GlobalPost noted that Dlamini may have "used the flying broomstick example only to illustrate his point" because brooms in Swaziland—small bundles of sticks without handles for riding on—are thought to be used by witches, as The Times notes, only "to fling potions about homesteads" and "not for transport."
Whatever the case, witchcraft "isn't a joking matter in Swaziland,"where the belief is strong, as the The Times notes. In sub-Saharan Africa, an average of 55 percent of people believe in it, according to Gallup (tiny Swaziland was not included in the survey). In September, in nearby Zimbabwe, two "witches" were arrested after locals said that they had "crash-landed" outside a residence in a suburb of Harare and were "found naked with an assortment of witchcraft-associated paraphernalia, including a live owl, two winnowing baskets which are used for flying in witchcraft mythology, a baboon skeleton and an orange substance in a 550ml Coca-Cola bottle." Though the pair later told a judge that they were just paid actresses hired by a local "prophet" hoping to gain a larger following, they were still charged "with engaging in practice commonly associated with witchcraft." After admitting to a less serious charge of public indecency, neither will serve jail time.
2. Romania's Witch Tax
After the Romanian government expanded its tax code to include the occupations of witch, fortuneteller, and astrologer in 2011 as part of a larger program to increase revenues during a rough financial period, some vowed magical retribution, according to the Associated Press. A coven gathered on the shores of the Danube River and threw toxic mandrake into the water, claiming the spells would work against the government and president, who planned to make them remit 16 percent of their already-scant incomes.
Bratara Buzea told the Associated Press she was going to use a potent mixture of deceased canine and feline fecal matter in a separate spell of her own. "We do harm to those who harm us," she told the AP.
After the tax bill passed, Romanian legislators also drafted a law that would punish witches for incorrectly predicting the future. Buzea again disagreed with the move. "They can't condemn witches, they should condemn the cards," she said.
3. Saudi Arabia's Magical Police Unit
The harshest place for witches, or rather, female foreign domestic house workers the government thinks are witches, may be Saudi Arabia. An entire police unit is dedicated to fighting witchcraft crime, and religious judges often convict people with laughable evidence. But the consequences are dire: some of these alleged magicians have even been put to death.
From a piece I wrote at The Atlantic in August:
In a country where public observance of any religion besides Islam is strictly forbidden, foreign domestic workers who bring unfamiliar traditional religious or folk customs from Sri Lanka, Indonesia, Africa, or elsewhere can make especially vulnerable and easy targets. "If they see these [folk practices or items] they immediately assume they're some kind of sorcery or witchcraft," he said.

The Saudi government's obsession with the criminalization of the dark arts reached a new level in 2009, when it created and formalized a special "Anti-Witchcraft Unit" to educate the public about the evils of sorcery, investigate alleged witches, neutralize their cursed paraphernalia, and disarm their spells. Saudi citizens are also urged to use a hotline on the CPVPV website to report any magical misdeeds to local officials, according to the Jerusalem Post.

....

By 2011, the unit had created a total of nine witchcraft-fighting bureaus in cities across the country, according to Arab News, and had "achieved remarkable success" in processing at least 586 cases of magical crime, the majority of which were foreign domestic workers from Africa and Indonesia. Then, last year, the government announced that it was expanding its battle against magic further, scapegoating witches as the source of both religious and social instability in the country. The move would mean new training courses for its agents, a more powerful infrastructural backbone capable of passing intelligence across provinces, and more raids. The force booked 215 sorcerers in 2012.
4. Central African Republic's Court System Is Clogged With Witches
In 2010, Atlantic contributing editor Graeme Wood traveled to the town of Mbaiki, where Pygmies are often accused of casting spells on enemies and even of shape-shifting into animals. Witchcraft is one of the top crimes in the Central African Republic, where around 40 percent of prosecutions involve witchcraft charges. In Mbaiki, it's more than half. Wood was able to land an interview with the chief judge, Abdulaye Bobro, and asked about how he dealt with his sorcery cases:
...Bobro spoke in an articulate French baritone so rich with authority that I could imagine him flourishing as a crafty small-town defense lawyer, a Central African Atticus Finch, if he were not on the bench.

Bobro's magisterial bearing was undiminished by his inglorious chambers, which are roughly the size of the reinforced-glass cubes gas-station clerks inhabit in bad neighborhoods. I asked him if he could explain how he reached judgments in witchcraft cases, and he cracked open his filthy, plastic-bound copy of the penal code. Without consulting the table of contents, he found the section on PCS, or the "practice of charlatanism and sorcery," and let me read along as he quoted from memory the section that dictates a decade or more in jail and a nominal fine for engaging in witchcraft. In practice the penalties were significantly less, because the town had insufficient funds to maintain a jail. But Bobro supported the law's preservation, perhaps because it gave him so much authority.
Even children are not immune to the charges. About five percent of children processed in the juvenile system there in 2012 were accused of witchcraft, according to the Voice of America. And those are only the child witches that enter the criminal system. Many are sent by their families to bizarre Christian healing centers, where pastors profess the ability to cure them of magic through "prayer and counseling." But the system essentially profits from abuse. "The United Nations Children's Fund, UNICEF, has documented many examples of pastors spraying children with gasoline, administering poison to children, and beating them in elaborate exorcism rituals," reporter Gabe Joselow writes in the Voice of America piece. "There have also been cases of children being left for days or even weeks inside of churches with little or no food."
5. Iran's Political Sorcery
The advisers and aides of former Iranian President Mahmoud Ahmadinejad administration found themselves accused of involvement with black magic in 2011. The Wall Street Journal tracked down a sorcerer who claimed he had met with the President at least twice and gathered intelligence for him on "Jinn [supernatural forces] who work for Israel's intelligence agency, the Mossad, and for the U.S. Central Intelligence Agency." According to the story:
Some typical questions his visitors ask of the Jinn: What does Israel have on Iran's nuclear program? Is it planning to attack Iran? What is Washington's plan for a soft war on Tehran? Are Arabs polluting Iran's waters? What is Saudi Arabia's contingency plan for when Shiite Islam's 12th Imam, the Mahdi, re-appears from hiding to save the world?
"[M]ore than two dozen officials in the president's inner circle" were arrested on charges of accessing "unknown worlds" and harnessing jinn to influence political reality. One former spiritual leader was "more than 90 percent certain" that the president had been put under a spell. "This is not natural at all," Ayatollah Mohammad-Taqi Mesbah-Yazdi told reporters. "No sane person does such things unless his free will has been taken away."