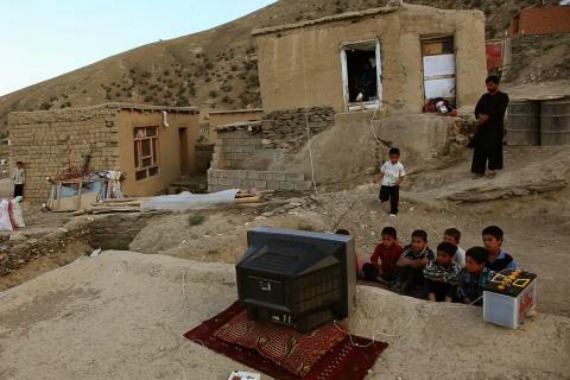 The Network
One of the most revealing moments in Eva Omer's documentary The Network, which is about TOLO TV, Afghanistan's first television network, comes about halfway through the film. Television executives and producers are discussing "Eagle 4," the network's first high-production-quality action drama. The show focuses on Afghan police, and a number of the interviewees explain that the intention of the show is to demonstrate that those police forces are courageous, honest, and trustworthy, in the interest of preparing the country for the moment when American forces leave the country. Then the screen goes black and you see the end credits from the show, which state: "Eagle 4 is sponsored by the U.S. Embassy."
Trudi-Ann Tierney, an expat brought in to the Tolos Kabul offices to be Head of Drama, acknowledges that she found this disturbing. "I did go through this point of thinking, am I just making propaganda?" she said. But, then again, "the kids I work with believe in what we're doing. And this is their country. They write the scripts … And they think that what we're doing is really important."
It's a reasonable defense, especially in the context of the passion and bravery evinced by Tolo employees over the course of the rest of the film. Producer Tania Farzana, for example, seems on the verge of tears as she explains, "I literally have my dream job." That job is adapting Sesame Street for Afghan audiences, a task which Farzana sees as vital and transformative both because she believes Afghanistan is desperately in need of the show's "basic sweetness", and because, with literacy rates only around 40%, learning letters and numbers is hugely important both for children and for adults. Similarly, Mujeeb Arez, host of the show "On the Road," risks his life to travel around Afghanistan and show people images of their own country, traditions, and heritage. When the station sends Arez and two technical people to the U.S. to document the lives of Afghanis in America, the two techs disappear; given the chance to escape the violence in Afghanistan, they take it. But Arez comes back because, as he says, "my home, my family, my friends, my fans, my people are here in Afghanistan, and I can't leave them."
It's hard not to hear that in context as an accusation and a challenge. If Arez is willing to put his life on the line rather than stay in the U.S., why isn't the American public and government willing to continue the military commitment necessary to protect him and his country? A number of commenters state explicitly that the prospect of American armed forces leaving Afghanistan in 2014 is flat-out terrifying — especially for the country's women. Tierney starts to cry at the end of the movie as she contemplates her friends and colleagues caught in a civil war, and the potential terror unleashed on her female coworkers who have overcome great odds, family opposition, and sometimes even abuse to become professionals. Marina Zafari, a producer and presenter who radiates fierceness, declares towards the end of the film, "I want to stay here. I would like to try my best to change even a small thing. My plan is to be here to face what problems. Even to support one woman who have problem. I want to do even a small thing for women in the future." As with Arez, her commitment to her people is not only a testament of courage. It's a rebuke to those over here who don't share it.
Which is to say, The Network is not only a documentary about propaganda and the power of the media, but an example of both those things. The film, quietly but firmly, demands that we see Afghanis as people, and that we see their troubles, not as distant and foreign, but as close and relatable — just as Arez does. Moreover, in showing the skills, value, and love that ex-pats like Tierney bring with them to Afghanistan, the film "makes a stirring case for the cultural benefits of foreign intervention when it's desired and embraced by locals," as Nick Schager argues at The Dissolve. You can't walk away from the film without understanding that the West can make a huge beneficial contribution to Afghanistan.
But will it? And, just as importantly, has it? I don't doubt that director Omer's picture is accurate. But there are, after all, reasons to think that Western influence has not been entirely positive in Afghanistan. The Taliban nightmare was in part perpetrated by the U.S.'s funding of radical Islamic groups while the Soviets controlled the country. And even today, our drone war grinds on in the south and east, far from Kabul, killing civilians and displacing thousands. For that matter, that U.S. embassy funded propaganda in favor of local police — is that necessarily in the interest of everyone in Afghanistan? Tierney notes that "Eagle 4" caused a boost in recruitment to the police, which is perhaps good for overall security. But it seems like it might not be so great for individuals who joined up with the kinds of unrealistic expectations you get from watching television action dramas.
Again, this isn't to condemn the film, nor the incredibly brave folks at Tolo. It's just a reminder, maybe, that media, whether television or film, is best taken with a fair degree of skepticism. The Network, though, makes a powerful case that, whatever its limitations, a free media, in the form of Sesame Street, cop dramas, travel shows, or women dancing without headscarves, is vital if Afghanistan is ever to know peace.
We want to hear what you think about this article. Submit a letter to the editor or write to letters@theatlantic.com.