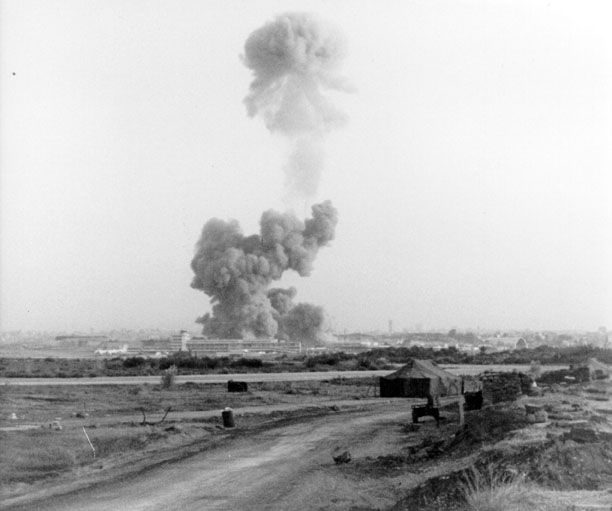 Thirty years ago, three spectacular attacks in Beirut over an 18-month period announced the debut of a potent new force in Lebanon—the Shiite Hezbollah militia— and defined its relationship with the United States for years to come. The October 1983 bombings of Multinational Force bases took the lives of 241 Americans and 58 French.
Beirut, a city battered by war, was experiencing a period of relative calm in fall 1983. U.S. diplomats and soldiers were still coming to terms with the suicide bombing that struck the U.S. embassy in April, and U.S. Marines wore their combat uniforms everywhere they went—even to social events and diplomatic functions. But to the U.S. Marine commander on site, the threat environment seemed to have eased somewhat. The embassy bombing was seen as an outlier event. Marines were free to roam the city and were interacting with Lebanese children in public without fear of ambush. Beirut was under a cease-fire, and hopes were high for Syrian reconciliation talks. It was the quiet before the storm.
In the early hours of October 23, 1983, a young Lebanese man from a Shi'a family awoke, said his morning prayers, and drank tea. In a suburb overlooking the marine barracks, his superiors shared a few final thoughts with him, after which a senior cleric blessed him before he drove off in a yellow Mercedes truck. At 6:22 a.m., he rammed the explosive-laden truck through the guard post at the entrance to the U.S. Marine Battalion Headquarters Building in Beirut. The blast decimated the four-story, concrete, steel- reinforced structure—considered one of the strongest buildings in Lebanon at the time. A dense, gray ash cloud engulfed the area as emergency vehicles rushed to the scene. Those soldiers lucky enough to escape serious injury quickly mobilized to rescue their fellow marines, sifting through "dust-covered body parts, moaning wounded and dazed survivors." Seconds later, a nearly identical attack targeted the French Multinational Force (MNF) building less than four miles away.