Russia's Online-Comment Propaganda Army
It's like writing copy about hair dryers, one comment-shop explains, "The only difference is that this hair dryer is a political one."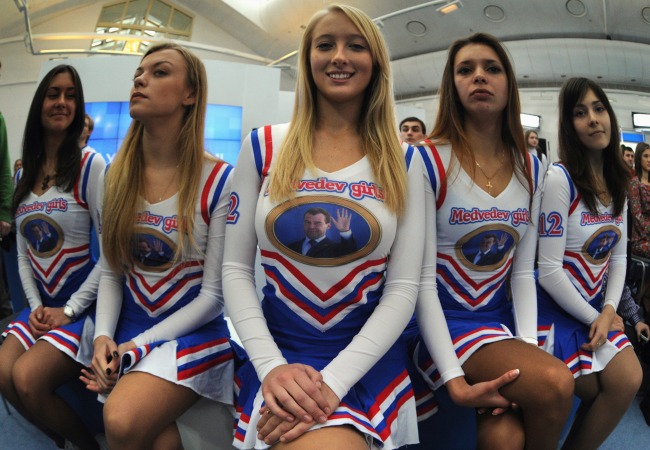 Whenever I write about homophobia in Russia, several readers invariably leave comments defending the country's approach to gay rights:
"Why is everybody here talking about homophobia? We don't have phobia (an irrational and unjustified fear) to homos in Russia. It is just a natural disgust to perversion and desire to protect our children against it," one wrote.
Oh, I see. You don't fear gay people, you just think they're gross. Guess it's time to run a big ol' retraction.
Elsewhere, like when my articles about opposition figures are translated and posted on Russian news sites, the comments get downright personal and anti-Semitic.
I don't get too worked up—Internet haters gonna hate, as we all know—but given the outlandishness of their responses (even their fellow angry commenters often try to take them down a notch), it leaves me wondering, "Who are these people?"
Now, it seems, we have an answer to where some of this acrimony originates. It's of course impossible to tell whose vitriol is genuine and whose is being bankrolled, but at least some anti-Western comments appear to come from staffers the Russian government pays to sit in a room, surf the Internet, and leave sometimes hundreds of postings a day that criticize the country's opposition and promote Kremlin-backed policymakers.
Russian news site the St. Petersburg Times describes the story of one woman, Natalya Lvova, who said she attended a job interview in August at a "posh cottage with glass walls" in a village near St. Petersburg:
"To my question about a technical task—what exactly should be written in the comments—a young guy, a coordinator, told me, briefly and clearly, that they were having busy days at the moment and that yesterday they all wrote in support of [Moscow acting mayor Sergei] Sobyanin, while 'today we shit on Navalny,'" she wrote on her VKontakte [ed: a Russian social network] page.

According to Lvova, each commenter was to write no less than 100 comments a day, while people in the other room were to write four postings a day, which then went to the other employees whose job was to post them on social networks as widely as possible.

Employees at the company, located at 131 Lakhtinsky Prospekt, were paid 1,180 rubles ($36.50) for a full 8-hour day and received a free lunch, Lvova wrote.
A Russian journalist who visited one such comment-mill, the St. Petersburg Internet Research Agency, met with a coordinator who said the job was not unlike writing copy for a hair dryer: "The only difference is that this hair dryer is a political one."
The coordinator then provided an example of such postings, including several about Alexei Navalny, Russia's main opposition leader. "Navalny is the Hitler of Our Time," one said.
Others targeted the U.S.:
"Friends, wake up! America is not our friend, but really the worst enemy!" one blogger wrote. "Behind America's smile and handshake, there is only its task of genocide and the complete destruction of our country."
Paid, pro-government commenters aren't a new phenomenon in Russia, and similar practices are widespread in countless countries. In their Freedom on the Net report released last week, the NGO Freedom House said the strategy has been on the rise over the past two years, and is now rampant in 22 of the 60 countries the group examined. China, Bahrain, and Russia are at the forefront of this practice, Freedom House wrote.
But some Russian opposition journalists point out that this trolling creates a chilling effect on the few independent media outlets that remain in the country. Finding themselves drowned out by paid propagandists, as opposition activist Vladimir Volokhonsky told the St. Petersburg Times, everyday readers stop responding to news articles entirely:
"The effect created by such Internet trolls is not very big, but they manage to make certain forums meaningless because people stop commenting on the articles when these trolls sit there and constantly create an aggressive, hostile atmosphere toward those whom they don't like. These include commentary systems on the web sites of every major media outlet in the city that the trolls began to occupy a long time ago and react to certain news with torrents of mud and abuse. This makes it meaningless for a reasonable person to comment on anything there."
Judging from recent events, though, open, vigorous, and untainted online discussion is something Russia badly needs.