Pakistani Officials Signed a Secret Agreement Authorizing Drone Strikes
Despite the new prime minister's criticism, officials say the country's military approved the strikes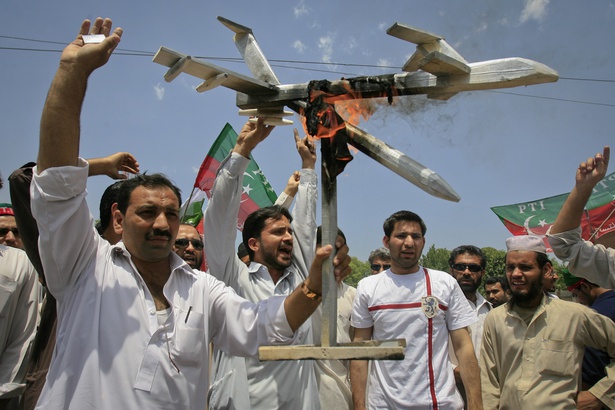 The Obama administration's aggressive drone program in Pakistan came under renewed attack this week, with Amnesty International suggesting that the United States is engaged in war crimes and visiting Prime Mininster Nawaz Sharif describing the strikes as a "major irritant" in relations.
But what is obscured by the public dispute is that there has been, since the administrations of George W. Bush and Pervez Musharraf, a secret agreement in place by which Pakistani military and intelligence authorities have approved many of the strikes, U.S. and Pakistani officials say.
"The exact terms were never shared with civilians but there was a protocol between the Musharraf government and the Americans," says a former senior Pakistani official who would discuss the classified matter only on condition of anonymity. "When the civilian government came in [in 2008], it was informed about it but there was no renegotiation."
Even so, this official said that civilian leaders in Islamabad have made sporadic efforts to renegotiate. "Both [former President Asif Ali] and Sharif have approached Washington to say, 'Can we talk about it?'"
Sharif said he brought up the issue of drones in his White House meeting with President Obama on Wednesday, "emphasizing the need for an end to such strikes." The Washington Post also reported late Wednesday that it had obtained top-secret CIA documents and Pakistani diplomatic memos detailing deep cooperation between the United States and Pakistan on drone targeting.
Because the details are not publicly known, it is not clear to what extent the Pakistani military and intelligence apparatus gained approval authority for all drone strikes. In his new book, "Magnificent Delusions: Pakistan, the United States and an Epic History of Misunderstanding," former Pakistani ambassador to Washington Husain Haqqani writes that the Pakistani ISI actually resisted U.S. efforts to keep its own government in Islamabad informed. "The CIA and the ISI [Pakistani intelligence] communicated regularly on the strikes," Haqqani says. "The ISI did not like Pakistani civilian officials finding out anything about their dealings with the United States about armed Predator drones, but the U.S. government wanted the civilian leadership to remain in the picture." The ISI, Haqqani added, was in the habit of "protesting against the drones publicly while privately negotiating over whom the drones would target."
But the two governments increasingly diverged over the nature of the enemy, with the ISI wanting to protect some of its jihadist allies in the struggle for influence with India and inside Afghanistan, and to target only certain al Qaida-linked groups. Trust between the two sides was badly damaged after the U.S. unilaterally targeted Osama bin Laden in a strike by Navy SEALs in Abbottabad in May 2011, completely surprising Pakistani military and intelligence officials.
Officials say that a major reason why the Obama administration resisted efforts by Congress to obtain the full range of its classified legal memos justifying so-called targeted killing was to protect the secret protocols with Pakistan and other countries, such as Yemen.
Last February, a legal expert outside the government who is intimately familiar with the contents of the memos drafted by the Justice Department's Office of Legal Counsel said that the government-to-government accords on the conduct of drone strikes were a key element not contained in a Justice Department "white paper" revealed by NBC News. He said it was largely in order to protect this information that the targeted-killing memos drafted by Justice's Office of Legal Counsel were even withheld from congressional committees. "That is what is missing from the white paper but forms a core part of the memos," the expert said.
A Human Rights Watch report this week also criticized the U.S. drone program in Yemen, saying the targeted airstrikes against alleged terrorists have violated international law by killing innocent civilians. But a year ago, the new leader of Yemen – another country with which Washington has signed a secret protocol on drones – publicly endorsed America's use of drones within his borders. "They pinpoint the target and have zero margin of error, if you know what target you're aiming at," the new Yemeni president, Abdu Rabbu Mansour Hadi, said at the Woodrow Wilson Center in Washington.
The Obama administration has consistently maintained that civilian casualties are minimal, and State Department spokeswoman Marie Harf suggested on Tuesday that the reports by Human Rights Watch and Amnesty International were inaccurate on that score. "There's a wide gap between U.S. assessments of such casualties and nongovernmental reports," she said.
Even so the Obama administration, jolted by new waves of anti-Americanism in Pakistan and the Arab world in reaction to the drone strikes, has been engaged in an intense internal debate over how to narrow the program. The administration believes it has removed most of "core al-Qaida" from its central home in Pakistan, and at the same time it's no longer quite as clear that "associated" groups or individuals will seek to target the U.S. homeland or U.S. interests the way bin Laden did.
Among those expected to influence this effort anew is Jeh Johnson, Obama's nominee to succeed Janet Napolitano as Homeland Security secretary. Administration officials point to a speech that Johnson, then the Pentagon's general counsel, gave in November 2012 setting legal standards for the drone war and laying out criteria for curtailing and even ending it. Johnson said "there will come a tipping point … at which so many of the leaders and operatives of al-Qaida and its affiliates have been killed or captured, and the group is no longer able to attempt or launch a strategic attack against the United States, such that al-Qaida as we know it, the organization that our Congress authorized the military to pursue in 2001, has been effectively destroyed." The war would then be expected to end – and with it, much of the drone program, Johnson suggested.
Meanwhile, however, the Amnesty International report on Pakistan concluded that the "strikes have resulted in unlawful killings that may constitute extrajudicial executions or war crimes."
Sharif, who is seeking to repair relations with Washington, was somewhat more circumspect in a speech in Washington on Tuesday, noting that Pakistan's political parties have "declared that the use of drones is not only a continued violation of our territorial integrity, but also detrimental to our resolve and efforts at eliminating terrorism from our country."
He did not mention the secret protocol authorizing the use of drones within his country's borders.