An Imam, a Rabbi, a Pastor, and the Legacy of a Nazi Church
A new initiative hopes to make Berlin a hotspot for interfaith dialogue, but critics say the group's plan glosses over the site's horrific past.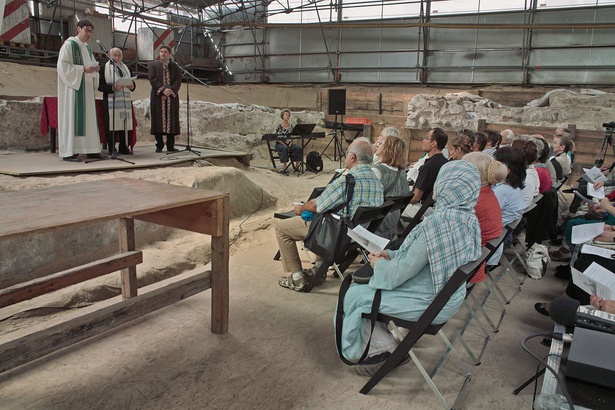 BERLIN—On a recent late-summer Sunday afternoon, an imam, a rabbi, and a minister met under an expansive tent set up next to a busy Berlin road. The altar on which they prayed, and the folding chairs on which the congregants sat, were placed atop the ruins of St. Peter's Church. St. Peter's was built in 1230, enlarged in 1717, and demolished by East Berlin officials in 1964 so they could widen the road.
The congregants were a mixed bunch—German senior citizens, teens of indeterminate religion, a Muslim mother who kept a watchful eye on her daughter as the child climbed about the church's remnants. As the rabbi sang in Hebrew, the imam held his hands clasped, and the pastor eyed the audience.
The trio hopes that in two years' time, a permanent, $41-million, multi-faith prayer space will be built atop the land and put Berlin on the map as a global center for interfaith dialogue.
But right as the campaign got underway, a noted German historian, Manfred Gailus, reminded them of a fact that was likely unknown to Gregor Hoberg, the Protestant pastor who initiated the project. But some think it also may have been swept under the rug by Hoberg's past and present church superiors.
During the 1930s and 40s, St. Peter's housed one of Berlin's most ardently anti-Semitic pastors, Walter Hoff. He and a handful of other Nazi religious figures provided Hitler with the theological rationalization for the Holocaust. What's more, Hoff claimed to have himself ordered the murder of Jews.
Gailus says the interfaith plan glosses over St. Peter's problematic past. And he has launched a one-man media push urging the interfaith campaign to rethink their idea. But the trio has already picked an architect's design for the building, created slick press packets that tell of their project's uniqueness, and switched on a crowd-funding website to raise the millions needed to build the space. By all accounts, they seem intent on moving forward with their plan, Nazi history or not.
Gregor Hoberg is the pastor of St. Mary's Church on Alexanderplatz. His congregation owns the land a few blocks south, on which St. Peter's once stood.
Hoberg said the site had been used as a parking lot for decades. Under the macadam sat the foundations of three, or possibly even four, churches that formed the erstwhile St. Peter's. In 2008, he and his subalterns decided to unearth the remains and redevelop the lot.
"We wanted people to be able to pray here," Hoberg told me. "We want it to correspond to the city as it stands today, a city that has changed so much. So we decided to create something together with other religions in order to show the predominantly secular society around us that religion can also help foster peace."
Hoberg resolved to build a space large enough to accommodate a mosque, a temple, and a church. There would also be a common room, and a commitment by the religious leaders to hold joint services weekly.
Then came the hard part, he said.
"The part that we spent the most time thinking about was who we should choose to work with us on this," Hoberg said.
He picked a respected figure in Berlin's Jewish community, Rabbi Tovia Ben-Chorin; and an enthusiastic, young Turkish-German Imam named Kadir Sanci.
Rabbi Tovia Ben-Chorin is an Israeli who grew up speaking German in Palestine. His father was a German Jew who fled from Munich in 1935, and later founded Jerusalem's first Reform Judaism congregation. Rabbi Ben-Chorin's father was one of a group of Israelis who initiated a German-Jewish dialogue after the Holocaust.
Rabbi Ben-Chorin spoke of his childhood days playing with Arab kids in 1930s and 40s Jerusalem, and of learning Arabic from them. As an adult, he studied at a rabbinical institute in Cincinnati. Later, he wanted to serve congregations in Berlin so that he could help breathe new life into Germany's growing Jewish community. He joined the St. Peter's project last year.
"The decision was to include the three monotheistic religions," Ben-Chorin told me, "Because this is the base now of European culture. You have to have dialogue with other religions. We need an exchange of information. In this new space, we want to discover roots on the one hand, and identity on the other hand. We want to influence each other, but not missionize."
Imam Kadir Sanci, for his part, said he became interested in multi-faith projects while studying near Darmstadt, where he visited a large prayer building that housed a Catholic and a Protestant church under the same roof.
"We realized that many Muslims in both the West and Turkey, where I am from, have little knowledge of Christians and Jews," Sanci told me. "That's a reality. So we are hoping, and want to make it our goal, to make this new center into a place where we can learn about each other."
One morning last winter, Manfred Gailus was sitting at the large oak dining room table in his apartment in the tranquil Berlin borough of Schöneberg. He opened a newspaper and was shocked to read about Hoberg's plans for St. Peter's. Gailus had written about the site in the mid-1990s in his landmark history of the German Protestant church under Hitler.
"My first thought was: This is toxic, contaminated land," Gailus told me. "They've unearthed the church's foundations. Fine. But they can't possibly build a future on such foundations before dealing with the site's Nazi past."
Gailus met with Roland Stolte, St. Mary's theological director, to voice his concerns. He backed up the meeting with a detailed exegesis of St. Peter's Nazi past in one of Germany's most respected newspapers, Die Zeit.
Stolte took Gailus for a walk around the site one cold winter morning.
"He showed me the land on which the space was to be built. And I told him, 'this is all well and good, but you have a big problem. You had in this community a pastor who, in a letter in 1943, bragged that during a mission in Russia during the war, he was involved—with his own hands—in the Holocaust!'"
Hoff accompanied German troops into Russia, both to minister to dying soldiers and to personally oversee the murder of—in his own words—"hundreds of Jews."
Gailus said Hoff's letter is unlike any other written by a German clergyman during National Socialism.
"We had never seen a letter like this," he emphasized.
After the war, Hoff, back in East Berlin, panicked because the murders that he ordered were carried out on Russian territory (and East Berlin, at this point, was held by the Russians).
He fled to Hamburg, but was caught by British occupying forces there. Yet he was quickly released after his "de-Nazification" trial. That's because, at the time, the Allied victors simply couldn't conceive of a pastor acting in the manner that Hoff had. And, indeed, many Nazi pastors like Hoff were freed without their crimes ever having been investigated.
From 1946 until 1948, Hoff served in a Hamburg church until the Berlin diocese discovered his letter from 1943. The Berlin diocese asked the Hamburg diocese to defrock him, and they did. But in 1957, Hoff won an appeal and was welcomed back into the church. For his 70th birthday in 1960, diocese officials sent him a poetic blessing thanking him "for all his good deeds in life."
"There's no doubt that church officials knew about this especially awful affair with Hoff," Gailus said. "But the Hoff file was closed in 1957, and then simply forgotten."
Several people at St. Mary's admitted they were as surprised as anyone when they read Gailus' account in the newspaper. And Gailus agreed that lower-level church officials, like Pastor Hoberg, probably did not know about the site's Nazi past.
But Gailus feels that church higher-ups did know and sought to keep a lid on this history. He cites as evidence letters that he received from the bishop of Berlin and church scholars after the publication of his book.
Gailus' academic colleague, Susannah Heschel of Dartmouth College, corroborated his assessments. She is one of the world's leading scholars of Jewish-Christian relations in Germany during the 19th and 20th centuries.
"Up until the 1980s, when American historians started to investigate the role of German churches in National Socialism, German church historians only focused on the resistance movement. Their story was that the church was opposed to Hitler. And it wasn't. Some members opposed Hitler, but many did not—many pastors actively backed Hitler," Heschel told me.
When I sought further comment from the archdiocese of Berlin, a spokesperson declined to comment, and directed me back to St. Mary's church. There a spokeswoman, Ulla Albrecht, told me that she felt the church had acknowledged its role and apologized—which, in fact, it did in a mass in January 2013, shortly before Gailus' article was published.
But Gailus isn't satisfied. He feels that the church is biding its time until the issue blows over.
"As far as I can see, they haven't done anything," Gailus said. "They need to integrate this grave past into the building's architecture, into the center's very mission. They can't try to shove this onto some plaques in a corner."
To be sure, there are scores of former Nazi churches in Germany whose histories still await investigation. For this reason, scholars like Heschel say St. Peter's, with its landmark building and prominent location in the German capital, must serve as a template for other German churches to investigate and learn about their pasts.
"Unless people know what was going on in the past, there is no change in people's minds. Moreover, it shouldn't be in the hands of rabbis or imams or academics from the United States to point all this out. Nor should a distinguished social historian like Manfred Gailus have to point this out. The church itself should point it out!" she said. "Why wouldn't they want to do that? Why wouldn't they just admit, 'Yes, there were Nazis in this church. But now we repudiate that.' That would be the act of moral courage."
But Rabbi Ben-Chorin felt that he needed to jump at the chance to take part in a project that, he says, redefines the church's horrible past.
"St. Peter's was very close to the Nazis," Ben-Chorin noted. "This we know, of course. But this project is a metamorphosis. It is something that changes the site completely. How could I say no to such a situation?"