An Amazing, Dizzying Map of All the Languages and Races in South Africa
The legacy of apartheid, in technicolor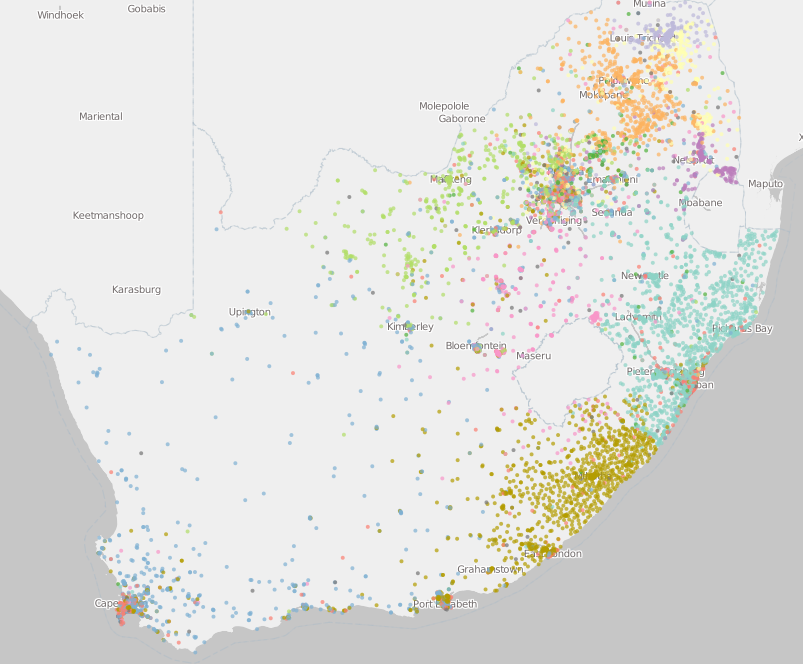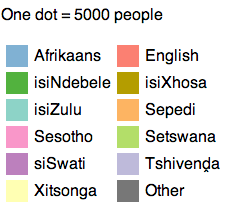 When I briefly lived in South Africa a few years ago, I was surprised to find that most people in the newsroom where I was interning spoke at least two languages: English and a Dutch dialect called Afrikaans. On top of that, some people in Cape Town also spoke isiXhosa, the most common native language in the area.
When you come from a country where most people are monolingual, that alone is impressive. But it was also a near-daily reminder of South Africa's turbulent history, during which its land was taken over first by the Dutch and then the British, both of whom clashed with and ultimately marginalized all the various native peoples.
These maps, made by Cape Town developer Adrian Frith, show the true extent of how cacophonous all these little slices of South African life really are. (Click here for the interactive version). All the various linguistic and racial groups seem like they largely clung together—"coloured" or mixed-race people live predominantly in the country's west, for example.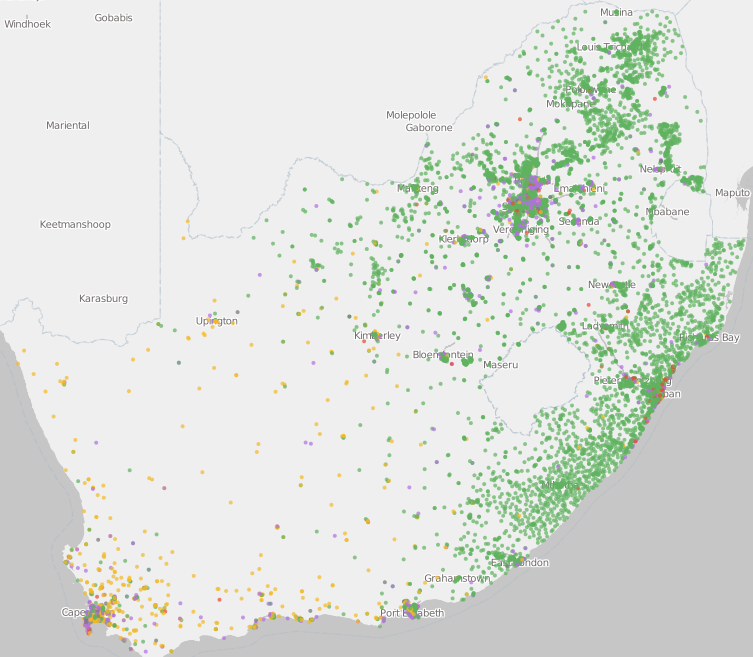 For the race maps, the green is for black Africans, the orange is for "coloured' or mixed-race people, the purple is for white individuals, and the red dots are for the country's Indian or South Asian minority. One dot represents 250 people.
---
But when you zoom into the big cities, it starts looking more like a segregated patchwork. There are clearly defined pockets, for example, of black people and isiXhosa speakers where the massive townships are, and splatters of English speakers where the wealthy minority lives. And in between, there's the massive expanses of veld.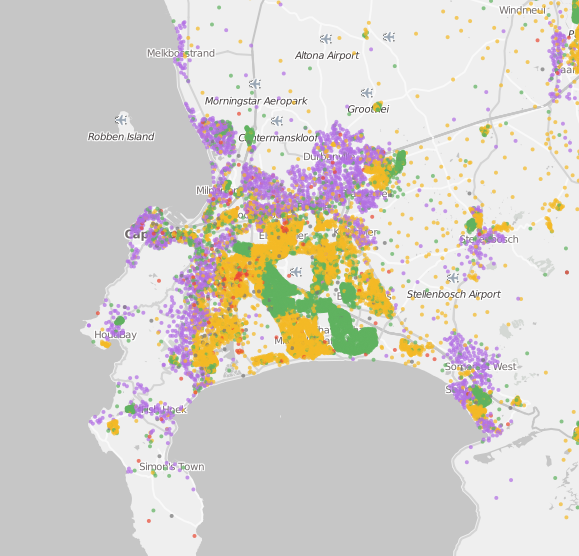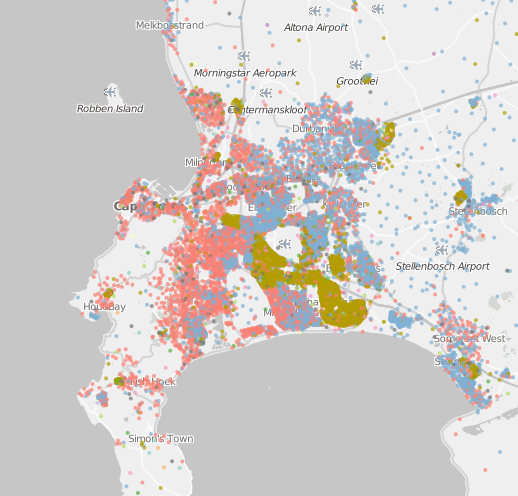 This close-up of Cape Town reveals the outlines of the townships, where many black South Africans (green dots) and isiXhosa speakers (yellowish-brown dots) live.
---
It's worth noting that this kind of divvied-up coexistence is going on in many African nations, it's just that South Africa is one of the few countries that has the census data and the developers to make maps of it. A few weeks ago, the New York Times ran a story about a wealthy white South African family that moved to a shack in a township near Pretoria to experience how the other 55 percent of the country lives, and by doing so sparked outrage among black, coloured, and white South Africans alike.
Some of the article's American readers seemed surprised at the blowback, but for people who live in such a diverse, yet clearly demarcated, society (and in many areas, Americans still do), suspecting that anyone who leaves their own turf has nefarious intentions is entirely understandable.
"The primary lesson from these is that the legacy of apartheid is still very clearly visible," Frith wrote on his site. "I suppose that was to be expected."
h/t @TashJoeZA