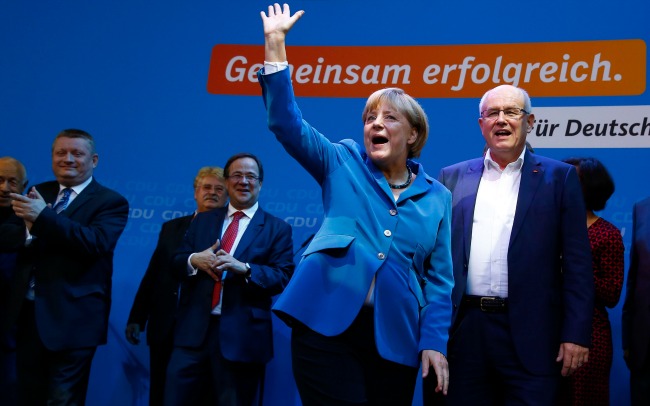 BERLIN—Germans reaffirmed their faith in Chancellor Angela Merkel during the country's elections today, with her supporting center-right Christian Democratic Union garnering 41.7 percent of the vote—8 percent more than in the last election—and setting up Merkel for a third four-year term.
"This is a super result," the chancellor said to her cheering, orange-clad supporters. "I'd like to thank the voters who have given us so clearly their trust, and I can promise them we'll treat that trust responsibly."
The scene at the CDU headquarters in Berlin, where supporters joyously drank and danced, was the final flourish in an election that had long been expected to go to Merkel, who Germans trust as much for her measured, competent personality as for the relatively prosperous economy she's presided over. Television polls tonight showed that nearly 80 percent of all voters approve of Merkel, regardless of their political affiliation.
In Europe, Merkel has pursued a centrist, incremental approach to the euro crisis, and at home, she's adopted many of her opponents' policy positions into her own platform. Some have criticized the latter tendency as making it difficult for other contenders to emerge—or for voters to know what Merkel actually stands for.