The Inadequacy of Donating Medical Devices to Africa
Without spare parts or trained technicians, they stop working almost immediately.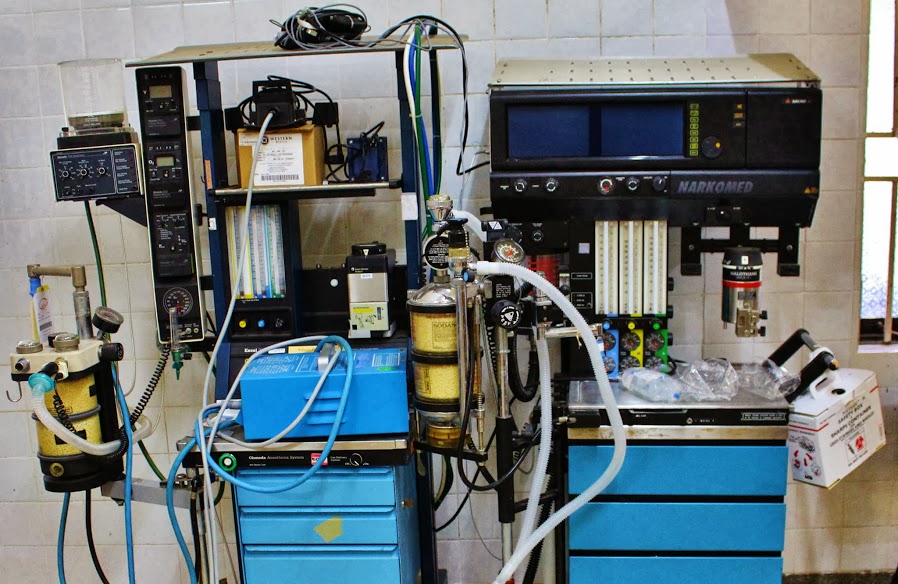 Mulago National Referral Hospital, the keystone of Uganda's system of public hospitals, is located on top of an ochre hill overlooking the capital city of Kampala. The sprawling six-story hospital has spawned an ecosystem of restaurants, guesthouses, and—in a macabre combination of remarkable efficiency and casual indifference—multiple coffin sellers.
It's named after omulago, a plant that once grew on the same hill and was used in traditional Banda medicine to ward off spirits. The hill offers only Western medicine now, and throngs of Ugandans can be found waiting for treatment and standing vigil by loved ones, with babies secured on their backs by flowery kitenge.
Mulago's Neonatal Intensive Care Unit is a cramped, 20-by-30-foot rectangle. On the day I visit, it's crowded with about 50 newborns in hospital beds and mothers' laps. Justine, one of the two NICU nurses on shift, said it was a light day: "50 to 60 babies is the lowest—you will find 70 or 80 at times. We put them on chairs."
The premature and low birth weight babies lie cordoned-off from the rest in a narrow space where 20 incubators are arranged like Tetris pieces; most were donated by NGOs and bilateral agencies like USAID. Many lay open, and the silence is interrupted only by the cries of newborns; no sound emanates from the machines.
They aren't on.
"They're old, so they break down soon," Justine informs me matter-of-factly as we survey the carnage. 13 of the 20 incubators are broken.
The instructions for one are in Dutch. Ugandans typically speak Luganda, Kiswahili, and English.
Mulago's experience is not unique. Across Sub-Saharan Africa, "medical device graveyards" litter the empty closets and spare corners of hospitals. The World Health Organization estimates that "a large proportion (up to 70 percent) of equipment lies idle." Another study pegged a lower, still troubling figure of 38 percent.
Speaking with four major equipment donation organizations gave a vastly different impression than on-the-ground visits to 20 hospitals. Despite the best intentions of these organizations, the system is not working. Good intentions are not enough.
As one administrator bluntly put it, "Donations just do not work. That is almost always the case." (Like many of the physicians and administrators I spoke with, this one did not want to be named, for fear of seeming ungrateful.)
Things can get better, though: with a few simple changes to the process, improper and useless donations can be reduced.
But a larger question looms: even with improvements, is this how aid should be delivered?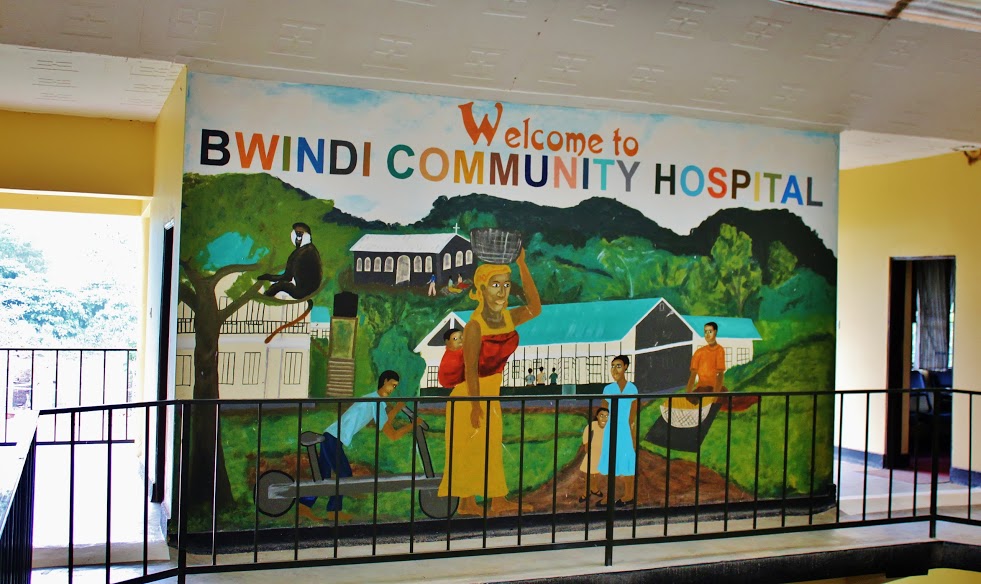 Bwindi Community Hospital (Mike Miesen)
Bwindi Community Hospital is an orderly, wonky hospital (pie charts of funding sources and admission figures greet patients at the entrance) tucked into the breathtaking green expanse of southwest Uganda's Bwindi Impenetrable National Forest.
Dr. Kurigamba Gideon, a lanky physician administrator prone to a wide smile and a quick joke, showed me around. The pediatric ward was covered in colorful wall paintings, below which a nutritionist taught new mothers how to make a special recipe to treat acute malnutrition. Next door, the maternity ward was clean and quiet, and one corner was home to a suspiciously large number of medical devices.
All were inoperable. This was Bwindi's own device graveyard.
One donated anesthesia machine in particular was infamous: It was used on "only one patient before it stopped working," Kurigamba explained to me. "It was just a mess."
The perception on the ground is that some donors "dump" useless junk equipment—a phrase I heard from multiple administrators. "It was dumping, actually. That's what it was," Kurigamba added.
All of the equipment donation organizations I spoke with condemned dumping as wasteful and expensive.
International Aid, a Michigan-based Christian non-profit that refurbishes medical equipment and ships it abroad, has a frank philosophy on donating:
"Don't send 'Junk for Jesus,' you know?" its medical equipment services director, Jim Loeffler, said.
Most of the equipment organizations such as International Aid receive is second-hand, so many have biomedical technicians on staff to recondition the devices.
Another such organization is Samaritan's Purse, a North Carolina-based Christian group that places volunteer clinicians and refurbished medical equipment in hospitals worldwide.
Jim Moore, a technical support supervisor for the organization, believes that small NGOs and churches should donate medical equipment through organizations such as his, rather than directly giving to hospitals.
"The church groups and NGOs that have donated the equipment haven't had the support we have here with technical help, to not only test equipment before it's sent, but to have the knowledge of what will work" for three to five years after being donated, he told me. "Many organizations don't have the means to follow up, and that turns into a nightmare for a country."
Multiple hospitals I visited expressed disappointment about the equipment they've received over the years. However, none indicated that large organizations' donations were substantially better than what they received from smaller organizations.
Every hospital I visited had devices in the same state as Bwindi's: donated and dead.
Mengo Hospital is the oldest of its kind in Uganda, established in 1897 by the British physician Sir Albert Cook in southwest Kampala. On its sprawling campus, a stocky, energetic physician directed me to an anesthesia machine that was donated without the tubes necessary for it to work.
He and many other clinicians and administrators wondered why an organization would ever send a piece of equipment that it knew wasn't functional.
Even a piece of equipment that works out of the crate will eventually need spare parts and a consistent supply of single-use consumables, like electrocardiogram paper, which can be prohibitively expensive for cash-strapped hospitals. Because of this, the World Health Organization recommends that donors ensure the recipient of the equipment also receives "enough consumables and spare parts to last two years."
Whether this occurs is a matter of some debate. International Aid offers spare parts and consumables, but asks the recipient hospital to pay for them. Samaritan's Purse sends "as many boxes of consumables as we can" when shipping the initial piece of equipment, according to Moore, and Project C.U.R.E., a Colorado-based group, makes efforts to re-supply recipients with consumables and spare parts, though not an explicit commitment.
Regardless of initial condition, all medical equipment will eventually need regular maintenance and repair. If the equipment is novel to the region and the expertise isn't available to maintain and fix it, a device that breaks is broken forever.
As Justine, the nurse from Mulago's NICU, said, "Some devices are new, but if they have a problem, there's no one to fix. We lack knowledge."
The organizations I spoke with all indicated that, whenever possible, they provide onsite technician training. But, as Moore put it, "much of the developing world has no biomedical support … as far as in-country people," so often the organization will train whomever is available.
Unfortunately, the training often ends at the hospital gate; large-scale regional training rarely occurs. "We don't have a training program anymore, unfortunately," Loeffler said. "You know, finances are limited."
Four hours east of Kampala sits Mbale, a sleepy city of 100,000 near the Kenyan border.
It gives the impression of a place in perpetual state of transition from rural to urban. Across the street from one of the nicest places in town—the beautifully manicured Protea Hotel—is a home where chickens and goats roam freely under a plot of matooke trees.
CURE Children's Hospital of Uganda (no relation to Project C.U.R.E.) sits at the edge of Mbale. Its peaceful grounds stand in stark contrast to the hectic, bustling public referral hospital down the street.
Established in 2000, CURE Uganda specializes in pediatric neurosurgery and conducts more than 1,000 surgeries each year, mostly hydrocephalus and spina bifida procedures. Patients and their caregivers journey from all over east Africa, traveling thousands of kilometers to reach the experienced surgeons and well-trained staff.
It receives medical equipment from a number of the organizations I spoke with, and recently received a crate with over $316,000 in "IMEC Suites"—groups of devices that are used together. A Surgical Suite, for example, comes with an operating table, a theater light, scalpels, and everything else needed to carry out surgeries.
IMEC, a Massachusetts-based not-for-profit founded in 1995 by hospital administrator Tom Keefe, has a process that sets up equipment donations for long-term use. It ensures the equipment can be used by the recipient, makes a long-term commitment of spare parts and consumables, and builds regional capacity for upkeep, maintenance, and repair.
Before any equipment is shipped, IMEC conducts a thorough needs assessment, usually onsite, to ensure that the equipment will be able to be used and serviced. (Project C.U.R.E. and Samaritan's Purse also typically conduct onsite assessments.)
"We have a very strict process on how to do things … It's just no good if you send something over and they don't know how to use it," Dr. Sue Crawford, IMEC's Project Coordinator for Africa, told me. "We don't want to send inappropriate things they can't service."
IMEC recognizes that donations are, counter-intuitively, expensive for hospitals to receive; the initial purchase price is often only 20 percent of the total lifetime cost of a piece of equipment. It commits to supplying spare parts and consumables for three to five years after the donation is shipped.
In contrast to the other organizations, IMEC invests in building capacity locally, by holding regional training sessions and funding country-wide programs together with large bilateral aid agencies or ministries of health. It spends money on in-country training rather than international flights.
Mark Heydenburg, IMEC's director of medical technology, said in an email that "this is the only way to ensure the next generation of repair technicians and engineers regionally."
To be sure, when it works, donated medical equipment saves lives. There's no doubt that newborns are alive today in part because they were warmed by second-hand incubators, or that donated anesthesia machines have allowed mothers to safely undergo emergency caesarian sections.
But the systems employed by many of these organizations are inefficient, wasteful, and reactive, often leaving recipient hospitals frustrated and unprepared. Small changes could lead to equipment being used, maintained, and repaired more effectively.
IMEC's approach seems to be a model that other organizations could employ. Moses Katungye, an administrator at CURE, said that every piece of equipment in IMEC's most recent donation can be repaired and maintained in Uganda.
Everything in the shipment, except for one oxygen concentrator, was in good working order, according to Katungye.
He contrasted that with other donations the hospital receives, which often come without all of the necessary parts.
I asked him if he remembered a specific case. After a few moments, he said that he didn't: "I've forgotten because there are so many."