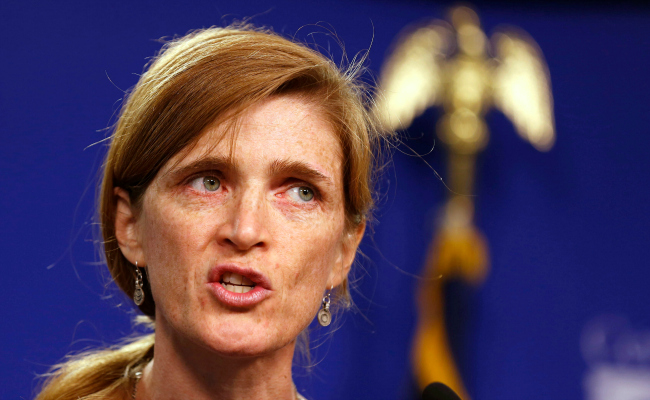 Less than two months after being sworn in as the new U.S. ambassador to the United Nations, Samantha Power stood before a crowd of Washington reporters and members of the international press to deliver a sharp rebuke of the goings-on at the international body that is her new professional home.
A liberal interventionist whose human rights advocacy helped shape the views of a generation of thinkers, she laid out in fresh detail conflicts within the UN Security Council that have derailed U.S. attempts to use the UN to put pressure on Syria over what she called "the uniquely monstrous crime that has brought us to this crossroads."
Power's training as journalist and story teller -- she won the Pulitzer for her 2003 book A Problem from Hell: America and the Age of Genocide, about U.S. inaction in the face of the massacres in Rwanda -- was evident in her speech at the Center for American Progress, a progressive think tank and advocacy organization that has close ties to the Obama administration. She used color and detail to make her case for why all other options had been exhausted and a military strike was the only remaining option, bringing in the human interest story of a "father in al-Guta saying goodbye to his two young daughters."