Talk Therapy for Wife Beaters in Germany's Turkish Community
A growing support group challenges cultural assumptions about domestic violence.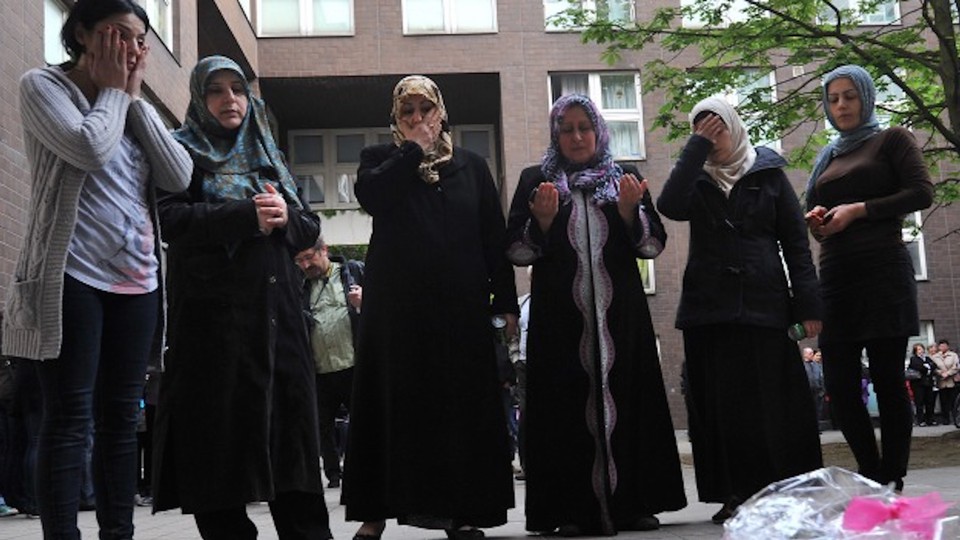 Paul Zinken/AP
BERLIN -- Not far from the Reichstag, 40 Turkish men sit in a storefront office in one of the German capital's immigrant neighborhoods. They sip tea and peel tangerines. One of the men, who looks like Frank Sinatra in his twilight years, stands to address the group.
"I heard that a 13-year-old Turkish girl had been kidnapped by her father so that she could be married off to an older cousin," the man asks. "Can we do anything to help?"
The group's leader, Kazim Erdogan, listens intently.
Erdogan, 60, slightly hunched and with a slow gait, may seem like an unlikely champion for the rights of Turkish women and for reducing violence in families. But, with a combination of genuine concern and village-elder wisdom, he has made inroads in combating domestic abuse and arranged marriages, both of which still persist in Germany's three-million-strong Turkish community.
Erdogan has been in Germany for most of his life, arriving in 1974 to study at Berlin's Free University. Seven years ago, he founded Aufbruch Neukölln, which means "let's change things in Neukölln," the neighborhood where many of these men live.
Like so many other Turks in Germany, Erdogan never returned to his native country. The former high school teacher and psychologist now works for the city's child welfare bureau.
Government and foundation awards line the walls of his office. Pedagogical books lie in a stack next to a silver Turkish tea samovar. A portable pedal exerciser sits underneath his desk on the floor.
Most of the men in his group sessions are not as worldly or as educated as he is. The younger ones work in menial jobs. Their fathers once toiled in factories. Few of them graduated from high school. Only a handful of them speak German fluently.
"Yes, I think the Turkish consul can help - we will ask him," Erdogan tells the man who seeks to halt the marrying off of the 13-year-old girl.
Statistics about Turkish domestic abuse are alarming. Earlier this year, the Turkish newspaper Hurriyet Daily News published a survey that found 34 percent of men in Turkey find violence "occasionally necessary," while 28 percent said violence could be used to discipline women. After the Turkish government reported in 2009 that 42 percent of women surveyed said they had been victims of sexual or physical abuse by their husbands or partners, many said the true figure was much higher. The Istanbul Chief Prosecutor's Office last year established a special unit to fight violence against women. According to the Cihan News Agency, a total of 4,739 complaints were filed in its first seven months of operation.
These numbers factor in more liberal parts of Turkey, like Istanbul. But Erdogan and others fear the problem is even worse among more conservative-leaning members of Germany's Turkish diaspora.
While these statistics and attitudes may shock outsiders, Turkish immigrants in Germany -- such as Murat Tas -- understand the mentality that spawns abusers.
"We grew up in Eastern Anatolia hearing that when a woman makes a mistake, she is always wrong. That it's even okay to kill her," says Tas, 40, who was attending Erdogan's self-help group with his German girlfriend. "And some people in our community still believe this."
That this very group is considered a model -- one Erdogan hopes to replicate nationwide -- speaks to the difficulties some Turks face in assimilating into German society. Some of the men who attend regularly say they have always eschewed violence. Others admit they needed help to stop physically abusing their loved ones. Still others appear by order of the city's courts, which send Turkish and Arab men to the program as part of their probation sentences.
"I am here to work on myself, to see where everything went wrong," says a 32-year-old second-generation German-Turk who refused to be identified because of the stigma associated with violence against women. "I was drunk, and my girlfriend and I had a conflict, just once." The incident landed him in jail, he says.
When asked why he is not sitting with the other men in the room, he puts his head in his hands as if he might cry. But he doesn't cry. And that's just the problem: Erdogan wants to see tears. He wants these men to open up and acknowledge the pain they cause their families.
Sometimes they do open up, says Tas, who has turned out to be one of the group's regulars. He occasionally takes troubled men in the neighborhood to meetings. Once he brought a colleague who didn't see anything wrong with beating his wife.
The batterer came to several meetings. He met privately with Erdogan. Then one night, his wife showed up at a meeting. Tas says the man, encouraged by the others, apologized to the wife. The wife took him back. "Everyone in the room cried," Tas says.
Some might insist that Erdogan report such crimes to police, rather than simply help the men talk things through, but he says calling in the authorities would be counter-productive.
"If I call the police just once, I will lose their trust. They'll stop coming," Erdogan said. "The best way we can prevent violence in our groups, in these communities, is to talk with the people, take them seriously."
Not all of the men who seek Erdogan's help are violent. Some are young men trying to wiggle free from arranged marriages. Others are married men struggling with their sexual orientation.
"I've spoken with fathers who were married, but gay," Erdogan said. "They had kids. After 10 or 15 years they came out and moved in with their partners. They don't want to talk about it publicly. But with me, in this room, they open up."
Erdogan's approach is gaining attention: the Turkish consul general attends this week's session. Erdogan and the diplomat sit at the front of the room at a conference table, fielding questions from the men.
Eventually, someone brings up the uncomfortable subject of a 45-year-old Turkish man who is in jail for an "honor" killing. The man shot his ex-wife and her sister in January in a bakery in the Neukölln district of Berlin. The consul listens as the men voice their disgust.
Towards the back of the room, Tas explains quietly how, a week earlier, the men translated their anger into action: 150 of them took to the streets to protest domestic violence. Tas says it's important to show other Turkish men who aren't part of the group - as well as broader German society - that they detest violent solutions to family quarrels.
While recounting the story, Tas pauses for a moment - and then brings up the possibility that the shooting could have been avoided entirely.
"You know, not enough people know that we exist," he says. "If only this guy had known about us."