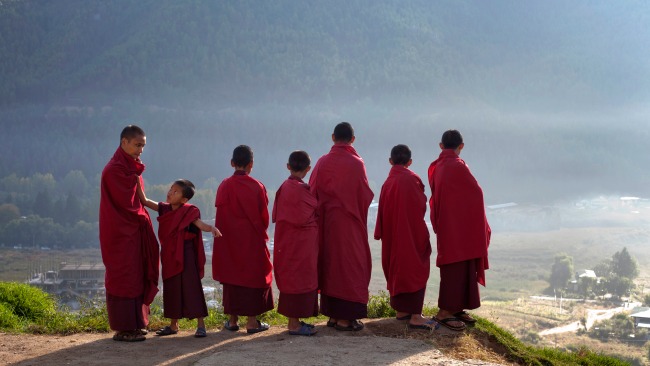 When a Guardian journalist visited Bhutan recently, the country's "mystical" quotient did not disappoint. Among other things, the writer noted "men and women laboring in song," a woman "scampering around churning a pot of yak butter tea," and the "sound of mule bells ringing in the valley." As he reaches the remote mountain home of a local herder, the man quips, as though starring in a tourism commercial, "You know, happiness is a place." 
Indeed, it's a rare Bhutan story that doesn't mention how irrepressibly joyous the country is.
In place of speed-limit signs, another Guardian piece notes that drivers in Bhutan are met with placards reading, "Life is a journey! Complete it!" or "Let nature be your guide."
The recently released 2013 UN World Happiness Report devotes a sizable section to Bhutan, attempting to quantify the happiness levels of the only country that prioritizes contentment over income.
The country's 1729 legal code stated that, "if the Government cannot create happiness for its people, there is no purpose for the Government to exist." In 1972, this sentiment was codified when Bhutan's King, Jigme Singye Wangchuck, instituted a "Gross National Happiness" as its official measure of progress, superseding the more traditional Gross National Product in importance. The country's constitution directs the state "to promote those conditions that will enable the pursuit of Gross National Happiness."