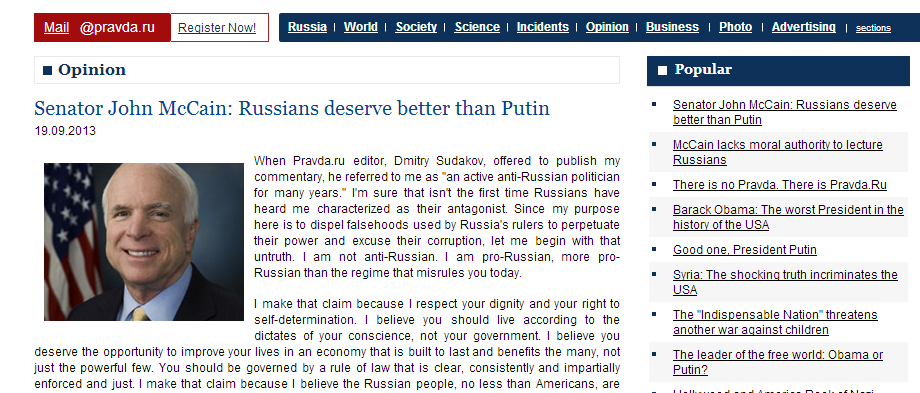 Following an op-ed in The New York Times by Russian President Vladimir Putin, U.S. Senator John McCain promised to write a response for the Russian website Pravda.ru. It was published on September 19. 
McCain is a controversial figure in Russia for his combative stance against Putin. And Russian social-media users met his piece with applause, scorn, and ambivalence. Some notable reactions below.
The parody Twitter account below posted an iPhone screenshot with positive reactions to McCain's op-ed (although, as Russia analyst Kevin Rothrock points out, the account-holder is clearly deriding McCain). "​I think if I were in the U.S. I'd be a Republican," said Oleg Kozyrev, a media analyst and opposition blogger. Pavel Senko, an anti-corruption activist, said, "It's an embarrassing moment, when a U.S. senator seems closer to Russians than a Russian Federation senator."
Сенатор Джон Маккейн дал российской оппозиции второе дыхание. Падение режимо близко pic.twitter.com/FxbP32bSUH

— Lev Sharansky (@LevSharansky) September 19, 2013
We want to hear what you think about this article. Submit a letter to the editor or write to letters@theatlantic.com.