Russian Lawmaker Wants to Take Away Children from Gay Parents
Russia's anti-gay lawmakers don't seem content with their recent victories, which have made Russia one of the most gay-unfriendly countries in the world. Now, there's a bill Parliament that equates being gay to alcoholism, drug use, and abuse — and makes being gay a basis for denying someone custody of their children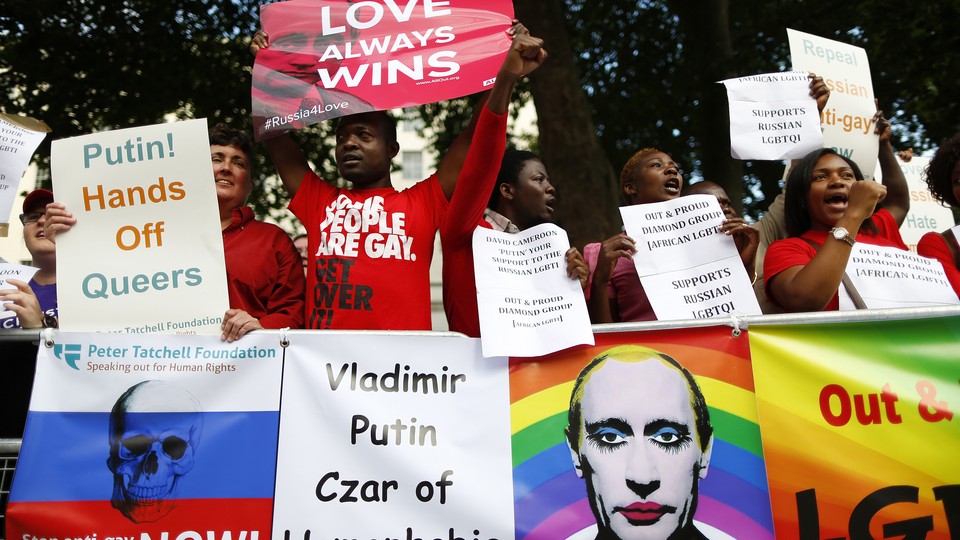 This article is from the archive of our partner
.
Russia's anti-gay lawmakers don't seem content with their recent victories, which have made Russia one of the most gay-unfriendly countries in the world. You see, they're just getting started. Now, there's a bill in Parliament that equates being gay to alcoholism, drug use, and abuse — and makes homosexuality a basis for denying someone custody of their children.
"The draft bill, published on parliament's website on Thursday, would make the 'fact of nontraditional sexual orientation' a basis for denying custody. Other grounds include alcoholism, drug use, and abuse," the Associated Press reports. And the bill's author, Andrei Zhuravlyov, wrote in a note that accompanied the draft: "Harm that could be inflicted on a child's mental health in case of their parent's homosexual contacts is immense."
The new bill centers on the controversial and, by virtually all accounts, flawed study by Mark Regnerus, which claimed that children raised by gay parents do not fare as well. The bill uses that study to say that "gay parenting distorts a child's sexual orientation and increases suicidal tendencies, social ineptitude and risks of catching venereal disease," Ria Novosti reports. That smells like cow dung, since study after study has found that gay parents raise healthy, good kids and are as competent as heterosexual partners. Even Regenerus himself has walked back various parts of his study.
The bill's mere introduction is a clear-as-day sign that the country's anti-gay climate will only grow more oppressive, even if the bill meets a well-deserved death in forthcoming legislative sessions. 
This article is from the archive of our partner The Wire.