Putin Needs a Less Cynical Syria Policy
His op-ed was full of half-truths and lies of omission, but here are the real ways Russia can help end the conflict.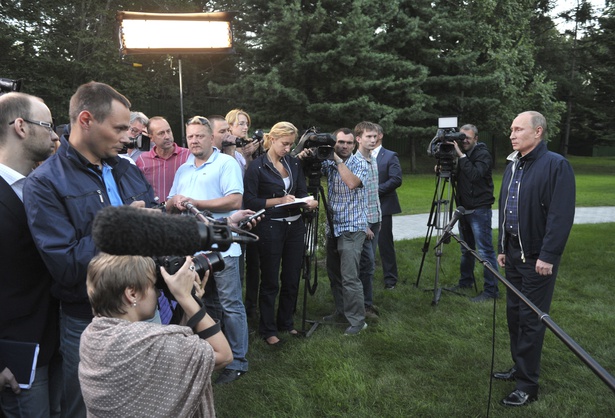 Russian President Vladimir Putin's dulcet editorial in the New York Times this week sounded like the opening aria in a charm offensive aimed not just at preempting the use of U.S. military force in Syria but also at winning a Nobel Peace prize. Now a petition on the White House website and the inimitable K.T. McFarland of Fox News both suggest that Russia's shirt-free strongman is more deserving of the honor than was President Obama, who won the peace prize in 2009. Did they read Putin's New York Times manifesto, which contains a number of truths -- and even more silky evasions?
The most dangerously disingenuous is the argument that any U.S. use of military force without a United Nations Security Council Resolution would violate international law - while failing to mention that Russia and China have blocked three separate attempts to address the mounting death toll in Syria. That's like the boy who killed his parents, then asked the judge for leniency because he's an orphan. By vetoing any Security Resolution with teeth, Russia and China make a mockery of the UN - then screech when the United States threatens to give up and circumvent it.
Let's face it: Few international miscreants reform themselves without the threat of being ousted by domestic foes or weakened by external military force. Assad's promise to surrender the chemical arsenal he didn't admit he had, only after President Obama's threat to use force, is one example of this historical truism. Another is Putin's own escalating crackdowns on dissent. His crudely homophobic laws and his sending Pussy Riot to prison for dissing him are not Nobel-worthy impulses.
If Putin, whose brutal war in Chechnya killed or displaced tens of thousands and who has been Assad's chief arms supplier with weapons best suited for killing Syrian civilians, now wishes to recast himself as the world's great defender of international law and security, let none of us stand in his way. In fact, the international community can help Putin change up his governance style, get some mojo for his global leadership on peace and nonproliferation, and deliver an even better speech than President Obama gave in Stockholm.
Here's how:
Once he's done getting Assad to surrender his chemical weapons stash, Putin should take a victory lap by insisting the Security Council pass a resolution banning all countries and nonstate actors from transferring weapons to Syria or face "grave consequences." Putin is a master at having it both ways. Without acknowledging that more Syrians have been killed with Russian-supplied weapons than with poison gas, he could with a straight face insist that all countries stop feeding the flames in Syria so that his Geneva II peace process can flourish.
 
 Russia goes first. Putin can show up the self-righteous Washington types and secure his place in history with a single phone call to the state-owned weapons exporter Rosoboronexport, ordering a halt to sales to Syria. Pesky human rights organizations have been reporting that Assad's goons have sent Rosoboronexport a shocking letter that reads like a shopping list for urban atrocities. Israeli news organizations say that in exchange for Assad giving up chemical weapons, Russia agreed to resupply Assad. But a second phone call would stop the mystery ships that are leaving the Black Sea port of Oktyabrsk and disappearing, presumably to deliver their lethal cargo of arms for Syria.
Send Foreign Minister Sergey Lavrov to the Security Council to announce that Russian arms shipments have stopped, and demand that Iran, Hezbollah, Syria, Qatar, and then the United States also cease proving arms to the rebels. Threaten to impose Russian financial sanctions against any who refuse to comply. This could include trade sanctions against Iran and possibly Lebanon if it fails to curtail arms smuggling to Syria.
 Broker an unconditional, immediate ceasefire in Syria. Begin a round of shuttle diplomacy between Assad regime officials and the rebels to bring all sides to peace talks. Offer Assad and his family asylum in Dagestan if he leaves the country.
If Assad refuses to comply, order the Russian Finance Ministry to find and freeze Assad family assets, reputed to be worth about $1.5 billion. Promulgate regulations ordering Russian banks to halt any transactions with the Syrian Central Bank or the Commercial Bank of Syria. Investigate Assad's maternal uncle, Mohammed Makhlouf, who according to Reuters, is overseeing the Assad family fortune from an apartment in Moscow.
Augment the Russian military advisors reportedly on the ground in Syria with Russian political trainers. Show Syrians how secular democracy can be made to work, and counter Al-Qaeda's political influence. Fund Syrian non-governmental organizations to conduct peace and reconciliation programs among the many religious and ethnic groups in Syria - but make sure the groups report the foreign origins of their funding.
Announce a 10-fold increase in Russian contribution to UN refugee assistance funding.  So far the U.S. has kicked in roughly 26 percent of the nearly $3 billion in assistance that has been contributed toward helping the nearly six million Syrians who have been displaced by the fighting, while Russia has given only 0.6 percent.
Take in thousands of Syrian refugees. The United States has begun a modest effort to consider some of the most vulnerable Syrian refugees for resettlement. Putin can outdo Obama receiving thousands of Syrians refugees, even temporarily, as Germany is doing.
Putin closes with a homily to Americans that whether a country is rich or poor, large or small, "God created us equal." Okay, Syria's a humanitarian, moral, and political disaster. Putin has an equal opportunity to start being part of the solution.