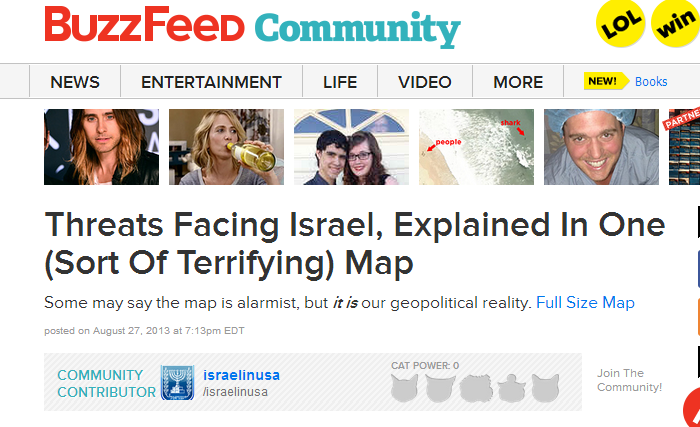 Two weeks ago, Israel expanded its robust "public diplomacy" efforts, which include an active Twitter presence and a popular military Instagram, with a post written by its American embassy (@IsraelinUSA) on the redoubtable viral news and entertainment juggernaut BuzzFeed. 
Instead of something in line with the light fare normally found on the community section of the website, which is home to such items as "15 Ways That Cats Are Trying To Take Over Our Lives," "18 Inappropriate Places to Twerk," and other ephemera created by readers, the Israeli embassy's debut tackled a more solemn subject. Headlined, "Threats Facing Israel, Explained In One (Sort of Terrifying) Map," the post outlined and detailed the menacing perils on the country's borders. 
The image attempts to offer a point-by-point explanation of why the actions of neighboring Middle East countries and terrorist groups pose an imminent threat to Israel's territory. If you were to take the infographic at face value, you'd think Iran and Israel's Arab neighbors were on the brink of pummeling the U.S.-allied nation with a torrent of rockets and nukes.
Even the PR operatives who created the piece foresaw the criticism—that the map blurs the line between real dangers and a far-fetched, apocalyptic scenario—and hedged with the phrase "sort of terrifying." It seems to anticipate negative reactions, saying: "Some may say the map is alarmist, but it is our geopolitical reality."